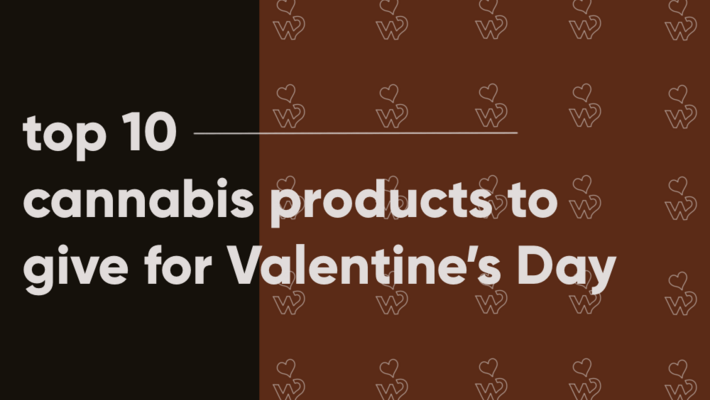 Top 10 Cannabis Products to Give for Valentine's Day
This pandemic has reminded everyone that life is fleeting, and that we need to hold the ones we love close and remind them how important they are to us. With Valentine's Day upon us, what better time to do so? We've made a list of Valentine's day gifts related to our favorite plant, cannabis, whether it is your favorite CBD bath bomb or cannabis candle. We all have a favorite stoner in our life that will love one of the gifts below.

Nothing says Happy Valentine's like a gentle, relaxing massage from (or for!) the one you love. This 500 mg CBD oil from CBD Infusionz provides an immediate relaxing sensation to soothe the skin, with the oil delivering a slick formula for a thorough massage. Moisturize the skin and feel good about the product while doing it, as it is 100% vegan, gluten and paraben-free. Ingredients include sweet almond, sunflower and rosemary extract paired with avocado oil, among other things.
This ultra-popular edible brand has created a bar of delicious dark milk chocolate, specifically for arousal. With 5 mg THC per piece, this chocolate edible uses five herbal aphrodisiacs and sense-enhancing cannabis to create the best sex drug in the world for you and your valentine. The Love bar will start to kick in after about 20 minutes, with peak intensity about two hours in, so plan accordingly for your Valentine's Day. This is available in Oklahoma, Colorado and Illinois dispensaries.

This pen is a 10:1 THC to CBD formula perfect for awakening your senses and stimulating your mind. If you've been searching for Valentine's Day gifts for her, this could be the gift that keeps on giving for the both of you. Available in either 200 doses/500 mg or 100 doses/250 mg, the Dosist pen will enhance your sense, while elevating your mood and energy. Dosist technology gives a consistent dose each time that is effective and predictable for the smoker, and is only available in California and Colorado.

If you've been looking for something for him, this Double Barrel is the perfect vaporizer. Why Valentine's Day? This sleek, sexy piece that has a double knuckle ring attached to the barrel provides the user with an unmatched and unique smoking experience. With two barrels and one airflow, the dual-oil chamber will result in a great vaporizing session that your special someone will love.

For the couple that loves to cook together, this could be the perfect gift. If you're looking for some fresh Valentine's Day ideas, stay in this holiday and create a unique meal together that you won't find anywhere else. Inside you'll find some serious and sophisticated cannabis-infused cuisine, with recipes ranging from pizzas to risotto. It breaks down the science of infusing and hits on how to pair strains with different flavor profiles.
Subscription services have taken over, and weed isn't any different. This is the best Valentine's gift for the curious cannabis boyfriend or girlfriend, who has a luxurious side. This curated box will deliver you some of the best weed edibles, vapes and flower. Each box is custom filled to ensure you get exactly what you want, filled with premium brands that are sure to surprise your loved one. The THC box is available in California, with CBD options available nationwide as well.

What better gift is there for V-Day than the gift of relaxation for that special person in your life? Joy Organics made this bath bomb set with 25mg of premium CBD and aromatic lavender that is perfect for blissful relaxation after a long, stressful day. Sometimes the gift of self-care is the best gift.

A candle can bring about many types of vibes, whether it be a relaxing one or a sensual one. Gift this for your Valentine, and you two can light it to get the mood right. With notes of bergamot, cannabis, sandalwood and musk, this candle could be perfect for drifting off together with your favorite record playing in the background. Light up and forget about everything else together for a little while.
If you want a unique card this Valentine's Day for the one you love, look no further. These cards are clever and fun, and the best part? Each card comes with a spot for a pre-rolled item of your choosing with a complimentary match striker. If you're a bit busy or are in a pinch last minute, you can find these online or in over 400 retailers across the country.

Nothing says "I Love You" quite like your favorite weed strain all bundled up, looking nice. Some florists across Colorado and California will even make these for your special someone. If you're looking for a DIY project, grab your lover's favorite strain paired with some of their favorite flowers. Wrap it all together with a silk bow, and you can feel confident in such a unique gift this Valentine's Day. This is a great option where marijuana is legal, of course.
Do you have any favorite Valentine's Day gifts for your favorite stoner? Have you gotten any of these gifts we've listed above? Let us know in the comments below.