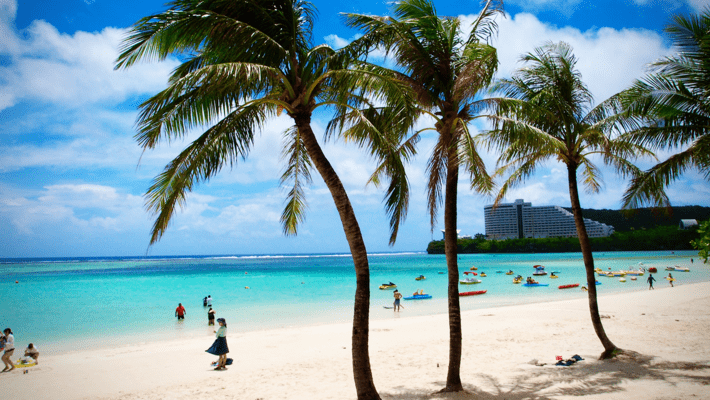 Is Guam the Next Cannabis Vacation Destination?
Travelers around the world are itching to get out of town and discover someplace new. For cannabis enthusiasts, that means a location where weed is legal and easily accessible. One such spot that often falls under the radar of global travelers -- especially Americans -- is Guam. It is odd when you consider that the tiny island is a U.S. territory, but most Americans headed to the Pacific aim for Hawaii or keep going west to the alluring sights and sounds of Asia. Guam has a lot to offer and deserves to be a destination in its own right, especially if marijuana is in the travel plans.
Because of its strategic location in the western Pacific, Guam has a surprising amount of history for such a small island. About three times the size of Washington, D.C., it was colonized by Spain in the 17th century and was a critical stopover for Spanish ships that sailed between the then Spanish colonies of Mexico and the Philippines. The U.S. took over governance of the island when it was ceded to the U.S. at the Treaty of Paris in 1898 after the Spanish were defeated in the Spanish-American War. As the Japanese were bombing Pearl Harbor in 1941, they were also capturing Guam. Three years later, Japan's reign of terror on the island ended when U.S. troops retook the island on July 21, 1944. Guam remains a U.S. territory, along with American Samoa, the Northern Mariana Islands, Puerto Rico and the U.S. Virgin Islands.
Visiting Guam
The U.S. military installations on the island are still some of the most strategically important U.S. bases in the Pacific and have helped provide a source of income and economic stability over the years. Tourism has slowly gained a foothold, though, as the island has become (ironically) a popular destination for vacationing Japanese; Guam is less than a four-hour flight from Japan. It is also popular with Koreans, again for its relative proximity to the Asian mainland.
There is not really any best time to visit Guam. Like most tropical climates, there are two seasons: Wet and Dry. Wet runs from around January to May, and the dry season from June until November. There are several things to do in Guam, but a Guam vacation normally revolves around the beach and the ocean, with a sprinkling of history thrown in. The re-opening tourism industry and the competition for more international visitors post-pandemic means that anyone heading to Guam ready to spend money and have a good time will be warmly welcomed. Here are a few popular destinations and activities on the island.
Top Things to Do in Guam
Tumon Beach

Tumon is lined with hotels but never seems to be crowded. Part of a protected marine reserve where fishing is prohibited, the underwater scene is a breathtaking combination of sparkling coral and colorful fish. Grab a snorkel and enjoy. When the water has lost its appeal, the area is packed with shops and nightlife options. This is the economic center of the island.
The clear and shallow water on the northern tip of Guam is framed by glistening white-sand beaches and tropical foliage. It is the perfect place for a quiet stroll or soothing dip. The area is part of the Guam National Wildlife Refuge that is owned and operated by the U.S. Fish and Wildlife Service.
Take a break from the sun and surf and get an education on Guam's role in World War II's Pacific Theater. Located in the War in the Pacific National Historical Park, the small museum contains fascinating artifacts and interactive exhibits that highlight how critical this small patch of land was during the war and also touches on some of the native culture and history of the local Chamorro population.
Chamorro Village
This neighborhood located within Guam's capitol of Hagta is the best place to get a feel for how Guam used to be. Local foods, Spanish-style buildings and street performers make a visit here essential. The Wednesday Night Market is when the village is most lively.
Guam Cannabis Laws

Everything listed above is only going to be better when complemented by cannabis. Are there dispensaries in Guam? No, but cannabis has been legal for medical use since 2013 and while it remains illegal to buy or sell, it is legal to grow and possess. Since 2019, adults 21 and older have been able to grow up to six plants, possess up to one ounce and give away up to one ounce. Procuring weed in Guam for personal use will take some asking around, but since it is legal to possess for recreational use, the usual spots like beaches, bars and clubs are likely places to find locals willing to share their stash.
Guam's Cannabis Control Board is in the process of hashing out just exactly how a commercial cannabis industry might look. The island is unique because while the ability to purchase weed in a dispensary would certainly draw tourists from abroad, cannabis use is generally looked down upon by the Japanese, Korean and other Asian cultures that make up most of Guam's visitors. Domestic law in Korea even forbids cannabis use by Koreans when abroad and provides the potential for incarceration upon return to Korea! There is currently a fascinating debate about whether allowing cannabis sales would damage or hurt Guam's attempt to restart its essential tourist industry and draw the desired dollars back to the island.
It remains to be seen which path Guam will take as it navigates the growing acceptance of cannabis use. Perhaps dispensaries will open but be kept out of tourist zones. Maybe the current laws will continue, and possession will remain legal, but sales will not. Regardless, Guam offers the opportunity to enjoy an out-of-the-box tropical weed-fueled vacation, but only if you make a new friend who is willing to share.
Have you been to Guam? Did you have any luck enjoying some of the local cannabis? Tell us your story in the comments section!