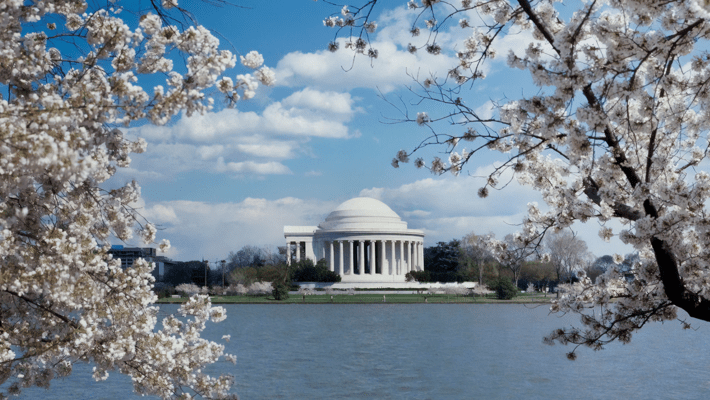 Best Restaurants in DC for the Munchies
We're always seeking out the latest food truck fare, hole-in-the-wall ramen shop or fine dining to make us feel like kings and queens. Since we've been stuck inside for the past year, learning how to cook bread and who knows what else, people are ready to get out of their own kitchens and out into the world again, in search of the best food to satisfy every craving. Everyone inevitably will be taking advantage of travel this summer, and high on our list of spots to hit is Washington DC. Let's dive deeper into D.C. (and past the museums) to see the best restaurants in DC to go to after you get high.
Washington DC Cannabis Laws

We're in search of the best munchies, so this must mean that cannabis is legal, right? Weed is legal in DC, but it is rather complicated and doesn't look very similar to other states that have chosen to legalize cannabis. In 2010, DC legalized medicinal marijuana, allowing users to possess up to two grams at a time and purchase four ounces over a month. All this seems normal, right?
With DC marijuana laws, recreational use is a totally different story. The measure for rec cannabis was passed in 2015 through Initiative 71, which legalized the possession of up to two ounces of marijuana and the cultivation of up to six plants in a single household. However, you cannot legally buy or sell weed, as there is simply no market for it. This begs the obvious question of how does one buy cannabis in DC?
How to Find Weed in DC
Since it is illegal to sell or buy cannabis, people had to get creative and find the inevitable loophole. The DC cannabis industry gets around this law through the "gifting" of weed. You simply purchase another item, such as a piece of art, t-shirt, hat or poster, and in turn, you are "gifted" cannabis on the side. In the DC area, you will find a plethora of delivery services and pop-up shops to find the herb. We recommend doing your research first before purchasing!
When Will Recreational Dispensaries Open in DC?
DC isn't like any other place in America. Since it is on a large percentage of federal land and doesn't control its own budget, citizens must listen to Congress at every turn. Because of this, Congress has continued to block the formation of dispensaries and adult-use sale initiatives. However, as legalization continues to sweep the rest of the country, maybe we'll see recreational dispensaries in DC sooner rather than later.
Best Restaurants in Washington DC

You may have to work a bit harder to get cannabis here, but we already went through all of the restaurants to find the best eats in the city, so you didn't have to.
Transporting you to somewhere in France, this bustling caf pays homage to the Parisian brasserie, filled with a zinc bar, tile floors and sidewalk seating. Located in DC's 14th Street Corridor, you'll find classic French fare with a deliciously curated wine list for every single palate. This is the spot for an elevated experience, with menu items that include steak frites, foie gras and a decadent vanilla bean crme brulee. ($$$)
After a nice wake and bake session, what is better than a bagel sandwich? This spot has a flagship location in Park View (and several new locations throughout the city) is a fresh take on deli food. Almost everything is house-made and you'll find "Jew-ish" deli staples among all the carbs and even a few plant-based items, too. ($)
Located in NW DC, this cozy, insanely popular and no-reservation spot is all about Filipino cuisine and culture. With only 24 seats in the whole place, you'll be waiting in line to try this concise menu that can turn on a dime. Right now, you can try a Filipino fried chicken sandwich, beef short rib adobo or coconut caramel custard. This is a great spot if you're trying to broaden your munchie horizons. ($$)
Up next on the list of DC restaurants is a tiny taco joint that never disappoints. With spots all over the DC area like North Bethesda and Brentwood, Little Miner Taco is always whipping up some of the best food. If you stop by, you'll have to try the birria tacos, which you can purchase alongside a cup of beer consomm. Don't sleep on the carne asada fries or queso-wrapped burritos, either. Tacos and munchies go hand in hand always. ($)
Want a classic, no-frills spot? Located on Capitol Hil, Caruso's Grocery is an Italian-American "red sauce joint" where you won't find some fresh, hip take on classic dishes. It touches on nostalgia and is definitely one of the best Italian restaurants in DC. With Frank Sinatra blaring through the speakers, this restaurant hits all of the Italian food classics out there. But we recommend the tomato and basil caprese or the penne ala vodka. ($)
This contemporary Korean restaurant and pub is all about bringing tradition and new concepts to the Dupont Circle area. It's one of the most fun places to eat in DC that is known to be a late-night spot with exposed brick and a homey patio, perfect for the afterglow of a smoke session. It's a moderate price point for the cuisine and our favorites are the gochujang glazed chicken or a miso-marinated pork belly. ($$)
Located in the Penn Quarter neighborhood in DC, this spot offers Eastern Mediterranean-inspired dishes from the Lebanese, Turkish and Greek cultures all while in a sleek and modern setting. Chef Andres brings mezze to the mainstream, which are small plates filled with authentic ingredients and traditional techniques. You'll find unique Mediterranean wine, flatbreads, kebabs and dips. ($$$)
What do you have a taste for when you get the munchies? What spots are a must-try in the DC area? Let us know below.