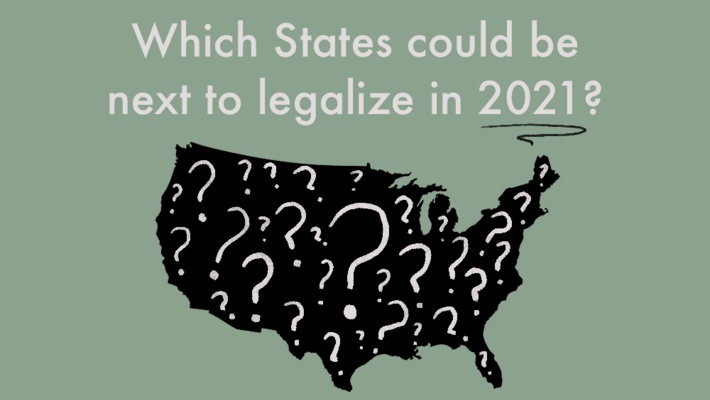 Which States Could Be Next to Legalize in 2021?
2020 has been a tough year, but it has also seen some major wins for the cannabis community. In the November 2020 election, four states legalized recreational marijuana (and South Dakota became the first state to legalize medical and recreational weed at the same time). We're thrilled to see legalization continuing to build momentum, so we already have our eyes set on what states are next on the list.
The State of Marijuana in America

While we celebrate major steps toward full legalization, marijuana is still federally illegal and classified as a Schedule I drug (opioids and cocaine are Schedule II drugs, for reference). Since the beginning of the War on Drugs in the early 1970s, marijuana has been a major force of incarceration and systemic oppression. Over the last 50 years, the American perspective of marijuana has shifted many times, only recently softening after decades of heavy anti-marijuana sentiment driven by federal legislation, anti-drug propaganda, racial prejudices and law enforcement tactics. Even as the majority of states have legalized marijuana in some capacity, the federal government remains strongly opposed to decreasing its Schedule classification and legal status.
Despite these federal setbacks, weed has seen a huge increase in support over the last decade. The 2020 election was the most recent testament to growing marijuana acceptance, with Arizona, Montana, South Dakota, and New Jersey all legalizing marijuana with a majority vote. Additionally, Mississippi became the newest state to legalize medical marijuana (leaving only 15 states without medical marijuana), Washington DC passed a psychedelic drug reform bill, and Oregon passed similar psychedelic laws along with decriminalizing all drugs within the state. All of this leaves us hopeful for what 2021 and upcoming years are going to bring for marijuana legalization.
States That May Be Next to Legalize Marijuana
We have our eyes on five states that we believe may legalize marijuana in 2021: Connecticut, New Mexico, New York, Rhode Island and Virginia. Here's why we're optimistic that more good news for the cannabis community will be coming in 2021.
Connecticut
Connecticut marijuana laws are already relatively forgiving. Not only did Connecticut legalize medical marijuana in 2012, but they also decriminalized marijuana, meaning that there is no prison time or criminal charge associated with the first two minor possessions. In recent years, Connecticut marijuana legalization has become a serious talking point and gained support from many of the state's politicians. The state's governor, Ned Lamont, has agreed that legalization is a real possibility in 2021. The state has been struggling economically the last few years, and studies have shown that marijuana can help turn that around. Representatives from the state have publicly agreed that legalizing weed could be both a social and economic step in the right direction for Connecticut.
New Mexico

A lot of people are probably wondering why the answer is still "no" when you ask, "Is marijuana legal in New Mexico?" New Mexico Governor Lujan Grisham (who decriminalized marijuana in 2019) was hopeful to pass a New Mexico marijuana legalization bill in 2020, but a shortened legislature session caused it to stall for the remainder of the year. Because of this, hopes of legalizing marijuana in New Mexico have shifted into 2021. The Governor isn't the only public official that believes that New Mexico should legalize marijuana. The House Speaker Brian Egolf has publicly stated that New Mexico marijuana laws are ready to legalize for both social and economic reasons. Additionally, public opinion in New Mexico seems to heavily favor legalization, especially since Arizona legalized marijuana in the November 2020 election.
New York
For many years, New York marijuana legalization has been on the table. Governor Andrew Cuomo has already tried twice to pass legalization, but it has yet to make it anywhere. Governor Cuomo is coming into 2021 with high hopes for legalization, however, this is mainly because he believes the state needs the money. Estimates show that New York could see over $300 million in annual revenue from recreational marijuana sales, something that politicians believe could be a deciding factor in changing New York marijuana laws. The state has already decriminalized marijuana and legalized medical marijuana in 2014. Cuomo hopes to bring legalization to the table as soon as the next session opens in January 2021.
Rhode Island

Like so many states, COVID-19 adversely affected Rhode Island causing the state to come into 2021 with a major economic deficit. And like many of the states on this list, state politicians are looking to marijuana as a potential source for additional revenue. Rhode Island marijuana laws are already fairly lenient - they already decriminalized marijuana for possession of less than one ounce, and the state legalized medical marijuana back in 2006. While Rhode Island
Governor Gina Raimondo meant to add cannabis to her proposed budget bill in 2020, legislative leaders agreed to wait until after the 2020 election to continue with the budget. Now that the November election is over, there's a good chance we'll be hearing a lot more about changes to Rhode Island's marijuana laws.
Virginia
Virginia medical marijuana and decriminalization are both new as of 2020, but the state is looking to quickly legalize recreational marijuana, too. At the end of November 2020, Governor Ralph Northam released his administration's report on how adult-use marijuana would impact Virginia, which outlined not if but how to properly roll out Virginia marijuana legalization. The administration has been insistent on making sure that Virginia marijuana laws will address all aspects of proper legalization, including taxation, criminal justice, social equity, regulations and consumer safety. Governor Northam has specifically said that "it's time to legalize marijuana in Virginia," so we are incredibly hopeful that he can lead Virginia to become one of the next five states with legalized recreational weed.
Let us know which states you think are likely to legalize marijuana next, why, and when you think it'll happen! Comment below!