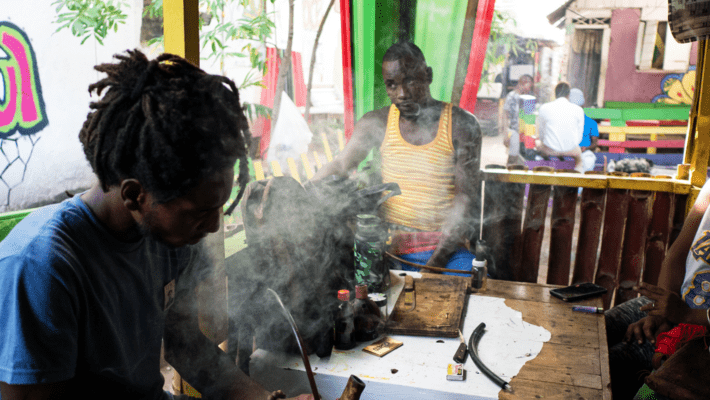 What is the Price of Legal Weed in Jamaica?
When thinking about Jamaica, many people picture cheap weed everywhere you turn, but that's not always the reality.
The price of weed in Jamaica depends on a few factors, including the quality of the weed, the type of weed, and even the store's location.
Is Weed Legal for Tourists in Jamaica?
Medical cannabis is legal in Jamaica, but recreational isn't. As a tourist, you'll need "proof of medical necessity" to buy from an herb house, the Jamaican version of a dispensary. Keep in mind it's illegal to buy from private sources on the island.
Luckily, Jamaica recognizes medical cannabis prescriptions from other countries, including the United States. This is excellent news if you already have a medical cannabis card from home! You'll also need a valid government ID, such as your passport or driver's license.
Under current Jamaica laws, you can possess up to 2oz. of ganja for personal use without being arrested or charged. To put that into perspective, the average joint contains around 0.32g of weed (0.01oz.), so 2oz. is a lot for one person.
Can I Buy Jamaican Medical Cannabis as a Tourist?
Yes. If you don't have a prescription from your home country, tourists 18 and older can get medical cannabis prescriptions from a Jamaican doctor. How hard is it to get a prescription? Not very.
Jamaica is open about conditions that qualify for medical cannabis. You can get a prescription for mild episodes of anxiety or nausea. Remember, Jamaica wants to sell you legal ganja.
Where Can You Buy Weed in Jamaica?
Tourists can legally buy ganja from CLA-licensed herb houses with a medical cannabis prescription. Herb houses are all over the island at local bars and beaches. They're equal parts medical clinic, coffee shop, hipster boutique, and spa.
Forget the clinical dispensaries you might be used to stateside. Herb houses are unique, boutique experiences exclusive to the island.
You can buy tinctures, edibles, extracts, and other goodies from the budtenders. And, of course, the local ganja strains.
Another perk of buying from a dispensary is that medical cannabis isn't subject to the same J $500 fine as recreational ganja. So, if you have a valid prescription, you won't be fined for carrying up to 2oz.
The Price of Weed in Jamaica
Weed prices in Jamaica depend on the quality and type of weed. For example, you can expect to pay about $60 USD for an eighth or up to $100 for an ounce. The better quality is, the higher the price.
Unfortunately for tourists, prices are generally higher in tourist areas. As you'll now be able to guess, prices are lower in more rural areas.
How Much is a Pound of Weed in Jamaica?
It's wise to buy the premium, highest-quality buds because you'll get more bang for your buck. The price of a pound of weed in Jamaica is $1,600 USD. But, depending on the quality, the cost can vary (more or less) by a few hundred dollars.
What Are the Best Strains to Buy in Jamaica?
The weather in Jamaica, as you probably know, is perfect for growing cannabis. The warm and humid climate allows for many different strains of cannabis to thrive. Some of the country's most popular strains include:
Gorilla Glue #4
This hybrid is one of the most popular strains in the world. Gorilla Glue #4 is loved for its potent THC content and unique flavor. The buds are sticky and covered in trichomes. The high is relaxing and euphoric, making it perfect for social situations.
Island Girl
This hybrid is a local favorite. It's desired for its sweet and tropical flavor with dense buds and orange hairs. The high is relaxing and euphoric, making it perfect for social situations.
Jamaican Dream
Known for its high THC content, Jamaican Dream has between 18-21%. Living up to its name, the complex flavor profile will leave you with a tropical, sweet, woody aftertaste. Are you looking to chill out with a pleasant body high? You might feel uplifted, creative, and happy after smoking this strain.
Lamb's Bread
If you're a beginner, this pure sativa is a great option due to the relatively mild cannabinoid profile of only around 15-19% THC and a splash of CBD. Lamb's Bread has a much-desired entourage effect and relatively predictable effects. This strain will leave you feeling happy, euphoric, uplifted, and creative.
Purple Chemdawg
Thisindica-dominant hybrid is known for its sweet and pungent aroma. It produces a heavy body high that's perfect for relaxing after a long day. The buds are dense and covered in orange hairs.
Want to visit one of Jamaica's unique herb houses?
Jacana is a featured herb house by Ganja Vacations. Jacana has been cultivating cannabis on its 100-acre, organic, sun-grown farm in the mountains of St Ann, Jamaica.
Jacana has already brought several new medical cannabis products to market. The company aims to make its dispensary exceptional - not just because of the quality of its products but by elegant design and an in-store customer experience that's educational and fun.
Visit their four dispensaries:
Manor Park
8 Upper Manor Park Plaza
184 Constant Spring Road, Kingston
+1 876 883 5103
New Kingston
Unit 9 New Kingston Business Centre
45-47 Grenada Crescent, Kingston
+1 876 454 0645
Ocho Rios
Shop 12 Island Village
Turtle River Road, Ocho Rios
+1 876 509 7922
Portmore
Rooftop at McMaster's Centre, Lot 18
Portmore Town Centre, Portmore
+1 876 306 3552