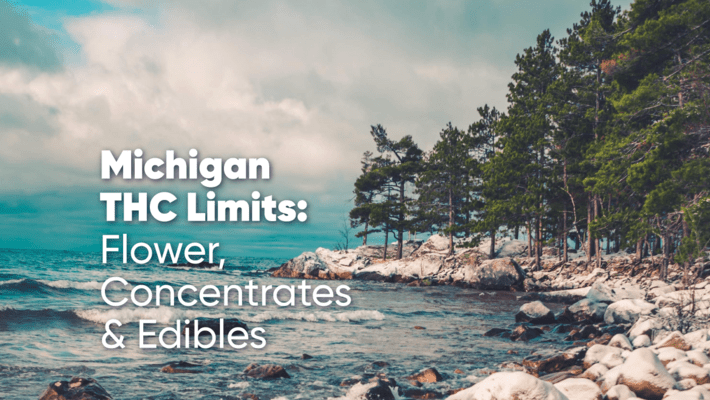 Michigan THC Limits: Flower, Concentrates & Edibles
Because cannabis is federally illegal and classified as a Schedule I drug (meaning the federal government claims it to be highly addictive and medically unviable), every state has unique laws and regulations, including those for consumption, potency, and purchasing limits. So long as cannabis is an illicit drug on the federal level, individual states that have legalized cannabis (either medicinally and/or recreationally) will not have the direction for adherence to a cohesive set of regulations. Because of this, it's important to understand the cannabis laws in any state you live in or plan to visit. Let's take a quick look at the most important and relevant Michigan marijuana laws
Cannabis in Michigan
The most important thing to address is legality. Both medical and recreational weed is legal in Michigan. In 2008, voters passed the Michigan Medical Marihuana Act (MMMA). Ten years later, in 2018, the Michigan Regulation and Taxation Marihuana Act was passed, making Michigan the first Midwest state to legalize cannabis. The first recreational dispensary opened its doors to the public in the last month of 2019, and adult-use cannabis has been available to anyone 21 years or older in the state since.
Michigan Weed Laws
While medical and recreational cannabis is legal in Michigan, they have various laws and regulations. The most crucial difference is the minimum age required to qualify for access. Recreational marijuana, like every state, is only legal for individuals 21 years or older. Medical marijuana, however, is legal for anyone with a qualifying condition that is at least 18 years or older; but unlike recreational weed, medical marijuana patients must be state residents, apply with the state for a medical marijuana card, and have a qualifying condition.
The medical conditions that qualify an individual for a medical marijuana card in Michigan are as follows (in alphabetical order):
Acquired Immune Deficiency Syndrome (AIDS)
Agitation of Alzheimer's Disease
Amyotrophic Lateral Sclerosis (ALS)
Arthritis
Autism
Cancer
Cerebral Palsy
Chronic Pain
Crohn's Disease
Colitis
Glaucoma
Hepatitis C
Human Immunodeficiency Virus (HIV) Positive
Inflammatory Bowel Disease
Nail Patella
Obsessive Compulsive Disorder (OCD)
Parkinson's Disease
Post-Traumatic Stress Disorder (PTSD)
Rheumatoid Arthritis
Spinal Cord Injury
Tourette's Disease
Ulcerative Colitis

Additionally, a chronic disease or medical condition that produces Cachexia or Wasting Syndrome, severe or chronic pain, severe nausea, seizures, or painful muscle spasms may qualify a patient for a medical marijuana card. There have also been cases where individuals who do not have any of the conditions listed above were granted a medical cannabis card, so we recommend talking to a medical professional or looking into a service like Leafwell if you are a Michigan resident interested in medical cannabis.
It should also be noted that individuals under the age of 18 can qualify as a medical marijuana patient but must have the approval, registration, and medical supervision of a caregiver or custodial parent and legal guardian. Additionally, primary caregivers of medical cannabis patients must be at least 18 years or older to purchase and transport cannabis to the medical marijuana patient for which they are responsible.
Other Important Michigan Weed Laws
There are many other laws surrounding the use and possession of cannabis that are similar to those in other states. Some of the more important laws to be aware of include the following:
Adult-use cannabis is subject to an excise tax of 10% along with the standard 6% sales tax.
Cannabis delivery is legal in Michigan and is dependent on the city/municipality and individual dispensaries.
It is illegal to smoke or consume cannabis anywhere in public.
The possession or use of cannabis on any federal land is illegal (i.e., national parks and forests)
Underage possession is illegal, as is providing/selling it to a minor.
Driving while under the influence of cannabis (like alcohol) is illegal and strictly enforced.
Cannabis (anything with more than 0.3% THC) cannot be transported across state lines.
Michigan Weed Limit Laws
Like age and qualification, there are differences between recreation and medical cannabis purchase and possession limits. The current Michigan recreational weed purchase limit per transaction is 2.5 ounces. If you're purchasing cannabis concentrate, the transaction limit is 15 grams. There is no Michigan weed limit per day, but an individual 21 years or older can only possess up to 2.5 grams on their person outside their home. At home, however, up to 10 ounces is allowed at any given time, and up to 12 plants per home are considered legal.
Medical cannabis users have the same possession limit outside their homes: 2.5 ounces. However, other limits for medical patients are slightly higher. 16 ounces of cannabis-infused products in solid form, seven grams of cannabis-infused products in gaseous form, and 36 fluid ounces of cannabis-infused products are the limits for patients with medical marijuana cards.
If an individual is caught possessing more than 2.5 ounces in public, a civil infraction and a $500 fine may be issued. If an individual is caught with more than 5 ounces, the penalty could increase to a misdemeanor. Also, the illegal sale of cannabis is still strictly enforced, with anything more than 5kg sold resulting in a felony, years in prison, and tens of thousands of dollars in fines.
Do you live in Michigan? Let us know how the laws affect you as a cannabis consumer and what you wish would change. Comment below!