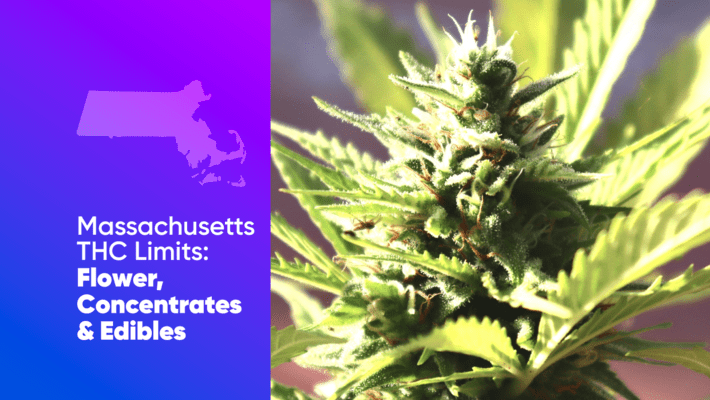 Massachusetts THC Limits: Flower, Concentrates, and Edibles
The laws around using and possessing cannabis are currently decided on a state-by-state basis. If you are living in or planning to visit Massachusetts and want to use cannabis legally, you've come to the right place.
Here are some of the laws Massachusetts has in place regarding recreational and medical cannabis use.
Is Cannabis Legal in Massachusetts?
Legalization is a tricky subject in many states, but Massachusetts makes it easy. According to Massachusetts law, marijuana is legal for both recreational and medical use in the state.
However, the limitations vary depending on whether you're a recreational or medical user.
Is Weed Legal in Boston?
Some states are known to make marijuana legal, while certain cities continue to ban it. You can rest assured that weed is indeed legal in Boston as long as you follow the various laws surrounding the purchase, use, and possession of marijuana.
Smoking in public is prohibited, but you can still enjoy Boston weed! Just know that if you do, the civil penalty will be up to $100.
Cannabis in Massachusetts: Limits to Know
The limits in place for using and possessing cannabis can vary depending on the type of product. As you can imagine, a wide variety of products are available in a typical recreational dispensary where anyone 21+ can walk in.
Let's take a closer look at some of the more common types of marijuana products and their limits.
Flower

Massachusetts law states that recreational users buy up to one (1) ounce of marijuana flower. You can have up to 10 ounces of marijuana at home. Any amount larger than an ounce must be kept at home and secured by a lock.
If you want to grow at home, you're limited to six (6) cannabis plants for personal use, with no more than 12 plants in the household at any one time. The good news is that these plants don't count toward the 1-ounce flower limit.
Concentrates
Massachusetts permits users to buy and possess up to five (5) grams of concentrate, which counts toward the legal 1-ounce limit.
Edibles
Edible laws in Massachusetts are unique. For recreational use, you can purchase up to 500 milligrams of edibles. For perspective, a standard tin of gummies is often 100 mg. 500 mg of edibles are considered equal to 1 ounce of flower, so you can mix and match when buying both or either one, as long as the total is no more than an ounce.

Topicals
When buying topicals, you might not realize there aren't limits like those of flower, concentrates, and edibles. Topicals are not subject to daily possession limits. So, in theory, you could go on a topical shopping spree if the dispensary allows you to.
Medical THC Limits (On Your Person)
Massachusetts offers medical marijuana to qualified patients over the age of 18 years old with fewer limitations than recreational weed. As a medical patient, you can have up to a 60-day supply of marijuana as prescribed by your physician, as well as up to six (6) plants for one adult or 12 plants for two or more adults in the home. Keep in mind that if you rent your home, your landlord can legally restrict you from growing cannabis if they choose.