What are the Top Marijuana Trends of 2020?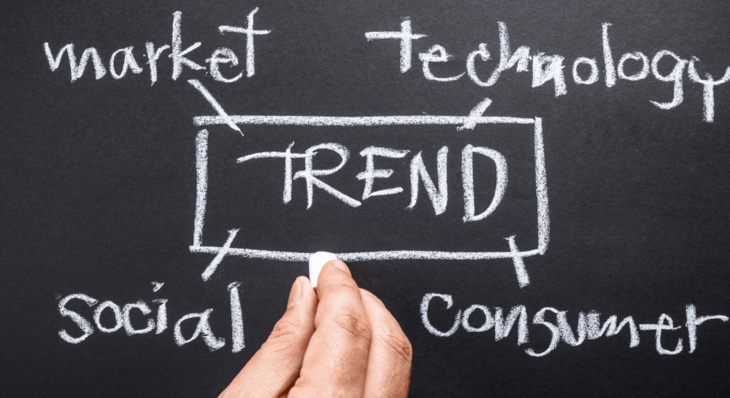 Published on Oct 21, 2020
The cannabis industry is constantly evolving, growing into something big, legitimate, and exciting. Since it's such a young industry, cannabis trends have a massive impact on the overall marijuana scene. As the market grows, and as customers become more knowledgeable about what's available, we are continually excited by what people are looking for next. 2020 was projected to be a big year for cannabis - more growth, more legalization, more advocacy, and increased product variety - but no one could have guessed just how unique of a year it has been.
Major Cannabis Trends 2020
Despite COVID-19, cannabis sales and industry growth are currently ahead of 2019 figures. At its current pace, the cannabis business is meant to account for $15 billion in sales by the end of 2020. Weed industry trends have reflected this growth and the unique situations that COVID-19 has provided. These are some of the overarching trends we're seeing in cannabis:
Online Ordering

2020 has seen an increase in online shopping across the board, and cannabis is no exception. Because of in-store occupancy limits, shutdowns, and social distancing guidelines, the demand for online cannabis ordering has skyrocketed. Many stores have seen well over a 100% increase in online sales between pre- and post-COVID lockdown, which has helped boost most other trends in legal cannabis.
Marijuana Delivery Services
Similar to online ordering, COVID-19 has given many customers reason to stay at home and order in their food, groceries, alcohol, lifestyle items, and yes, even cannabis. There has already been a steady trend toward cannabis delivery services, but 2020 has ensured it's long-term relevance. Many states decided to keep dispensaries open as "essential services" during Coronavirus shutdowns, and other states opted to even allow for cannabis delivery (especially in the case of medical marijuana). Especially since COVID-19 and social distancing guidelines look to remain a reality for the foreseeable future, we can expect this trend to continue for some time.
Political Consideration

Perhaps more than any other year in recent memory, 2020 has been overtly charged with political tension and party agendas. Cannabis has not been left out of the spotlight. Marijuana legalization and cannabis advocacy remain increasingly relevant topics as we enter the final months before the 2020 presidential election. Additionally, there have been many states, along with the federal government, looking at new cannabis legislation. Keep checking in with Where's Weed for updates on the everchanging landscape of marijuana legalization.
Increased Cannabis Approval
Not only has 2020 seen an increase in cannabis sales - the average dispensary has experienced increased profits between 52% and 130% - but it has also seen a rise in overall cannabis approval. In late 2019, the Pew Research Center published that 59% of Americans believe recreational marijuana should be legalized. Polls in 2020 suggest that this number may have increased to upward of 67%, which is a massive increase of 37% since 2000. We're excited to see where this trend takes us in upcoming years.
A Focus On Solidarity and Social Justice
This last overarching trend is directly related to the social movements that have been given renewed momentum in 2020. Black Lives Matter, continued LGBTQ+ equality, and an increasingly polarized pollical environment has led to a call for solidarity and allyship. Cannabis has been directly and indirectly tied to many of these social issues for decades - 2020 has been a chance for the cannabis industry to take a stand against the injustices affecting the marginalized communities that help make up the larger cannabis community.
Major Dispensary Trends in 2020
Overall, cannabis sales are up in 2020, but there have been a handful of especially popular products, ranging from a plethora of CBD-infusions to vapes and THC beverages. Below is a list of the top trends in cannabis products in 2020.
Live Resin
A relatively new type of cannabis concentrate, live resin has swept the industry. Live resin is an incredibly diverse product that saves well and offers a unique concentrate experience. It is most effectively smoked by dabbing (another popular trend), and its popularity has led to increased availability. Because of this, we suspect the 2020 live resin trend will continue into the future.
Carbonated Drinks
Cannabis-infused beverages have been on the market for a few years, but 2020 has seen a massive uptick in popularity. They are still, overall, limited by regional distribution, but THC-infused seltzers are going to continue finding more traction (and let's not even get started on CBD-infused seltzers). Additionally, 2020 has seen the beginnings of a cannabis-based alcoholic beverage trend that is expected to grow exponentially over the next few years.
Vapes
Despite the public's adverse response to the 2019 vaping crisis, 2020 has seen a resurgence of cannabis vaping (the vaping crisis was caused almost entirely by the illicit sale of marijuana vaping products). Sales are still down, compared to previous years, but vapes still account for roughly 15% to 20% of the legal cannabis market in 2020.
Gummies

Easy to use, relatively cheap, and more healthy than smoking, it makes sense that gummies remain a customer favorite. As the cannabis industry enters a new stage of growth, gummies will continue to take up more of the market and appeal to new users. And while cannabis gummies (especially CBD gummies) have been one of the more obvious trends, in general, edibles have been performing incredibly well throughout 2020.
CBD Products
It's hard to name one single CBD product that is outperforming others. CBD oil and its prolific infusions have overwhelmed the market. Whether you want CBD-spiked cocktails, skin health products, makeup, or even dog treats, 2020 has seen an uptick in products that tailor to your needs. Since its federal legalization in 2018 and subsequent increase in scientific studies, CBD continues to grow in popularity as an alternative health product.
Are you a cannabis advocate, enthusiast, or industry associate? Give us your insight into 2020 marijuana trends. What is the marijuana industry missing? What do you think 2021 has in store? Comment below!