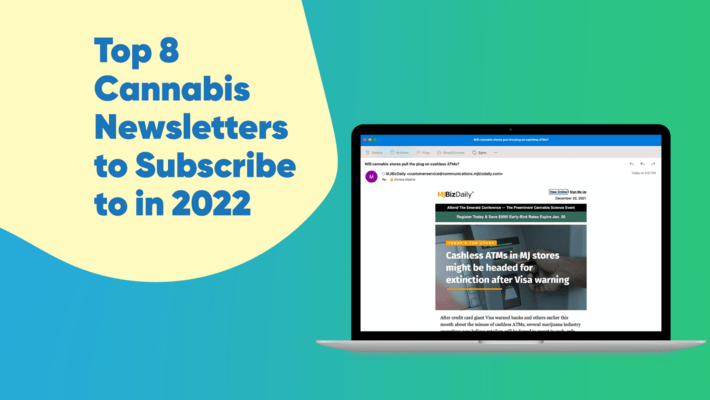 Top 8 Cannabis Newsletters to Subscribe to in 2022
"If I had to choose between government without newspapers and newspapers without government," wrote Thomas Jefferson, "I would not hesitate to choose the latter." While there are many ways to get your news these days, cannabis newsletters remain at the forefront of the industry. Stoners may lack the patience to sift through all the different newsletters out there, which is why we have compiled this list of the best cannabis newsletters you should know about. From political developments to the introduction of new strains, these newsletters can keep you up to date on all things 420.
Extra, Extra, Read All About It
Why should smokers keep up with new cannabis news? For starters, cannabis is changing fast: the green rush that has affected everything from economics to health to the latest news on weed legalization. Additionally, there are many different facts and opinions out there, and the erudite pothead should take both into account when making up their mind on the issues. Education is the cornerstone of excellence, whether you want to roll a better joint or invest in cannabis NFTs, cannabis newsletters help you to be a better producer and consumer of marijuana.
Newsletters have evolved too. Paying attention to the pot news does not mean subscribing to a book-sized newspaper and feeling bad if you do not read through the whole thing. There are traditional articles, video platforms, podcasts, and other media formats. Cannabis is no longer a niche journalism topic; some of the world's best writers and editors pursue stories on this fantastic plant. No matter how you enjoy getting news, you can be sure to find someone that fits your preferences.
The publication of a larger comprehensive business arm, Marijuana Business Daily, the (abbreviated) newsletter covers many topics. The flagship newsletter, Daily, does indeed come daily, while their finance and industry publications are weekly, and their science publication is monthly. They are all free, making them a practical way to keep up on everything pot.
At $100 per month, CannabisWire is one of the more costly newsletters on this list. However, their coverage of pot news today is unrivaled, especially since they publish their newsletter each weekday. Their journalists delve into every topic, from federal policy to local dispensaries, with specialists who dive deeply into topics like cannabis science and research.
It's hard to imagine a more thorough or informative newsletter than Marijuana Moment. Called "up to the minute" news on all manners of cannabis, including culture, politics, and economics. MMJ news is edited by Tom Angell, who has over two decades of experience in the fight for legalization. The newsletter aspires to provide information not just for the casual pothead but also for politicians, professionals, and the broader public. It calls out the list of individuals at the state and national levels who read their newsletter - and work towards cannabis reform. Their morning newsletter is stuffed to the brim with headlines and analysis from some of the leading journalists in the industry.
By far the most famous cannabis publication in the world today, the magazine High Times has long been at the forefront of marijuana journalism trends. High Times News remains a trailblazer (pun intended) for all the news involved in the world of bud. A digital magazine subscription to the magazine costs just five dollars per month and gives access to the most important investigative journalism in the cannabis space.
While most 420 news report publications focus primarily on the United States, 420 Intel has an international lens for the industry. Their free daily newsletter provides information on many different fields, including the struggles for legalization in other nations, the expansion of business across international borders, and the growing intersection of cannabis and other industries.
You might not imagine that Business Insider has many customers who spark a doobie on the weekend. However, this major financial publication has a subset specifically for cannabis called Cultivated. Published weekly, this newsletter is edited by Jeremy Berke and Yeji Jesse, two writers with extensive experience in both cannabis and economics. Cultivated is a free newsletter that provides insight into how the cannabis industry enjoys white-hot growth. It is perfect for those interested in investing in businesses or starting their own.
Whenever you are looking for news on cannabis, Where's Weed will keep you up to date with the latest and greatest stories. Our website blog includes education and news on cannabis itself, like breakthrough strains, industry news, the latest legalization news, and cultural topics to help you enjoy every toke all the more. Not a subscriber? Join our email list by scrolling to the bottom of this webpage and entering your name and email address.
Do you subscribe to any cannabis newsletters? How have you learned more about a smoking hobby? Let us know in the comments below!