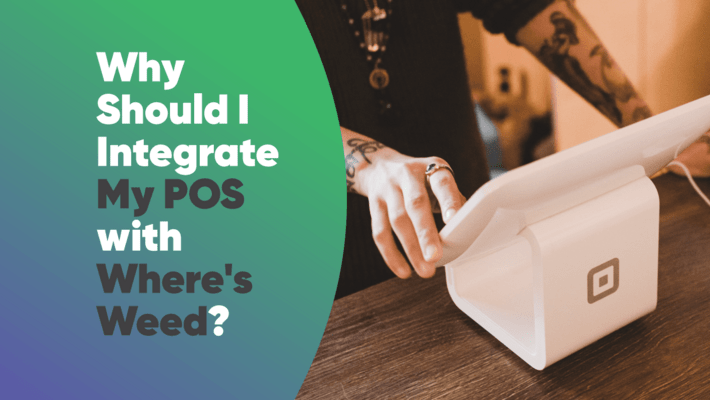 Why Should You Integrate Your POS With Where's Weed
As a cannabis business, bringing new customers through the door can be difficult. While customers consider a few factors when choosing a dispensary, a few more things can help them select your dispensary over your competitors.
Of course, you can always create a strong brand and keep a social media presence to get new customers inside the door. However, one of the best ways to attract new customers is by integrating your point-of-sale (POS) system with Where's Weed!
Understanding Different Types of Integration
How you integrate your POS determines how much time you want to spend updating your Where's Weed business account.

Full integration automatically adds new items to your store's menu on Where's Weed, updates pricing and quantities, and provides a real-time feed directly from your POS system. Once you connect, you're one and done! No need to spend extra time updating your business inventory in your Where's Weed account.
Inventory-only updates feed your current inventory data into Where's Weed once uploaded into your store's point-of-sale.
With manual updates, you must make updates and add new items manually.

Dispensaries and delivery services that have fully integrated their POS systems with Where's Weed have seen a significant increase in online orders, SEO authority and brand awareness for their products.
Benefits of Integrating Your Point-of-Sale with Where's Weed

Fully integrating your POS with Where's Weed allows you to use the SEO authority of our site to connect your cannabis business with consumers searching for weed in your area. These consumers have high purchase intent, and if you reach them at the right moment - you can win their sale. We partner with some of the best POS systems on the market to help make your business successful. Here is why you should integrate:
Grow Your Business Online
Integrating your POS allows you to bring new, highly-qualified customers into your business. Our advanced internet marketing strategies bring local buyers looking for cannabis products as website visitors with a solid intent to purchase products. By integrating, your business shows above businesses that haven't integrated. Local buyers can search your menu to view your entire inventory online, often triggering an online purchase from your store.
Start Accepting Online Orders and Pickups
Once these customers find your menu through Where's Weed, they can place an online order through our site. These orders are sent directly to your point-of-sale system for efficient order fulfillment, allowing you to capture new audiences and consumers.
Real-Time Menu Updates
POS integration allows you to bring your in-store shelves online for free with Where's Weed. Our real-time data synchronization with your point-of-sale keeps your inventory up-to-date without manual updates. Connect once, and then you're done! No more incorrect online orders due to outdated menus.
Access Data and Insights
At Where's Weed, our goal is to help your business grow! We process thousands of online transactions daily and utilize an intuitive interface to help you monitor your ordering performance to make data-driven decisions. By identifying these consumer trends, you can provide unique experiences for your customers. These insights provide your business with the proper data to acquire a competitive edge and ensure that you can cater to your consumers in the best possible way for the best possible conclusion.
Boost Brand Visibility and Buyer Trust
By integrating your point-of-sale system, Where's Weed shows your business above others in your area who have not integrated. This boost allows you to connect with customers in your area actively looking for cannabis products. They can browse your menu, read reviews from other customers who bought, and ultimately gain trust with your brand.
How to Connect Your POS With Where's Weed
Now that we've explained the benefits of integrating your point-of-sale with Where's Weed, you might wonder how you can connect and get started. It's easy to get started, and since we're currently testing this feature - it's free to participate!
First, you must request an API Key directly from your point of sale. Once you've received that information, we'll update your profile with API key data and sync your POS system with our servers. This feature auto-updates your inventory in real-time so your customers can shop your menus. Even better, we send Online Orders directly from Where's Weed to your POS for fulfillment and verify the order status. Now you can see the sales start to fly in!
Want to learn more about connecting your point-of-sale with Where's Weed? Fill out this form, and we'll throw in a $10 coffee gift card for you to enjoy!