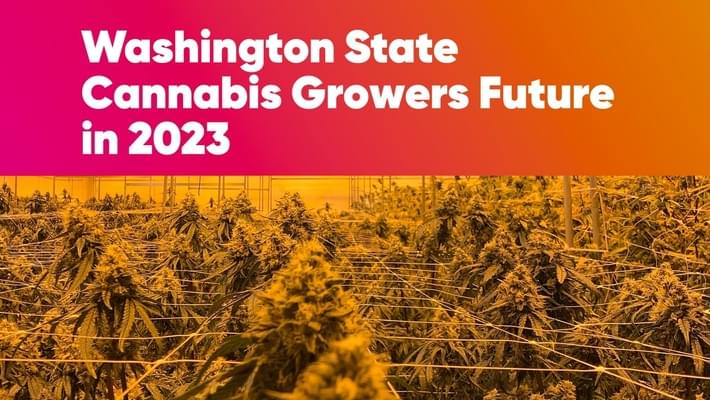 Washington State Cannabis: The Future of Growers in 2023
When it comes to the world of legal cannabis, it's not exactly a secret that the West coast is clearly the best coast. Whether it's a thriving legal market all the way down the coast of the Pacific Ocean, the famous Emerald Triangle that produces some of the best quality cannabis on the planet, or states like California, Oregon, Colorado, and Washington all being early adopters to embracing the cultural shifts and money-making potential that come along with legalizing cannabis, it's not unfair to call the western states more cannabis-friendly than some other areas of the nation.
But, just like anything, the legal cannabis industry in those states is far from perfect. Even California, the nation's largest and most well-funded state-level legal cannabis program, has felt the pinch of fluctuating demand, supply chain problems, and growing pains associated with new regulations and changing tax codes. So if even a behemoth in the space like California is struggling, how are other west coast legal states going?
Today, we're going to deep-dive into some of the challenges the Washington state cannabis industry faces going into 2023. We'll touch on challenges and setbacks like oversupply driving down prices for Washington state cannabis license holders trying to operate their businesses and the lack of social and economic equality measures baked into Washington state cannabis laws. Then we will dig into how Washington state cannabis regulations and rules are preventing outside investment to help the industry progress.
Not all Doom and Gloom
Before we get into the detailed analysis of the challenges Washington state's legal cannabis program might face, it's worth mentioning that despite its issues, the state's program is still plenty lucrative. Washington state cannabis sales figures via their retail stores reach a whopping 1.7 billion in 2022 and show no signs of slowing down either. Despite some of the problems we're about to look into, the state's sales figures are still estimated to hit around 2.5 billion by only 2026. So if you're a grower in the Evergreen State, there's a lot to like about your chosen industry both now and in the immediate future.
To be clear, we're not producing this piece to discourage upstart growers and cannabis aspiring cannabis industry pros. It's actually the opposite. The issues we're about to lay out aren't going to kill the industry, but if left to fester for too long, they could impede the industry's growth toward those estimated figures. For those who want to help avoid the pitfalls of other states like California or Oregon that have led to stagnation and a plateau in their state-level programs' respective growth, we've got your back here at Where's Weed.
The first step to fixing problems is knowing they exist in the first place, so with that in mind, let's take a closer, more detailed look into some of the biggest challenges Washington state's legal cannabis growers will need to keep in mind going into 2023!

Supply and Demand Challenges
Almost every industry felt the sting of supply chain problems due to COVID, and the legal cannabis industry has been no exception. For west coast states like Washington, however, the market is so flooded with products that it's driving the wholesale price down to the point where small grow operations, and upstart craft growers need to make more profit to get a serious foothold.
Washington regulators could prioritize handing out grow licenses and providing resources in the form of grants, loans, and special treatment for smaller growers to properly compete with massive corporate grows.
The David vs. Goliath Problem
To compound the problem, a considerable percentage of that product being put out onto the market is via massive, corporate inter-state grow operations that can afford to operate at a loss in exchange for deeper ownership of the customer market. It's very similar to craft beer companies and local breweries trying to compete with industry juggernauts like Coors and Anheuser-Busch. They can put up a brave fight, but they need to be more balanced regarding financial and logistical resources at the end of the day.
And while customers often prefer to support local businesses and feel they get better quality products from the small craft growers, these small grows are being forced out because they can't make a profit. It also hurts customers to be forced to pay more for craft products when the standard price for dispensary products is already so low. Asking customers to vote with their valuable consumer dollars can only take you so far.
The Pros and Cons of Outside Investment
Many have pitched allowing outside investment as a viable solution for some of the above mentioned issues. While it's undoubtedly true changing the current law forcing cannabis entrepreneurs to live within state borders for six months before they can get a license of their own would be helpful, it's also an imperfect solution.
Lifting the ban would allow investors to pour capital into small grows, hopefully increasing minority ownership and upstart entrepreneurs in the process, allowing for a leveling of the playing field regarding social justice and competition with the larger corporate grows. But with all those pros in mind, there's bound to be a stumbling block somewhere. Unless Washington state specifically works to funnel that new investment capital and licensing to minority-owned businesses and projects, it likely won't make a real dent in solving the problem.
The Bottom Line
Washington's legal cannabis industry clearly has some issues to work out, but it's far from broken beyond repair. The demand is still there, the supply easily meets it, and the industry as a whole is incredibly profitable. Now it's just about figuring out how to get the best out of the industry with a few legal tweaks and changes. While it might take some work and advocacy from those upstart growers on their own behalf, the rewards they'll reap when those changes do come will be well worth the effort!