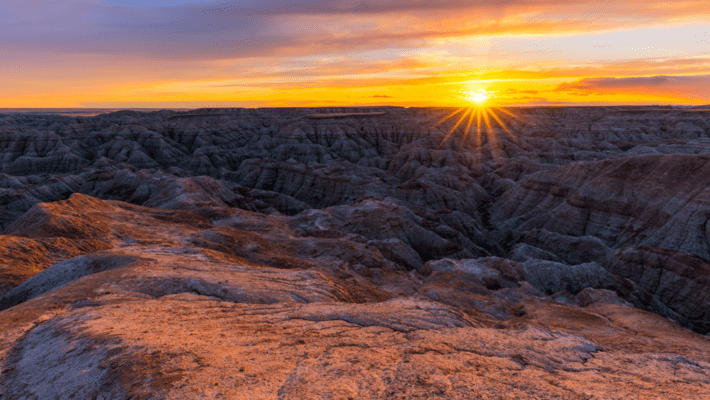 Legalization Update: Is Cannabis Legal in South Dakota?
South Dakota made history in the 2020 election when it legalized both medical and recreational marijuana simultaneously - it was the first state to do so. Unfortunately, the state supreme court recently declared that the measure of legalizing marijuana was unconstitutional, and now the fate of cannabis in South Dakota is stuck in limbo as politics play out. The whole situation has a lot of people asking, "is marijuana legal in South Dakota?" Let's take a look at the facts.
This History of Cannabis in South Dakota

In 1970 the Controlled Substance Act federally outlawed marijuana (both medical and recreational). From that point up until 2020, South Dakota maintained compliance with marijuana's Schedule I classification. Over the years, there were several grassroots activist efforts to legalize cannabis as a wave of pro-cannabis policies spread across the United States. South Dakota has also, unfortunately, historically been responsible for an overwhelming prejudiced arrest record. In 2010, black people were over 4x more likely to be arrested than their white neighbors. In 2018, South Dakota had skyrocketed to the top of the charts as the state with the highest marijuana possession arrest rates in the country, with nearly 700 per 100,000 (a change of 176% since 2010). Marijuana laws in South Dakota have also historically been fairly severe, with high fines, misdemeanors, and months of jail time for minor possessions. Then, in November 2020, voters historically approved the legalization of medical and recreational cannabis on the same ballot and put South Dakota on the list of recreational weed states.
The 2020 Cannabis Laws

Amendment A was passed with 54% voting in favor and 46% in opposition - an 8% margin that equates to 35,000 voters. Also known as the Marijuana Legalization Initiative, this law would have legalized the recreational use of marijuana for adults 21 and older. Adults would have been able to possess and use up to one ounce of cannabis. The amendment would have also required the South Dakota State Legislature to pass laws for a medical marijuana program and the sale of hemp by April 1, 2021. Individuals who lived in areas without a dispensary could have grown up to three marijuana plants at a time, and marijuana sales taxes were to be set at 15%, with state revenue going toward public schools and the state's general fund.
Measure 26 was passed with 70% voting in favor and 30% in opposition. It was initiated by the organization New Approach to South Dakota. Also known as the Medical Marijuana Initiative, this measure established a medical marijuana program in South Dakota for individuals officially certified by an in-state physician. South Dakota medical marijuana patients are allowed to possess up to three ounces of cannabis and can register to grow three plants at home. The measure sets specific parameters for qualifying conditions that include a chronic or debilitating disease or medical condition, cachexia or wasting syndrome, severe pain, severe nausea, seizures, and severe muscle spasms.
The Supreme Court Ruling

South Dakota Governor, Kristi Noem, initiated the process of undoing Amendment A, which voters had legally passed in November 2020. Pennington County Sheriff Kevin Thom and South Dakota Highway Patrol Superintendent Rick Miller took the role as plaintiffs against the State of South Dakota, for which South Dakotans for Better Marijuana Laws and New Approach South Dakota both intervened for. The plaintiffs argued that the amendment had violated state laws by being comprised of more than one subject. Circuit Judge Christina Klinger ruled in favor of the plaintiff in February 2021. This has made the answer to "is weed legal in South Dakota" so contentious over the last year.
Then, in November 2021, the South Dakota Supreme Court upheld the lower court's ruling. The final decision was made, citing that the amendment contained at least three separate subjects and that the South Dakota law mandates that amendments only have one. It should be noted that advocates were able to successfully defend the medical marijuana South Dakota law during a legislative session. Medical marijuana, in accordance with Measure 26, became legal in South Dakota on July 1, 2021. However, "where is weed legal for medical use in South Dakota" and "where is weed available" offer two very different answers - there are not yet dispensaries or an infrastructure from which to purchase cannabis at this time.
The Future of South Dakota Marijuana Legalization

While Amendment A will unfortunately not pass, activists are working hard to ensure that legalization still comes to South Dakota. The new plan is to get a new amendment on the 2022 ballot and have the voters decide once again. South Dakotans for Better Marijuana Laws is currently seeking enough signatures to put another measure on the 2022 ballot, which has a deadline of May 3, 2022. Additionally, lawmakers have advanced a draft bill to legalize recreational marijuana with a 14-10 vote in October. The bill would repeal much of the medical marijuana measure that has already been passed, introduce adult-use marijuana possession up to 1-ounce for citizens over 21 years old, and allow individuals under 21 to use cannabis for medical purposes. We are hopeful that marijuana legalization in South Dakota is just around the corner (again). Make sure to check back in for updates as the situation progresses.
Do you live in South Dakota or other states with legal weed? What do you think about the current South Dakota marijuana laws, and how do you think the decision will play out? Let us know in the comments below!