High Expectations: The Biggest Pot Store In The World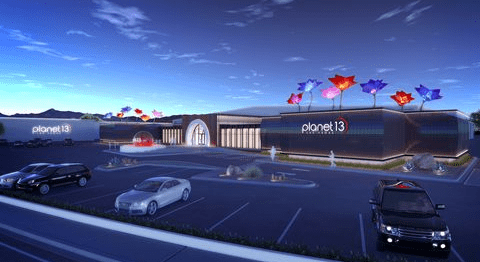 Published on Feb 20, 2019
When it comes to dispensaries, you don't usually think of them as budding attractions but Planet 13 in Las Vegas wanted to bring you the dispensary experience of a lifetime - Vegas style. Some people might think the people behind Planet 13 took things one toke over the line with the mega dispensary that has an aerial orb show to go with all the edibles that line the wall. But! They had a vision and one that's pretty 'purple sticky punch' if you ask us, and Pauly Shore, because we might all agree that the value of the marijuana industry goes way beyond just tokin' it.
(courtesy Esquire)
So, what makes Planet 13 so special? "We wanted to make this a destination," claims Larry Scheffler, Planet 13's co-CEO. "We tried to out-Vegas Vegas." And boy did they! Planet 13 is a 112,000 square foot facility that is so very Sin City and full of flower, oil, CBD, edibles, and everything in between. This place isn't just a store - it's an entertainment destination. When you enter the building you are greeted by gorgeous LED interactive flowers and an interactive art wall. They even went so over the top with their worldly imports that they installed a koi fish pond.
Planet 13 serves about 1,400 customers a day in the Las Vegas superstore. So, if you're looking for the Bellagio Fountain experience of dispensaries this is the place to go! The thought behind Planet 13 was a driving force that is much like the weed culture you see in Amsterdam. Cannabis consumption lounges could soon be a thing in The Silver State - which means one more silver lining for Planet 13.
According to Cheddar News, "If Clark County approves public cannabis consumption lounges in January, the space will also house areas for customers to try their newly-purchased souvenirs. For now, though, the only merchandise guests can sample on site is Planet 13's branded apparel, including a T-shirt boasting: "Size matters when you're the biggest."