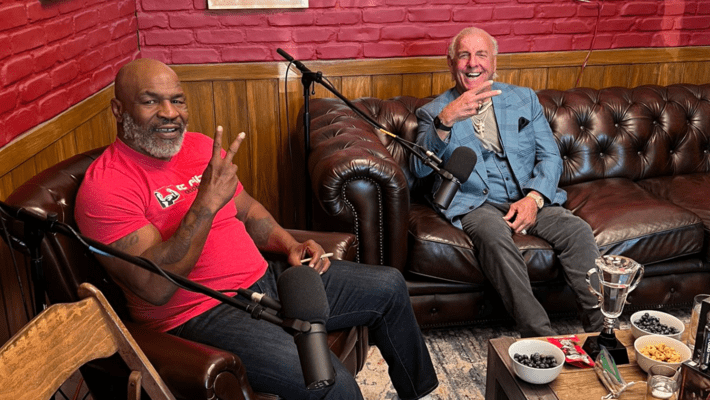 Mike Tyson Partners With Pro-Wrestler Ric Flair on Cannabis Brand
Few people have had as big of a cultural impact as Mike Tyson. His resume includes one of the greatest professional boxing careers in history, dozens of movie cameos (like The Hangover) and producer credits, extreme scandal, and time in jail after being convicted of rape that he contests to this day. However, did you know that there's such thing as a Mike Tyson Cannabis Ranch? Well, there is, and the Mike Tyson marijuana brand is growing. Now, iconic professional wrestler, Ric Flair, is partnering with Tyson to create Ric Flair-themed cannabis products. Here's what you need to know.
Who Are Mike Tyson and Ric Flair?

Mike Tyson is considered one of the greatest heavyweight boxers of all time. Known as "Iron Mike," he made history as the youngest person to become the heavyweight champion at 20 years old in 1986. He then remained the world's undisputed heavyweight champion from 1987 to 1990. One of his most iconic (and notorious) moments was in 1997 when he bit off part of Evander Holyfield's right ear during a fight. More recently, outside of boxing, Tyson founded Tyson Holistic, a California-based cannabis company founded in 2016, now branded as Tyson 2.0. That brings us to Ric Flair.
Ric Flair is considered one of the greatest professional wrestlers of all time, having won 16 championship titles (number varies by source) throughout a 40-year, 757-match career. Throughout his career, Flair wrestled with the National Wrestling Alliance (NWA), World Championship Wrestling (WCW), and World Wrestling Federation (WWF) and has participated as a personality for World Wrestling Entertainment (WWE) before and after his official retirement.
Flair and Tyson met in the 1980s and have shared a love for marijuana throughout their acquaintance. Now, starting in 2022, brought together by Chad Bronstein, the co-founder and chairman of Tyson 2.0, Flair and Tyson are joining together to add a Ric Flair product line to Tyson's cannabis company. There are many people interested in the brand. Still, many are skeptical about the potential quality that will come out of the Mike Tyson cannabis farm and what it could do to the cannabis industry.
Celebrities and Cannabis
Especially in recent years, as legality continues to spread across the United States, there has been a myriad of celebrities who have invested in cannabis and even started their own product lines. The most notable include Belushi's Farm by Jim Belushi, Houseplant by Seth Rogan, Monogram by Jay-Z, Khalifa Kush Enterprises by Wiz Khalifa, GKUA Ultra Premium by Lil Wayne, Stoopid Organics by Slightly Stoopid, Mirayo by Santana, and Willie's Reserve by Willie Nelson, among many others.
Some celebrity brands have found acclaim within the cannabis community and are thought to bring an air of legitimacy and cultural acceptability to cannabis. However, there are also a lot of celebrity cannabis brands that don't hold up to scrutiny and, instead of bringing legitimacy, prove that some high-profile personalities simply want to cash in on the investment opportunity. It takes a lot of money to get started and maintain a cannabis brand, and large companies often make it difficult for local, high-quality, small operations to survive. This is one of the biggest reasons celebrity brands are so heavily scrutinized. What's more is that, because celebrity brands have the weight of iconic names behind them, the prices tend to be much higher. In the end, what matters is quality. If a celebrity cannabis brand can provide quality products, then what's there to dislike? The question is, what will the Tyson/Flair collaboration result in?
The Mike Tyson Cannabis Brand and Ric Flair

Tyson's cannabis company, Tyson 2.0, has a lot of weight behind it and is cleverly branded as "undisputed cannabis." There's high-quality merch, an active website, and plenty of collaborations. Mike Tyson now has announced that it will have a line of Mike Tyson edibles called "Tyson Bites," which will be shaped like ears with a chunk bitten out of them (a callback to the infamous Holyfield incident). Now, Ric Flair is hopping on board after Tyson bought a majority share in his business, Ric Flair Drip, Inc., which allows Tyson to use Flair's trademarks and intellectual properties. Flower, concentrates, and edibles will all be part of the Ric Flair product line. Since the collaboration was only announced in March 2022, there are still a lot of unknowns, including what the products will be exactly or how much they will cost. However, we can assume that the products will be available wherever Tyson 2.0 products are sold, which now consists of Colorado, California, Nevada, Massachusetts, Michigan, Delaware, Illinois, and Washington D.C. However, the Mike Bites are not allowed to be sold in some states like Colorado due to regulations already in place. Stay tuned to Where's Weed for updates as this interesting partnership continues!
Have you had a chance to try any Mike Tyson cannabis yet? Let us know what you think, why it's good or not, and what your thoughts are on his newest collaboration with Ric Flair. Comment below!