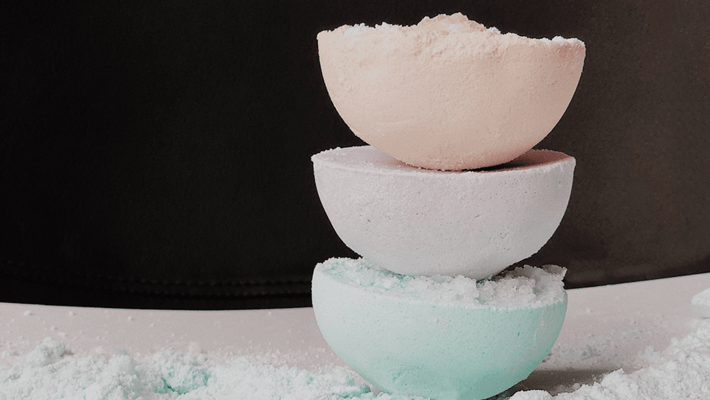 Simple, Homemade THC & CBD Bath Bombs: Marijuana Recipes
With the current times being as stressful as they are, everyone is out there looking for a reprieve from reality. A warm bath is just what the doctor ordered. Bath bombs have only exploded in popularity over the years, and the cannabis industry getting in on the fun, too. CBD oil bath bombs are just another one of the countless CBD and THC products that are hitting the market by storm.
What are Cannabis Topicals?

Cannabis is everywhere, especially cannabis topicals. Topicals are a weed-infused lotion, balm, oil or salve that is absorbed through the skin for relief, pain, inflammation and soreness. Along with either CBD or THC or sometimes both cannabinoids, they typically contain other ingredients such as essential oils for relief like lavender, clove and cayenne. Topicals are currently one of the newest ways to consume and especially beneficial for those who can't smoke. These are popular within the medicinal, elderly and athletic communities. In 2019, data from BDS Analytics found that topicals account for 24% of purchases at dispensaries, showing that this is a powerful new space within the cannabis market that people are interested in.
How Do Topicals Work?
Cannabis works within the human body through a system called the Endocannabinoid System. The ECS has receptors that bind to specific cannabinoids, such as THC and CBD. THC specifically binds with the CB1 receptor, which then, in turn, provides the psychoactive effects that cannabis is known for, such as euphoric feelings. CBD has an affinity for the CB2 receptor but often doesn't bind directly with that receptor. In fact, it works indirectly and can even help other cannabinoids. This just shows that CBD is known for the therapeutic effects, rather than the psychoactive ones.
When it comes specifically to topicals, they typically do not reach the bloodstream and only provide local relief for pain and inflammation. Even THC bath bombs do not make one "high", because nothing enters into the bloodstream. The skin has many CB2 receptors, which means CBD and the skin practically go hand-in-hand to provide localized relief while also being non-intoxicating.
The Effects of an Infused Bath Bomb

Cannabis bath bombs can provide a plethora of desired effects that go past just a general sense of calmness. To start, there are moisturizing properties that are great for healing the skin. CBD especially is great for skin conditions such as eczema, psoriasis and dermatitis. A 2014 study even found that there was a positive impact on sebocytes, which create sebum. Sebum causes acne, which means that CBD infused bath bombs can also aid in acne prevention and recovery. As with all things cannabis, there hasn't been much research on just what cannabis bath bombs can do, even though research has pointed to positive findings in both skin purification and relaxation. In general, it has been proven that warm baths improve heart health, help one breathe easier, calm the brain and even balance hormones within the body.
Will a THC Bath Bomb Show Up on a Drug Test?
To begin to answer this question, as a good rule of thumb it's always best to just avoid THC-infused products (regardless of amount) if you're truly worried about passing a drug test. However, the answer is generally no. Topical THC levels are typically much lower than the like of flower, edibles and concentrates. The levels in a THC infused bath bomb also typically fall below the detected level for most drug tests. Using a CBD isolate bath bomb recipe only maybe your best bet to calm your drug test worries. However, transdermal products are a different story, as those do deliver cannabinoids into the bloodstream.
How to Make a Cannabis Bath Bomb

Before we begin with this recipe, it is important to note the only difference between how to make THC bath bombs and how to make a CBD bath bomb recipe is whether you are using CBD oil or THC oil.
Start by mixing your dry ingredients: 1 cup of baking soda, 1/2 cup of Epsom salts and 1/2 cup of starch, such as cornstarch.
Then, add in the oils and a dash of water. You will need to combine 3 tbsp of cannabis oil (either CBD or THC oil), 1 tbsp of coconut oil or olive oil, a 1/2 cup of citric acid and any essential oils (30-40 drops) of your choosing. It is optional to add some fun food coloring of your choice as well.
Place the mixed ingredients into a mold, as the consistency should be suitable for holding and shouldn't crumble when you try to shape it to your pleasing. If it is too dry, add a bit of water.
Let the bath bombs sit in their molds for 3 to 5 days to allow them to fully dry.
How to Enjoy Your Bath Bomb
So, you just created your colorful, relaxing infused bath bomb from the recipe above, and you're ready to jump into the warm bath. Here are the instructions on how to bliss out with a bath bomb.
Start a bath, warm to a temperature of your liking.
Throw the THC- or CBD-infused bath bomb into the bath, let it dissolve completely.
Jump into the bath and enjoy with your favorite book or podcast!
After a long, relaxing soak, dry yourself off with a towel. Don't forget to seal in the moisture some hemp lotion from our friends at CBD Infusionzto keep your skin extra moisturized and body pain-free all day!
Have you made your own infused bath bombs? Let us know your process and the results below.