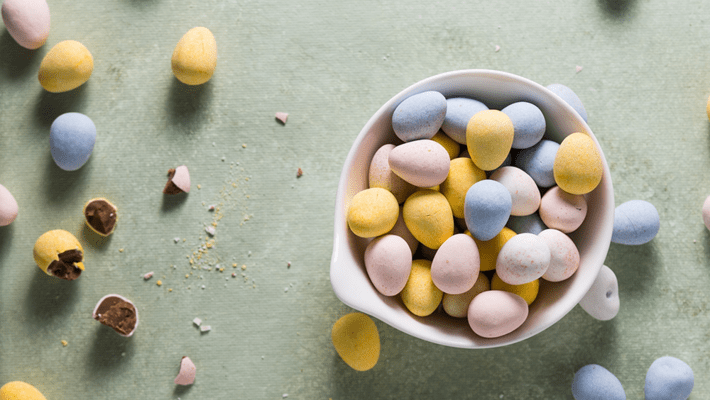 How to Make Easy Chocolate Cannabis Easter Eggs: Marijuana Recipes
Spring is officially underway, and that means it's time to get into the holiday spirit for Easter (if you celebrate!). Whether you're looking to keep things interesting at the family party or just want a springtime specialty, consider bringing some tasty cannabis treats for all of the adults to have fun with. Below we will tell you how to make edibles fit for this Easter.
Decarboxylation

If there is one thing to know about the process of edibles it is that this process of decarboxylation is paramount. Prior to this process, raw cannabis does not contain large amounts of THC, instead, it has a wealth of THCA, which is the precursor to the well-known psychoactive compound. This process is one that uses heat and time to remove a carboxyl ring from THCA, which then converts it into the beloved THC. To decarb your cannabis, simply preheat your oven to 225 degrees Fahrenheit and add parchment paper on a baking sheet. Break up your weed into small pieces and add to your pan. Place the baking sheet in the oven for 20-45 mins, until your cannabis turns golden brown.
Dosing Edibles
The trickiest part of how to make edibles with weed is, without a doubt, the dosing aspect. It is important to realize that there is no exact science here and to remember that edibles will generally always be more potent due to the way our body digests and breaks down the THC. Remember, less is more.
While there are dosage calculators out there, if you plan on participating in cannabis math class yourself, here are a few pointers. Know your THCA percentage and for smoother numbers, use a classic edible recipe that requires one ounce (28 grams) for every cup of butter or oil. Generally, there is a 90% potency retention rate from THCA to THC.
One last note on dosing your edibles. The strength of your treats also depends on the saturated fat content of your base. The higher the content, the more THC that will be retained during infusion. Butter is the most common base, which is what we'll be getting into with this recipe. There are always questions when making cannabutter, make sure to consult our guide.
How to Make Edibles: THC Chocolate Cream Easter Eggs Edition

Combine 1/2 cup of sweetened condensed milk, 1 tsp vanilla extract, a pinch of salt and 1 stick of unsalted, softened butter into a bowl for mixing. Mix until creamy.
Add 4 to 5 cups of powdered sugar in, one cup at a time, until the mixture has thickened similar to play-doh. This is the dough for your Easter eggs.
Take a teaspoon of your cooled cannabutter and roll it into a ball (You will need about a 1/2 cup total). Then, take a tablespoon of the dough you have just created and roll it into a larger ball. Place the cannabutter into the middle of your formed dough, wrapping it and covering it all around. This should turn out to be an egg shape.
Place the eggs onto parchment paper and freeze for 30 minutes.
Melt approximately 7 ounces of chopped chocolate.
Remove the chilled eggs from the freezer and dip them into the melted chocolate.
Have you made Easter edibles? Do you like our recipe above? Let us know below.