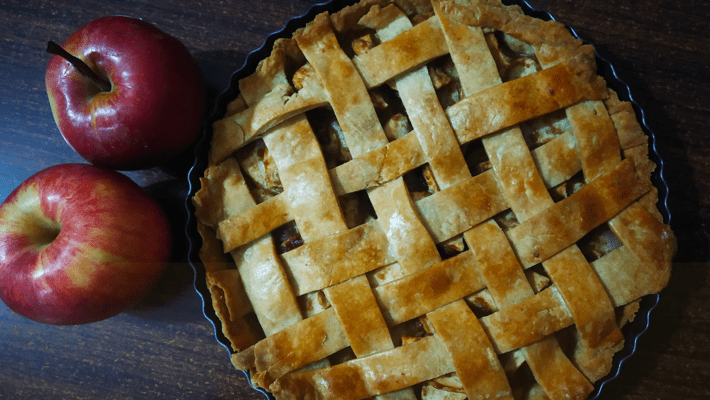 Cannabis Recipes: How to Make Cannabis-Infused Apple Pie
How did we get to this time of year already? It seems like just yesterday our lives revolved around backyard hangouts in the sun, staying at the bars until close and reaching all our travel destinations that were put on hold in 2020. Being fall now, it is time to slow down and stay in with your favorite comfort films to beat the cold weather. While you've been spending more time at home, you may have been thinking about how to make easy edibles to spice up the day. Even if you're a novice chef and don't know a thing about edibles, keep reading below for some easy, feel-good winter cannabis recipes.
Decarboxylation: The Most Important Step
When it comes to how to make edibles with weed, if you skip decarboxylation, you're just going to have to throw away those delicious baked goods you slaved over. This process of decarboxylation is paramount because it transforms your raw cannabis flower into the lovely compound that will make you feel euphoric, increase your heart rate and even deliver the munchies to you when you least expect it. "Decarbing" your weed is a process that involves specific time, heat and light to remove a carboxyl ring from the THCA molecule, which is the precursor to THC.
How to Make Edibles: Dosing 101
While the process of decarboxylation is a straightforward one, the process of correctly dosing your edibles is rather tricky. To add even more stress, dosing edibles incorrectly can result in a horrible time for you or your friends. Therefore, handle this step with extreme care and caution. If you're not a numbers wizard, an online dosing calculator is always recommended and Where's Weed also has an in-depth article on the how-to of dosing found here. Unfortunately, dosing is an exact science, therefore starting low and going slow or reaching for a high CBD, low THC strain is always a great idea.
How to Make Weed-Infused Apple Pie

With all cannabis recipes, it's all about the base. For this recipe, you'll notice that it calls for cannabutter. While you may be wondering how to make cannabutter, just reference our article on the simple process that you can use for most weed recipes.
Ingredients:
1 pastry for a 9-inch double pie crust
1/2 cup cannabutter
3 tbsp all-purpose flour
1/4 cup water
1/2 cup white sugar
1/2 cup packed brown sugar
8 granny smith apples (peeled, cored, sliced)
Instructions:
Preheat oven to 425 degrees Fahrenheit.
Melt cannabutter in a saucepan on low heat, then stir in flour to form a paste. Once formed, add water, white sugar and brown sugar. Let simmer.
Place the bottom crust in the pan. Fill with apples, mounded slightly.
Cover with a latticework crust. Pour the sugar and cannabutter over the crust.
Bake 15 minutes in the oven, then reduce the temperature to 350 degrees Fahrenheit and continue baking for 35 to 45 minutes, or until apples are soft.
Do you have a famous apple pie recipe? How does it match up to ours? Tell us your favorite weed recipe in the comments.