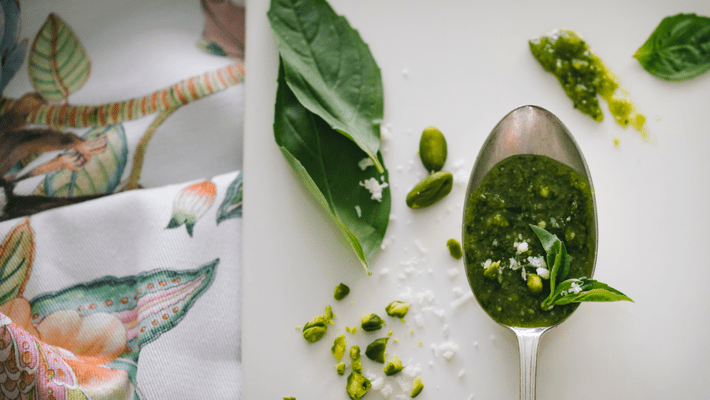 Making Tasty THC Pesto: Marijuana Recipes
We've had a lot of time on our hands since 2020, and even though things are slowly resuming to normal, we are still spending a good amount of time inside. With all of this inside time has meant more time in the kitchen, cooking up something good. We're all familiar with our favorite herb cannabis, so let's start incorporating that into your next meal. If you're worried about how to make edibles with weed, we'll give you all the needed information below with a tasty pesto recipe.
Decarboxylation
Stating it simply, without this process of decarboxylation your cannabis won't give you those tingly, psychoactive feelings that you are in search of. Defined further, this is the process of using time, heat and light to remove a carboxyl ring or group from the THCA molecule, transforming it into the cannabinoid THC. THCA is the precursor of THC and without this process, your body will not be able to absorb the cannabinoid with the reaction you hope for.
How to Make Edibles Properly: Dosing 101

Dosing is where you'll find that things get tricky. Getting the right edible dosage is important because our body metabolizes edibles differently, creating a more intense and longer-lasting reaction. This isn't an exact science, so remember, less is more. There are dosage calculators out there, but if you find yourself in a cannabis math class, here are a few tips. Make sure you know the THCA percentage and use a classic edible recipe that requires one ounce (28 grams) for every cup of butter or oil. Remember, there is generally a 90% potency retention rate from THCA to THC.
How to Make Easy Edibles: Cannabis-Infused Pesto Sauce Edition
For starters, most recipes are usually all about cannabutter and how to make cannabutter first, but this one is slightly different. We need an oil base for this pesto sauce recipe, so refer to our recipe on how to make cannabis-infused coconut oil for this. Don't worry, we won't be using coconut oil. Simply replace the coconut oil with olive oil for this recipe, and remember, that the strength of your treats will depend on the fat saturation content of the base. The higher the content of saturated fat, the more THC it will be able to retain during infusion. Olive oil is a bit lower in saturated fat content, so the edible may be a bit weaker than coconut oil-based edibles are.
Step-by-Step Guide to Cannabis Pesto Sauce

In a food processor or blender, combine your dry ingredients (1 cup fresh basil, 1/2 cup grated parmesan cheese, 3/4 teaspoon minced garlic, 1/4 cup pine nuts or walnuts) into the bowl and blend.
With the blender or food processor running, slowly add in the cannabis olive oil, about 2 tablespoons.
Season with salt and pepper to taste.
Have you made cannabis oil before? How does it taste in your pesto sauce? Let us know below.