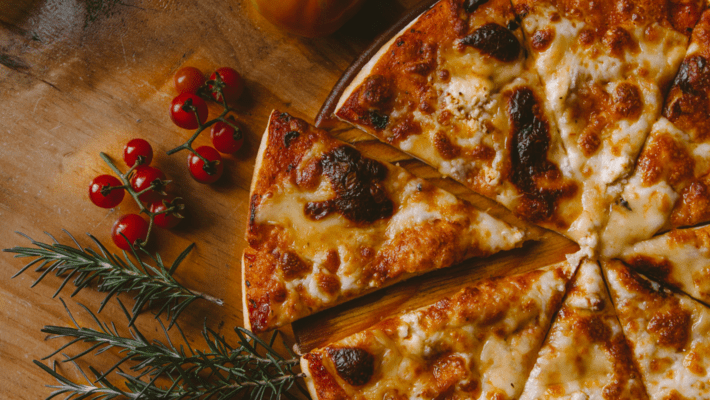 Recipes: Mamma Mia! How to Make the Best Cannabis-Infused Pizza Recipe
2021 has flown by, and before you know it, we will all find ourselves on our couches once again as longer nights and shorter days roll in for wintertime. If you aren't so lucky to live somewhere where there are activities to do outside in the winter (Colorado, we're looking at you), why not try to get creative in the kitchen with cannabis? Follow along for our step-by-step guide on making easy edibles, along with some major dos and don'ts.
First Things First, Decarb Your Cannabis

Let's cut straight to it. If you do not put your cannabis through the process of decarboxylation, you're not going to get those tingly, psychoactive feelings that you'll be searching for from the edible. When diving deeper, this imperative decarboxylation process uses time, heat, and light to remove a carboxyl ring or group from the THCA molecule, transforming it into the cannabinoid THC. THCA is the precursor to THC, and without this process, your body will not be able to absorb the cannabinoid, meaning you'll feel nothing.
How to Make Edibles: Dosing 101
Here's where you'll need to pay attention, as this is the trickiest part of how to make edibles with weed. Dosage with edibles is everything and can determine if you're going to have a nice time with these tasty treats or the worst. Dosing isn't an exact science, as bodies react and metabolize things differently. Even if you're a math connoisseur, trust the many online dosing calculators out there to save yourself from a bad time.
How to Make a Weed Pizza

For starters, many weed recipes call for an infused butter and spend a long time going in-depth on making cannabutter, but luckily this delicious weed pizza calls for cannabis-infused oil instead.
You'll need 2 teaspoons dry active yeast, 4 1/2 cups all-purpose flour, 2 teaspoons kosher salt and 2 tablespoons infused oil.
Step By Step Guide
Place 1 3/4 cups water in mixing bowl, add yeast over it and let it dissolve.
Add flour, salt and infused oil and mix for about 5 minutes until the flour has been incorporated and dough is formed.
Dust countertop with flour, place dough on top. Knead dough lightly for 3 to 4 minutes and cut into 4 equal pieces. Wrap dough in plastic, refrigerate overnight.
Take the dough and form it into smooth, firm balls. On a parchment-lined baking sheet, cover with plastic wrap and a kitchen towel, let rise in a warm spot for about 30 minutes.
Roll out each dough ball to be about 10 inches in diameter and 1/2 inch thick. Add all the toppings you desire - have fun with this step!
Preheat oven to 425 degrees Fahrenheit and bake for 10-15 minutes.
Enjoy.
Do you ever cook in the kitchen with marijuana? Have you made your own weed pizza? Tell us your favorite pizza toppings below.