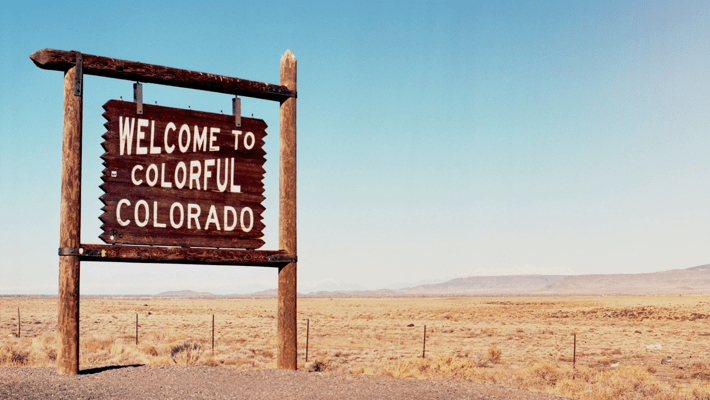 Top 5 Cannabis Destinations in Colorado
When someone thinks of Colorado, they often think of the incredible Rocky Mountains, impeccable skiing, hiking and the state's love for weed. Colorado cannabis culture runs deep, and we know that you stoners are itching to come out and visit to see for yourself. Now that COVID restrictions have been practically lifted everywhere, we're ready to hit the open road again and see what our amazing country has to offer. Below we have broken down some of our favorite 420 friendly cities in Colorado for your next weed vacation.
Colorado's Weed History

Colorado has always been at the forefront of cannabis with medical cannabis being legal in the sunny Centennial State since 2000. Having been approved by 54% of voters, this eventually led to the creation of an identification card system for patients and caregivers.
The real question, however, is when did Colorado legalize weed recreationally? In November of 2012, recreational measures were approved by 55% of voters. This was a huge step for the cannabis industry because, on January 1, 2014, Colorado was the first state to open recreational dispensaries. As they say, the rest is history and Colorado legalization has now led to the billion-dollar cannabis industry, supporting the likes of schools and infrastructure.
Colorado Cannabis Laws
Under the bluebird skies of Colorado, you must be at least 21 years old to buy adult-use cannabis or partake in the weed-friendly experiences, such as the many Colorado cannabis tours. One is legally allowed to possess up to one ounce of flower and eight grams of concentrates while growing up to six plants, with three being in the flowering stage. Consumption in public is strictly illegal, although there are some private businesses that allow it.
Best Cities for Stoners: Colorado Edition
Denver

This city is not only the capital of the state but is also a booming metropolis that has people flocking from all over the country to move to. Here you'll be able to worship at the International Church of Cannabis and catch a show at the famed Red Rocks Amphitheater because what better combination is there than your favorite show and some weed? Your local Denver dispensary will have everything a stoner could want and range from warehouse vibes to a more boutique shopping experience. The laws here are pretty standard, just don't expect to fly out of Denver's airport with your favorite herb. If you're not out brewery hopping, stop by Good Chemistry for the best selection of bud that is broken down into effect categories.
Fort Collins
Here you'll find not only a mecca for all things cannabis but a booming beer scene as well. Being the home to New Belgium, Odell, Funkwerks and so many more, you won't go thirsty up in FoCo. However, the city's main attraction is Horsetooth Reservoir, which is a whopping 6.5-mile-long oasis just west of the city, sitting at the base of the foothills and is a favorite recreation spot for swimming, fishing, paddle boarding and more. Who doesn't love to get a little stoned in nature? Our favorite dispensary is Organic Alternatives, a company that strives to contribute to a more sustainable industry with top-of-the-line products.
Steamboat Springs
Arguably the ideal weed vacation in Colorado is this sleepy little ski town that is home to some beautiful scenery and hangs. Located in the northern part of Colorado, the "Boat" is home to not only that classic western culture, but also some geothermal hot springs that have healing properties. We highly recommend checking out the Strawberry Hot Springs for a quaint, all-natural soak in nature. Make sure you grab a reservation and your favorite weed pen as you soak in the 100+ degree springs. Your go-to dispensary will definitely be Billo, which will satisfy all of your cannabis cravings. Looking for other things to do? Stroll the Yampa River or catch the hot air balloon festival in July.
Aspen

Nestled within the Rocky Mountains, this mountain town has world-class skiing and a flair for the fancy, with its high-end boutiques and restaurants. If you want to rough it in the mountains, camping under the stars or stay at a five-star hotel, this is the city that has it all for you. We recommend taking in the beauty of the Rockies and check out arguably the top destination in Colorado, Maroon Bells. It's as beautiful as a postcard and the two peaks of the Elk Mountains are some of the most photographed in North America. Even better? You get to see the amazing landscape with only a simple hike, it's no risk and all reward. If you find yourself looking for bud here, without a doubt you'll want to hit The Green Joint, which is a long-time local favorite delivering some of the best in-house strains and quality-focused products.
Telluride
This little city, nestled in the southwest corner of the state is home to the San Juan Mountains, which are considered to be the "Swiss Alps" of America. Tucked into a box canyon, this remote area is home to endless outdoor activities and cultural events. If you aren't here to ski, maybe plan a trip around the Telluride Bluegrass or Telluride Film Festivals, which are among the most popular in the country. Get stoned and take the free gondola ride or try your hand at fly fishing in the San Miguel River. Sit back and relax in paradise with bud from Telluride Green Room to satisfy every cannabis craving that is locally owned.
Have you been to any of these Colorado destinations? Do you have any other hidden gems you want to share? Tell us your Rocky Mountain travel stories below.