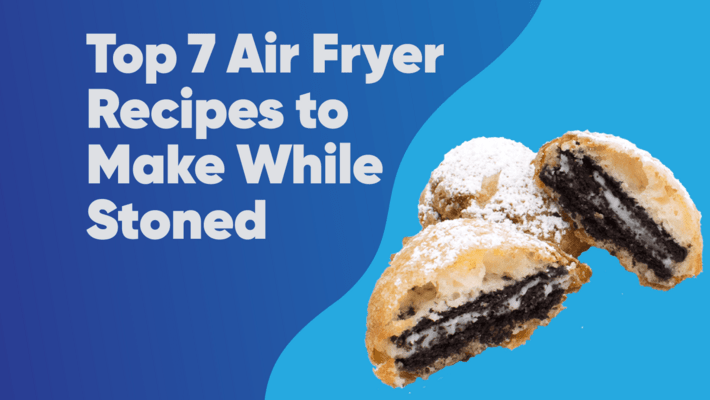 Top 7 Air Fryer Recipes to Make While Stoned
Technology has come such a long way. We can get anything delivered to our homes, are starting to explore the metaverse and virtual reality, and can even buy cars that can parallel park for you. What's better than all of that, you may ask? The air fryer is the kitchen appliance of the future, and we're here to deliver some stoner-friendly, easy air fryer recipes for the next time the munchies hit.
What Is an Air Fryer?
If you've lived under a rock for the last few years, know that an air fryer is the most popular kitchen appliance to be created since the crockpot. As we touched on above, an air fryer is essentially an amped-up, mini convection oven that can sit nicely on your countertop.
An air fryer uses rapid circulation through heat and a fan system to ensure crisp food every single time. The key to it all is the basket that the food sits in because it allows the rapidly moving hot air to always be in contact with the food. There is no blockage from a pan or baking sheet like in a traditional oven. Air fryer recipes are so easy and approachable for first-timers because the air fryer chef doesn't need to pay any attention to the goods, just hit start and forget about the food for a while.
A New Way to Munch
We've all been there with the munchies, otherwise known as the overwhelming urge to eat after consuming cannabis. There is a scientific reason for it all, and for appetite specifically, neurons are triggered in the hypothalamus to promote increased appetite when exposed to cannabis. Cannabinoids also affect the brain's olfactory receptors, which increase smell sensitivity, meaning you'll be inclined to eat more.
Consuming cannabis often brings about a spark in creativity, and why not combine your creative state with a new way to satisfy the munchies? As we touched on above, the air fryer may be the stoner's best friend because using it is a simple, streamlined process that you can even forget about. Say goodbye to any stress in the kitchen with the air fryer.
Tasty Air Fryer Recipes

Trader Joe's Hash Brown Patties
Here's the closest thing you'll get to the beloved McDonald's hash brownies that we all know and adore. Set the temperature to 400 degrees and cook each side of the hash brown for 5 minutes. Plate, serve, and enjoy! Grab your favorite hot sauce, too.
Air-Fryer Asparagus
A healthy munchie food isn't so bad. Just trim your asparagus, season liberally with whatever you would like, and set your air fryer to 400 degrees Fahrenheit. Cook for 7 minutes! Follow this guide with other veggies that you love, as they are good things to air fry if you want a bit of a crunch.
Trader Joe's Breaded Fried Ravioli
We all know TJs is the mecca for decadent frozen meals, and we love this one. Simply preheat the fryer to 400 degrees and cook for 8 to 10 minutes. Sprinkle some fresh parmesan and grab a side of yummy marinara sauce for dipping.
Air-Fryer Frozen Mozzarella Sticks
Here's another easy air fryer snack that is great to prepare when you're baked. Simply grab your favorite brand of frozen mozzarella sticks and fry them straight from being pulled out of the freezer for an even crispier outcome. Air fry at 380 degrees Fahrenheit for 5 minutes, flip, and continue for another 1-2 minutes.
Oreo-Stuffed Crescents

To fulfill all your munchies' dreams, consider this easy recipe. You'll need:
1 can of refrigerated Pillsbury Original Crescent Rolls
8 Oreo cookies
1/4 cup of mini, semisweet chocolate chips.
Then, follow these steps:
Heat the air fryer to 350 degrees Fahrenheit.
Unroll the dough, and separate it into 8 triangles. Place 1 cookie on each triangle, and then roll the dough up and over the cookie to cover completely.
Pinch seams, sprinkle the tops with chocolate chips
Bake for 12 minutes, and enjoy!
Air Fryer Pickles
If you're just as obsessed with pickles as we are, what's better than a "deep fried" one? You'll need:
15 dill pickle spears
1/2 cup flour
2 eggs
1 tablespoon water
1/4 teaspoon of your favorite hot sauce
1 1/2 cup Panko breadcrumbs
1/2 teaspoon garlic powder
1/2 teaspoon dried dill
Cooking spray
Preheat the air fryer to 400 degrees Fahrenheit.
Drain pickles, pat dry with paper towel.
Place flour in small bowl. Whisk eggs, water, and hot sauce in another bowl. Place breadcrumbs and seasonings together in a third bowl.
Dip pickles in flour, dip in egg mixture, and then into the breadcrumbs.
Spray each pickle with cooking spray and place in the air fryer basket.
Cook for 5 minutes, flip pickles and cook for an additional 5 minutes - or until brown and crispy.
Allow to cool, then grab your favorite dipping sauce and go in.
Chicken Wings

We can't talk about an air fryer without talking wings. Grab the following ingredients listed below:
2 lb. of chicken wings
Kosher salt
Black pepper
Cooking spray
1/4 cup hot sauce of your choosing
4 tbsp melted butter
1 tsp Worcestershire sauce
1/2 tsp garlic powder
Blue cheese or ranch dressing for serving
Step By Step Guide
Season wings all over with salt and pepper while coating the inside of your air fryer with the cooking spray.
Set the air fryer to 380 degrees Fahrenheit and cook wings for 12 minutes. Flip wings and cook for another 12 minutes.
Increase the heat to 400 degrees Fahrenheit and cook for 5 more minutes.
Meanwhile, in a large bowl, whisk to combine hot sauce, Worcestershire sauce, and garlic powder. Add cooked wings and toss gently to coat.
Serve with your favorite dressing for dipping.
Do you own an air fryer? What's your best recipe? Tell us all about it in the comments below.