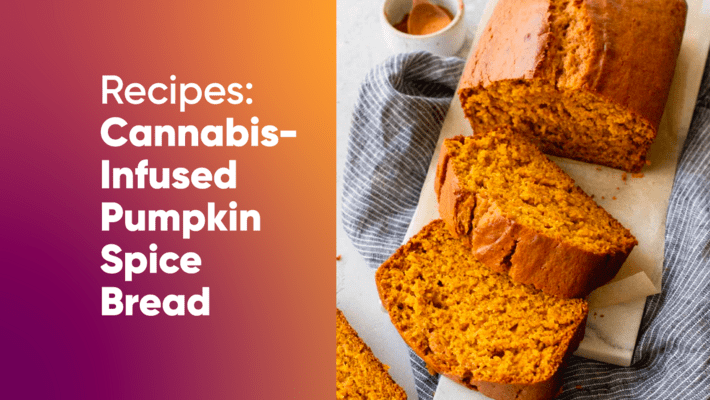 How to Make Cannabis-Infused Pumpkin Spice Bread
While banana bread reigns supreme in the summer as a delicious go-to treat any time of day, as fall rolls around, a new moist loaf may become your new favorite: pumpkin spice bread. Even better, you can infuse pumpkin spice bread with cannabis to create an elevated creation that will leave everyone at the potluck having the time of their lives. This recipe guide will explain how to create this elegant, elevated fall favorite snack for sharing with friends or savoring on your own.
While pumpkin spice bread is delicious enough without a touch of weed, adding cannabis to your favorite desserts can be a great way to enjoy cannabis without smoking it. Whether you want to try just a bite to microdose or blast off with the whole pan, adding weed to your absolute favorite recipes can be a great way to consume the medicine for those seeking longer-lasting effects. Though dispensaries offer plenty of different kinds of edibles, from savory to sweet, there are many benefits to making your own edibles - from taste to cost.
Why Make Your Own Edibles?
Saving money
One of the main reasons to make your own edibles at home is to save money. If you try to buy a complex confection at the dispensary, you're also paying for the high markups and taxes that can cause you to spend much more than you'd like for just one piece - meaning you can't show them off to pals or savor them for yourself later.
Dosing
Dosing your edibles however you want is also a huge benefit of making them yourself at home. With microdosing edibles becoming more popular, this is especially good for anyone looking to try out the trend without worrying about getting "too high." If you're an experienced stoner, you can also make them high-powered for a dose that will help you blast off into the next dimension. Though it requires a bit more math than typical baking, it's worth the effort to correctly dose your edibles to know exactly how your favorite treats will affect you.
Use our in-depth guide on how to dose your edibles and decide how high you want each slice of pumpkin spice bread to get you. If you're unsure, start small and go slow - some people's sweet spot is 5mg, while others' is 50mg. Beware, though: the pumpkin spice bread you're making is absolutely delicious, so if you want to be able to lick the pan clean, you'll want to make them low-dose.
Customized Recipes
You'll likely be hard-pressed to find such a unique homemade confection like a pumpkin spice loaf at your typical dispensary, but even if you do, you won't be able to enjoy it fresh out of the oven like you would at home. Also, when making your loaf, you can add whatever you'd like - like crunchy pumpkin seeds, a tangy glaze, or chocolatey streusel.
How to Make Cannabis-Infused Pumpkin Spice Bread

Ingredients
1 stick Cannabutter (see below)
1/2 cup water or bourbon
1 tablespoon vanilla
1 - 15oz can (1 3/4 cups) pumpkin pure
4 eggs
1/2 cup olive oil
3 cups all-purpose flour
1 3/4 cups light brown sugar
1 1/2 teaspoons baking soda
1 teaspoon ground cinnamon
1 teaspoon ground allspice
1 teaspoon ground nutmeg
1/2 teaspoon ground cloves
1/2 teaspoon ginger
Supplies
2 - 8-inch loaf pans
Baking sheet
Saucepan
Medium bowl
Large bowl
Whisk
Silicone spatula
Toothpick
Decarboxylate ("Decarb") Your Cannabis

The first step in any edibles recipe is to decarboxylate your cannabis in order to activate its THC. Sometimes called "decarbing," you bake raw cannabis at a low temperature to convert THCA, the non-psychoactive version of the cannabinoid in raw marijuana, into the psychoactive compound we all know and love: THC. Though it's hard to pronounce, the process of decarboxylating is easy: bake medium-small nugs (not too small, or they'll burn) on a baking sheet at 240 degrees Fahrenheit for 25-45 minutes (drier cannabis will require less time). Stir halfway to ensure even baking.
Prepare the Cannabutter

Now, the most essential part of making any edible at home is infusing your cannabutter. The process is quite simple:
Add your decarbed cannabis and a stick of butter to a bowl that's heat-proof (such as metal) and place on/slightly inside a small saucepot filled with ~2 inches of water to create a double boiler.
Bring the water to a boil and reduce the heat to low, simmering for at least 40 minutes.
Strain through cheesecloth to remove any plant material to reduce stomach irritation and improve the taste.
Directions
Preheat the oven to 350 degrees Fahrenheit, then grease the loaf pans with butter.
In a liquid measuring cup, combine water or bourbon with vanilla. In a large bowl, combine this mixture, pumpkin pure, eggs, and oil.
Whisk together all-purpose flour, brown sugar, baking soda, salt, cinnamon, allspice, nutmeg, cloves, and ginger in a large bowl.
Pour liquid ingredients into dry ingredients and stir to combine.
Divide batter between the two greased loaf pans. Place them on the baking sheet and transfer them to the oven. Bake for 50 to 60 minutes or until a tester or toothpick inserted into the center of the loaf comes out clean.
Allow the bread to cool completely before removing it from the pan.
What's your favorite autumn edible to make at home? Let us know in the comments below!