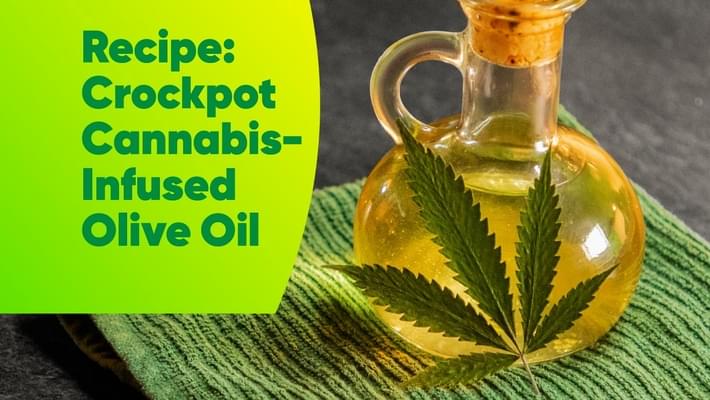 How to Make Cannabis-Infused Olive Oil with Crockpot
It's fair to say that cannabis-infused edibles have been on the rise lately. Not only were they selling like hotcakes during the COVID-induced lockdowns a few years back, but all of that time with folks cooped up in their homes for months on end sparked a bit of a revolution in homemade edible innovation. After all, folks needed another project after their sourdough starter inevitably ended up being way more trouble than it was worth right?
After all, it's never been easier to make something delicious at home from scratch. Most of us have the power of the internet at our disposal, with billions of recipes just a search engine away. But sometimes, those recipes can be so overly complicated for no reason.
For example, we here at Where's Weed have gone in-depth before on how to make some simple and effective cannabis-infused oil before. But if you're a newbie to cooking with cannabis, or a novice to cooking in general, then all of that can seem daunting and intimidating! Well, don't worry, we're back with another even simpler and easier solution for how to make canna oil fast and effectively to get your homemade edibles journey started!
This article will serve as a go-to guide for how to make canna oil in a crock pot, a hack for how to make cannabis olive oil quickly, easily, and pretty much foolproof! It's like your favorite cannabis-infused olive oil recipe on easy mode! So with that in mind, let's get right into it!
Cannabis-Infused Fat: The Essential Building Block of Homemade Edibles
Before we get into our step-by-step guide for making some crockpot cannabis olive oil of your own, we first wanted to highlight the importance of cannabis-infused fat as the basic building block for the vast majority of cannabis-infused edibles.
Gummies, brownies, drinks, you name it. The vast majority have some type of cannabis-infused fat like oil, butter, or highly concentrated distillate mixed in to give it that cannabinoid-infused kick we all know and love. So when you're looking at all the cannabis olive oil uses out there, it's no wonder that so many are looking for ways to make it on their own!
Plain and simply put, making cannabis-infused edibles without cannabis olive oil or butter is pretty much impossible so getting your fat infusions down to a science as quickly and easily as possible is the first step of many towards making your own top-notch edibles. And that's where our go-to guide for our crockpot cannabis olive oil recipe comes into play!
With technology the way it is today, there's a shortcut for pretty much everything. From food processors to blenders and air fryers, getting busy and crafting top-notch food in the kitchen has never been easier than it is today! The key is learning how those appliances, like the crock pot, can come in clutch when crafting edibles of your own!
Our method for canna oil in a crockpot will shave hours off your prep time when making cannabis-infused edibles. For those looking for a quick and easy solution that doesn't take nearly as long as fusing cannabis with olive oil the old-fashion way, we've got your back!
What You'll Need to Make Some

Before we get too in-depth about making cannabis-infused olive oil for your edible-making needs, you'll need to check your kitchen pantry to see if you have some essential ingredients and supplies.
Here's a quick breakdown of some of the most critical basic build-blocks you'll need to make a cannabis-infused olive oil of your own:
Some extra virgin olive oil
An ounce of cannabis flower
A crock pot
Jars with lids
Water
Cannabis-infused edibles tend to be more potent and last longer than smoking, allow for more consistent and reliable dosage, and make cannabis consumption healthier overall compared to smoking or vaping, but it's also budget-friendly! And when it comes to cannabis olive oil dosage, it couldn't be easier.
Thankfully, we here at Where's Weed have gone in-depth on it. For a comprehensive refresher on how to infuse any oil and why it'll save you money in the long run, click here!
A Step-By-Step Guide to Making Your Own Cannabis-Infused Crockpot Olive Oil
Now that you've gotten your bare kitchen essentials together and taken a trip to your local dispensary to grab some top-notch cannabis flower, you're ready to get your crockpot cannabis cooking process underway!
Step 1: Prep Your Crockpot
Before you do any crockpot cooking, you'll need to do the necessary prep work. Start by creating a water bath in your crockpot. Dump your water in and set your crockpot to keep that water at a steady 180 to 190 degrees. You'll only need the water level up high enough to immerse about 3/4 of your jars. Leave it and let that water come to a steady temp.

Step 2: Prep Your Cannabis
While your water is heating up, measure out and start the process of decarbing your cannabis flower. Decarbing is an essential step in the process, so make sure you put in the attention it deserves! If you're looking for a quicker decarbing process than the traditional oven method, then bust out your instant pot for a more hands-off and rapid decarbing process that will speed things up!
Step 3: Combine Your Cannabis and Olive Oil
Once your cannabis is decarbed and your water is heated and ready, it's time to make your cannabis-infused olive oil. Fill your jars halfway with olive oil, then evenly distribute your decarbed cannabis between them. Screw the caps on each jar to ensure they're sealed, then submerge each in the water. Put a lid on your crockpot and leave them to sit for about four hours.
Step 4: Harvesting Your Infused Oil
After the four hours have elapsed, go ahead and remove those jars from the water and let them cool for a bit. Once the jars have cooled off, you can start the filtration process for your oil. Step up a paper filter, funnel, or cheesecloth to pour the oil and separate the plant material.
The result should be some cannabis-infused olive oil that you should store in an airtight jar in the fridge for later edible-making use!