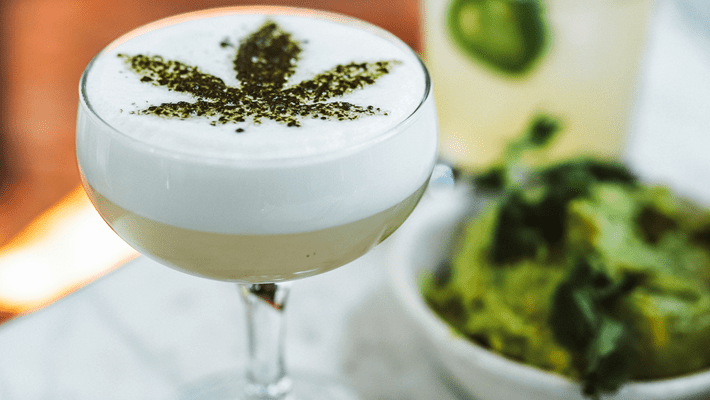 Top 6 Cannabis-Infused Drinks
Consumers in search of a psychoactive experience fueled by the wonders of Tetrahydrocannabinol (THC) are not lacking for options. Smoking and eating weed to get that special feeling couldn't be easier these days. Sticky flower, clean vapes, flavorful rosins and an array of edibles are on the shelves of dispensaries across the county. Don't feel like smoking or eating your weed? Looking for an invigorating beverage but hoping to avoid alcohol? That's no longer a problem. The dawn of drinking cannabis and the development of THC drinks that are tasty and balanced is upon us. Drinkable marijuana has arrived.

There is a simple reason why the introduction of liquid cannabis that can be safely and reliably consumed has taken so long to reach the marketplace. It is not easy to effectively infuse cannabis into beverages. Cannabinoids like THC and cannabidiol (CBD) can dissolve in fats and oils (ideal for making delicious edibles) but they hydrophilic - meaning that they do not easily mix with water - and that makes the creation of quality cannabis-infused beverages tricky.
How to Make THC-Infused Beverages
Thankfully, just as technological advancements have propelled other forms of cannabis to dispensary shelves, new technology and greater scientific understanding have also simplified the process of making cannabis drinks that taste good and uniformly produced. A process called nano-emulsification is at the heart of the new wave of THC beverages. Cannabis oil is deconstructed into tiny particles and then mixed with an emulsifying agent that helps the weed oil dissolve in water. The most common agent used is lecithin which is a natural fat that presents in plant and animal tissues. Other starch-based emulsifiers and gums suspend cannabis oil in a manner that is water-soluble. Water-solubility is essential for the creation of a consistent cannabis drink because otherwise, the marijuana drink would be a very oily, bitter and unappealing mess.
Weed Drinks (THC & CBD) to Try Today

This Boulder, Colorado, company has been a leader in the THC drink world since its inception in 2010. It recently expanded to also produce oils and vapes.
Flavors: Blue Razz, Bubba Kush Root Beer, Orange Kush, Original Cola, Purple Passion (sodas). Flo (energy drink). Raspberry, Blood Orange, Blueberry Coconut (Sparkling Water). Strawberry Kiwi, Cranberry Lime, Blueberry Lemon (Enhanced Water). Fruit Punch, Pineapple, Lemonade (Mocktails).
Strength: Sodas come in 50mg and 100mg THC amounts for medical and 10mg THC for recreational use. Enhanced waters and mocktails contain 100mg of THC.
Availability: Online and via licensed dispensaries and delivery services in Arizona, California, Colorado, Nevada, Missouri, Puerto Rico and Jamaica.

Cannabis and cocktail culture combine when enjoying this aperitif made from a blend of marijuana and eight botanicals. Every bottle of Artet comes with a stainless-steel shot glass equal to one serving of 2.5mg THC.
Flavors: Tastes like a well-balanced ginger beverage with enhanced floral notes.
Strength: 37.5mg THC per 750ml bottle. 2.5mg THC per suggested 50ml serving.
Availability: Online and in select dispensaries in California and Colorado.

The option of either THC or CBD-enhanced drinks draws consumers to Oh Hi's deliciously crisp line of sparkling seltzers. Oh Hi produces and distributed its excellent small-batch bubbly water from its base in Durango, Colorado.
Flavors: Pomegranate, Lemon Lime, Grapefruit, Ginger Basil Limeade.
Strength: 10mg THC per 12oz can. 15mg CBD per 12oz can. Ginger Basil Limeade contains 5mg THC/5mg CBD per 12oz can.
Availability: Dispensaries and wellness stores (CBD only) across Colorado.

Perhaps the best-known marijuana-infused drink company in the country, Canna Cola recently made waves in the cannabis industry by leaving the THC-infused beverage market to focus solely on producing CBD-infused drinks.
Flavors: Classico, Coco Loco, Citron, Black Cherry, Fruit Punch, Peach Mango, Wild Berry.
Strength: 10mg of CBD.
Availability: Retail outlets across the country.

When Southern California's Lagunitas Brewing Company sold half of its business to industry giant Heineken, one result was the creation of their non-alcoholic, zero-carb, zero-calorie cannabis-infused beverages.
Flavors: Produced to replicate the flavors of an India Pale Ale; notes of hops, lemon and pine.
Strength: Tuner = 5mg THC/5mg CBD, Reverb = 10mg THC/0mg CBD, Unplugged = <2mg THC/18mg CBD. All servings are 12oz.
Availability: Select dispensaries in California and Colorado.

This Los Angeles-based company serves up delicious vegan, gluten-free, 10mg nano broad-spectrum hemp extract lemonades, teas and coffees. Kickback's line of drinks includes some of the only THC-infused beverages available that also contain caffeine.
Flavors: Lemony Lemon, Mellow Mango, Strawberry Sunshine (Lemonades). O.G. Cali - Rise, O.G. Cali - Daze (Coffees). Night Night Berry Chamomile, Peachy Dreams Ginger Peach, Matcha'Cha (Teas).
Strength: 10mg of CBD.
Availability: Online and in retail outlets (including 7-Elevens!) across California.
Have you tried any cannabis-infused drinks? Are there any from our list that you prefer or any other brands that you enjoy? Take a second to share in our comments section below!