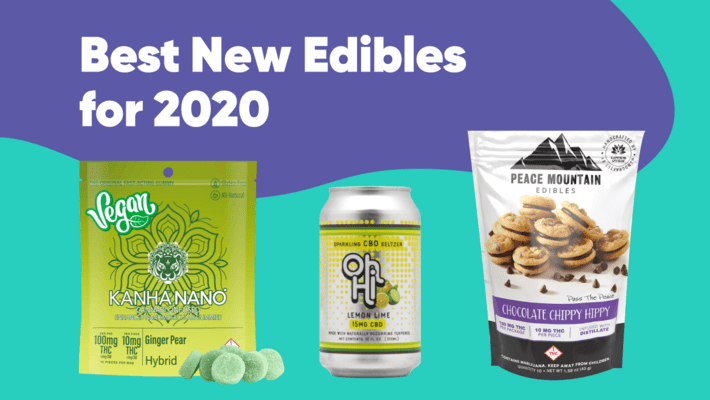 The Best New Edibles of 2020
Many people credit the recipe for Hashish Fudge that Alice B. Toklas inadvertently included in her 1954 cookbook for bringing the idea of consuming cannabis to the modern Western world. Since then, the pot brownie of yesteryear has blossomed into an exploding industry of edibles that come in every shape, size, and form. There are now so many edible options on the market that it is difficult to know where to begin. Drops, drinks, bars, candies, and pills of various potencies are being created at a dizzying rate as producers seek to offer the legions of cannabis consumers precisely what they desire. All of that newfound innovation and variety came to a head amid the COVID-19 pandemic when people searched for ways to reap the many benefits of cannabis products without smoking them. After all, there are more ideal ways to consume the cannabis plant and its compounds without putting your respiratory system at risk by smoking. That's likely a key reason we saw an explosion of adult-use and medical edibles, growing by around60 percent across seven major state markets, swelling to $1.23 billion in 2020 from $767 million in 2019.
The industry is moving from traditional chocolates and gummies and shifting to meet the demand for infused beverages, fast-acting and precisely measured encapsulated pills and confections worthy of the pastry cart at the Four Seasons. So with that spirit in mind, we wanted to highlight some of the best up-and-coming edibles brands, companies that shined and stood talk by prioritizing quality, taste, and effectiveness for their customers. So without further ado, let's take a look at some of the world's best edibles.
Top 10 Edibles of 2020
This list is going to be a one-stop shop for everything you could want from a top-notch edibles company. We here at Where's Weed includes some treats that are low-dose and simple to take, along with some treats with enough cannabinoid power to knock anyone's socks off. Let's get right into it!

Dosist is all about the precision of the dose. Just rotate the wheel on their trademarked dose dial, and you'll receive a 3.7 milligram THC tablet that dissolves under the tongue for immediate absorption. And that's it! No worries about having to decarb the cannabis flower like you would if you were making homemade treats, and no worries about overdosing yourself by accident like you can with the standard pot brownie or imprecisely-measured gummy. These tablets are available in THC Bliss or CBD Calm and are perfect for discreet reduced strength cannabis management. Great for newbies to the legal weed industry looking to get their feet under them and try out some products, these edibles are perhaps the easiest to dose on the whole market today!

To say that Moxie is a well-established and respected name in the legal cannabis space might be a bit of an understatement. Moxie is a company that made its name primarily through pharmaceutical-grade non-psychoactive cannabinoid products but recently released its first batch of THC-infused edibles. Some wondered if they could replicate their success from one part of the industry to another. After all, branching out into uncharted territory is always risky business for brands. The wait was worth it since they have some of the best weed edibles you can find. Available in flavors like member berry, blue raspberry, and pineapple express, these tasty and potent edibles have 5 mg of THC each, while each container holds ten gummies each. Crafted with top-grade cannabis extracts, these edibles not only live up to the hype but have exceeded it for many!

Who among us doesn't love a delicious ice cream sandwich? Tasty, creamy ice cream spread between two crispy, crumbly cookies. What's not to love there, right? That's what Love's Oven thought while dreaming up these tasty cannabinoid-infused edibles. It's all about the flavor when it comes to the new line of sandwich cookies that Love's Oven. Run by a classically trained pastry chef, Love's Oven has introduced these new edibles as part of their Peace Mountain Edibles series. Cinnabong tastes like a cinnamon roll that would put Cinnabon to shame. Birthday Baked will make you feel like a kid again sneaking an extra piece of birthday cake. Chocolate Chippy Hippy is a mouthwatering version of a classic chocolate chip cookie with an infused chocolate frosting. The sandwich cookies come in packages of 10 and contain 100 mg of THC each, meaning that these treats pack a serious punch and are delicious. Currently only available in Colorado and Florida, we highly recommend these edibles if you're looking to satisfy a sweet tooth and get sky-high at the same time the next time you're traveling to either state!

The legal market has developed so much that not only can you legally purchase cannabis-infused drinks, but you can sip on laced beverages as well! Seltzers are sweeping onto the scene, and rightly so. Sales figures for cannabis-infused drinks exploded by around 40 percent last year, and we don't see that number decreasing anytime soon. If the popularity of LaCroix is any indication, the demand for a low-sugar, low-calorie, THC-infused sparkling drink has to exist, especially among younger people. Oh Hi is banking on it with its line of delicious water-soluble THC and CBD seltzers. The current flavor lineup consists of Lemon Lime, Grapefruit, Ginger Basil Limeade, and Pomegranate; choose between 15 milligrams of CBD isolate or 10 mg. of THC. So if you're looking to swig your THC instead of consuming it via brownie or gummy form, this brand is one to try for sure!

California's Sunderstorm produces these top edibles known for the precision of their timed release, thanks to nanomolecular technology. In layman's terms, the timed release allows you to slowly ingest and process those cannabinoids, giving you a longer-lasting, less immediately intense high when you take one. Each tablet contains a mellow five milligrams of THC, and the effects kick in within minutes. Their hybrid is a tasty key lime, the sativa is tart-but-satisfying cran-pomegranate punch, and the indica is subtle passion fruit flavored. Simply put, these gummies contain a decent kick of THC, all while appearing in delicious gummy form for exact dosage. It's tough to go wrong with a quality brand like this one!

Oddly enough, these are not drops at all. At least not in the liquidy, standard form you'd think of when someone said drops. Instead, they are tiny pills that use microencapsulation to control the release of the CBD or THC to the body and provide effects within 20 minutes of consumption. Think of them like fast-acting cough drops with a significant dose of cannabinoid power. Described by 1906 as precise cannabis medicine, the six different types of "drops" address physical effects like arousal, energy, euphoria, focus, relaxation, and sleep. That means that no matter who you are or what you're looking to do, these little edibles are these for you and can do the job quickly and easily!

Denver-based Spherex's proprietary nanotechnology created this unique sparkling water with no carbs, sugar, or calories. In the spirit of healthier, less stressful forms of cannabis consumption on your system, drinking it in liquid form is near the top of the list without any real downsides. Phyx drinkers will feel a mellow buzz within minutes of consumption, and the high will last not much more than an hour. Just 2.5 milligrams of CBD and 2.5 milligrams of THC ensure that things won't get too crazy, but you'll still be able to cut loose and have a great time without getting too sloppy. Those new to the edible experience will enjoy the relaxing yet mentally elevating effects of Phyx on their next outing with buddies.

Wana makes some of the most popular edibles in the country and recently entered the fast-acting market with their Quick line of products. Wana's gummies are perfect for a concert or an invigorating trial session with an onset time of only five minutes and a high that lasts for up to three hours. The edibles utilize TiME (Thermodynamic individual Molecular Encapsulation) that allows THC and CBD to enter the bloodstream immediately upon ingestion, enabling you to feel the effects quicker and for longer. Current flavors strike a tasty Happy Hour theme with Peach Bellini (Sativa - 5 mg. THC per piece), Pina Colada (Indica - 5 mg. THC per piece) and Strawberry Margarita (5 mg. CBD/5 mg. THC per piece). Simply put, Wana is one of the top cannabis brands, period, and these edibles easily live up to their usual quality standard.

These tasty, strawberry-flavored CBD fruit snacks from our friends over at CBD Infusions are perfect for giving your body a daily immunity boost! So not only are you getting healthy, easy-to-take doses of cannabinoids, but you're proactively supporting your overall immunity. What's not to love here? Packed with 600 mg CBD, Elderberry, Vitamin C, Vitamin E, and Vitamin B6, these vegan-friendly supplements are perfect for those who want that daily dose of CBD without the THC. For the health-minded person skeptical about the legal cannabis industry, these edibles are a great intro into the space without the risk of them getting turned off by being too high.


It's no surprise that the founders of Herve Edibles also run a successful catering business and a chic patisserie in their native Toronto. These edibles aren't just potent, and they're delicious as well! Nibble through these delicate confections, and you will be transported to a comfortable seat at a lovely cafe to bask in the Parisian sunshine. Choose from handmade buttercreams of raspberry, chocolate, or salted caramel set between two tiny almond cookies. These gluten-free macarons contain 10 milligrams of a top-shelf sativa hybrid THC distillate. They are quite simply some of the best cannabis edibles made today, and we really can't recommend them highly enough!

Taste and quality are the key aspects that bump Mindy's to their spot on our list of best marijuana edibles. These artisanal creations from Cresco Labs and Chicago's James Beard Award-Winning Chef Mindy Segal take the edible experience to a new level of texture, flavor, and sophistication. Six new varieties of gummies are just now hitting the market in California, but you can already find Mindy's in Illinois and Nevada. They'll be widely available across the country in the coming months, so be on the lookout at your local dispensary. Sizes and THC or CBD strength vary for each delicious flavor, including Cool Lime Kiwi, Lush Black Cherry, Glazed Clementine Orange, Freshly Picked Berries, Honey Sweet Melon and Botanical White Grapefruit.