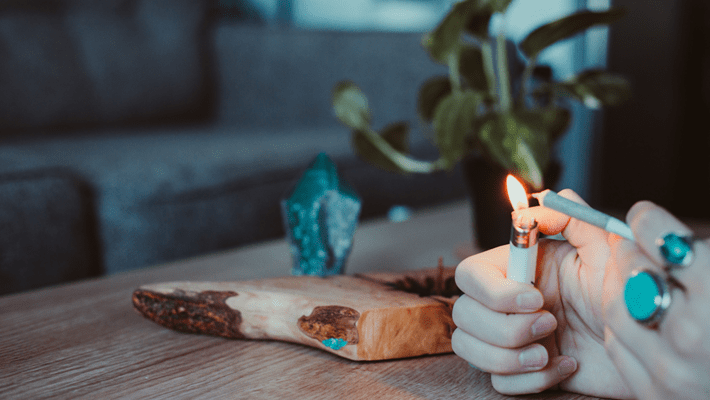 Top 7 Strains to Smoke this Holiday Season
COVID-19 has made this year a bit of a whirlwind, and it doesn't look like it is going to stop anytime soon. With the latest closures and possible cancellation of our beloved holidays, we all need a little something to take the edge off. Our favorite way to relax, especially around the holidays, is with a nice joint. But sometimes going through all the different cannabis strains can be overwhelming in itself. So here's a list of the best cannabis strains for some much-needed holiday cheer and happiness, paired with your favorite winter activity.
Green Crack

First up on our holiday list of strains is a potent, 65% sativa strain. Named by Snoop Dogg, a marijuana connoisseur who has cannabis strains of his own, Green Crack can really pack a punch. Coming in at a potency of around 16% THC and no CBD, this sativa hails from the popular Skunk #1 and some Afghani Landrace indica, which is an indigenous cannabis strain that humans discovered to be growing in the wild. Green Crack will deliver a trippy and energetic high, with a cerebral boost that is perfect for a wake-n-bake session. Expect a sharp focus as a result of this strain, perfect for a day inside playing games and solving puzzles. This is one of the top cannabis strains in the sativa family that will pack a smooth hit with a citrusy mango flavor.
Gorilla Glue

Otherwise known as GG4, Gorilla Glue #4 and Original Glue, this hybrid strain is not for the novice smoker or the faint of heart. The genetics of this strain hail from GG Strains and are a combination of Chem's Sister, Sour Dubb and Chocolate Diesel. Expect a powerful and sedating high, perfect for a movie marathon during a winter storm. Topping the charts at around 28% THC with no CBD content recorded, the mind and body numbness will blast the consumer into a blissful state of rest and relaxation. Remember, different strains of weed will produce different effects, and this is a strain to make sure you know what you're getting yourself into. This Cannabis Cup winning strain will deliver a calm euphoria to wash over you as you float into a blissful couchlock experience.
White Rhino

White Rhino is a strong indica strain, with no CBD and around 22% THC content. Among the more rare popular strains, White Rhino gets its name from none other than a rhinoceros horn, as the top part of the cannabis plant has an uncanny resemblance. This indica will create a brain buzz paired with a body relaxation unlike any other. With genetics hailing from Brazil, India and Afghanistan, White Rhino is also great for symptom relief such as chronic pain, anxiety and insomnia. This strain is perfect for a cabin smoke session with a snow-capped landscape in the distance, and maybe even a few snow-capped mountains if you're lucky.
Ice

This strain, not to be confused with the strain Ice Cream, is a High Times Cannabis Cup award winner for being one of the best weed strains. As a 50/50 pure hybrid, this strain is known for its black, hash-like taste with a bit of spice on the tongue. The genetics of Ice are pretty impressive and include the likes of Skunk #1, Northern Lights and Shiva. Ice will create a powerful feeling of euphoria and is known to make smokers feel more open and social when around other people. Even though there is a kick start of energy, some do report feelings of sedation, which is why it has been used in the medicinal community as well. All in all, expect a heightened mood from Ice, which makes it the perfect strain for apres ski, which is a nice way of socializing after a day on the mountains with friends.
Hawaiian Punch

It's not the winter months if you aren't daydreaming about a tropical vacation, right? This pure sativa strain is possibly one of the best strains of weed for transporting your mind to a beach somewhere in the tropics. Named after its tropical citrus flavor, Hawaiian Punch holds a psychoactivity rate of 15-25% THC and no CBD content. This bright and tangy strain is also sure to deliver to the brain a wired, awake energetic feeling. Hawaiian Punch, deriving from Hawaiian Sativa Landrace strains, is for the user who wants a long-lasting, focused high. The intense surge of energy is great for physical activityand to bring a new dimension to possibly mundane actions throughout the day. This strain is considered to be powerful for even the most experienced smokers, and we suggest pairing this strain with a nice winter run through your favorite park.
Charlotte's Web

It just wouldn't be a strain list in 2020 if there wasn't at least one CBD strain on it, as CBD has taken the entire market by storm. Created by the Stanley Brothers in Colorado for a young epileptic patient, this is one of the best strains of all time in the medicinal community that has benefits that are far-reaching. Coming in at a CBD content of 12% with around 1% THC, this strain has 300 times higher CBD content than your average strain. Tasting a bit skunky with a dank and piney smell, Charlotte's Web will boost serotonin receptors in the brain, as CBD also boosts naturally occurring processes within your body. We recommend lighting this one up to keep anxieties about seeing family during the holidays at bay.
Alice in Wonderland

If you're looking to spice up a boring winter day, this may be the strain for you. Alice comes in at about 15-23% THC and has little to no CBD, with intense cerebral effects that will have you feeling like you're in the movie Alice in Wonderland yourself. The genetics have been a bit speculated, but some believe this strain comes from Willy's Wonder strain that possesses strong floral notes of blueberry. The Alice in Wonderland strain is pure sensory overload as 85% sativa, so jumping out in a snowstorm and exploring the nature around you is perfect when smoking this strain. The euphoric, cerebral effects are also known to aid an anxiety-ridden mind and get those creative juices flowing as well.
What's your favorite strain to ease those winter blues? Let us know below!