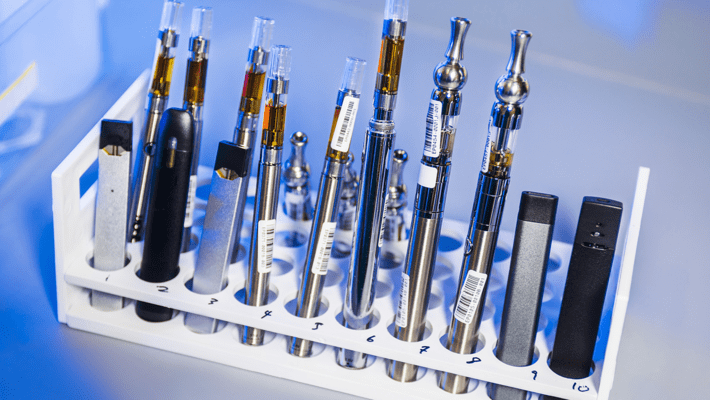 Top 10 Portable Cannabis Vape Pens to Buy Now
As the cannabis industry has grown from a black market illicit drug trade to a legal, ever-growing multi-billion dollar industry over the past twenty years, we've seen the way the average cannabis user consumes their cannabis change. One of the stand-out examples of this evolution is the rise of cannabis vapes.
Vaping is often simpler, easier and lower maintenance than joints, bongs and dab rigs, and is easily one of the most discrete ways of consuming cannabis on the go. That's why it's so important to know which cannabis oil vape pens on the market today are the best of the best. Today we will break down some of the best dry leaf and oil vaporizers on the market today, what makes each one of them stand out from their competition and why they're worth spreading your hard-earned money on before your next smoke session!
Dry Leaf vs Concentrate

When it comes to figuring out which entry on this list of some of the best cannabis vaporizers around is right for you, you'll need to consider whether you're looking for a dry leaf or concentrate vape. We're here to break down the differences, plus the pros and cons of each. Let's get right into it!
Dry Leaf Vaporizers
There are two main forms of dry leaf vaporizer; convection and conduction heating.
Conduction involves heating the dried, ground cannabis in the vaporizer itself into a gaseous form, activating the compounds in it into the vapor you're inhaling. For many dry leaf vaporizers, like many of the ones on this list, it's as simple as inserting some dried and ground cannabis flower, picking an optimal temperature, then inhaling.
Convection vapes, on the other hand, work a little bit differently. This type of vape pushes heat through your ground cannabis flower of choice without requiring direct contact against the heating element, meaning it's less likely to burn. That lack of combustion potential is why many experts and researchers recommend the use of dry herb vaporizers as a somewhat healthier alternative to smoking cannabis.
Concentrate Vapes
If you're looking for a device that's perfectly designed and built for vaping cannabis oil, then a quality concentrate vape is the best way to go. Whether you're dealing with a reusable cannabis vape pen battery unit that attaches to oil cartridges you can get at the dispensary, or just a vape rig that can handle cannabis-infused oils waxes and shatter. Either way, a concentrate vape is a great option for the cannabis user who wants to move beyond smoking just dried and concentrated flower.
Top Ten Portable Cannabis Vape Pens
Now that we understand the difference between the two types of vape pens, let's break down which ones are the best for cannabis users everywhere. Let's get right into it!
Top Five Dry Leaf Vaporizers
Here are some of the best dry leaf vape pens on the market today!
PAX 3

Simply put, the PAX 3 is one of the best cannabis vape pens on the market today, whether it's a dry leaf vape or not. The PAX 3 is small enough to fit in nearly any pocket, bag or even a large wallet or small purse with no trouble at all, and it fits in the palm of your hand without drawing too much attention, heats up super quickly, and is good with either herb or concentrates.
Atmos Jump Vaporizer
If you're looking for a dry leaf vaporizer that's small, simple and discrete, the Atmos Jump is a great option to consider. This small but eye-catching dry leaf vape pen features a carbon-fiber exterior wrapped around a convection-based heating element. Just three taps of the power button and you're ready for your session!
G Pen Pro Vaporizer
If you're looking for a vaporizer that's a little more technologically advanced, look no further than the G Pen Pro. This upgraded version of the G Pen line features a sleeker, more modern outer shape and a lovely LED display.
This conduction vaporizer has an impressive .25 g capacity for dried cannabis, is able to heat up in 20-30 seconds, and has three preset temperatures allowing you to get maximum flavor from your material. This modern upgrade to an old-school vape is a welcomed addition to this list.
MicroG
If you're looking for the perfect mix of form and function, then the MicroG is a great option for you. This great little vaporizer is a perfect combo of powerful battery and smart chip tech, giving users an entirely new vaporizing experience with unrivaled performance and taste.
Firefly 2+
Last but not least is the Firefly 2+, a vaporizer for the flavor aficionado out there. This ultra-portable, on-demand convection vaporizer is perfect for heating that cannabis enough to get all of the flavors you can out of every session. With a massive range of temperature control, the Firefly 2+ could also be used for concentrates!
Top Five Concentrate Pens

The Kandypens Special-K Black
When it comes to discreet and stealthy cannabis vape pens, Kandypens Special-K is hard to beat. This sleek oil pen works as well as it looks, comes with two 1 mL tanks for cannabis oil, and comes with a temperature control battery with three different heat settings. Not to mention, it looks like a pen! Great for low-key use and transportation.
Tronian Tautron
This sleek and simple 510 battery is a great option for anyone. The Tronian Tauton features draw activation for easy use, a 380mah battery and a sunken cartridge slot to ensure your 510 threaded cartridges are protected.
Vessel
The Vessel lightweight pen is great for a few different reasons. First, it's compatible with 510 cartridges, features three voltage settings, 280mah of battery and a magnetic USB charger. This premium pen is a great mix of style and function. This is one of the best cannabis oil vape pens around.
Linx Hermes 3
This slick and slim vape pen is great for thicker oils. The Linx Hermes 3 comes with its own tank, draws hassle-free and even comes with a convenient carrying case for discreet to-go vaping sessions. This pen is the type you think about when you picture a prototypical cannabis oil vape.
Yocan Stix
The Yocan Stix is an ultra-slim oil pen that sports a leak-proof design, three voltage settings, and a powerful 320mah battery. There is a USB port located on the bottom of the Yocan Stix for simple and convenient charging while on the go. It's a great little all-purpose vape pen!
Do you prefer dry herb or concentrate vaporizers? Is your favorite included on our list? Share yours in the comments below!