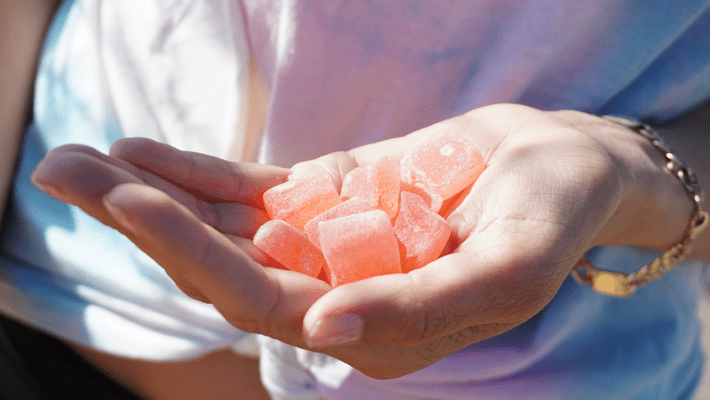 Top 7 Cannabis Edibles in Illinois
Illinois Medical Cannabis History

The state of Illinois was the 20th state to legalize cannabis on a medical level, which passed in 2013 and signed into law the Compassionate Use of Medical Cannabis Pilot Program Act in 2014. This Cannabis Act created a four-year pilot program where patients diagnosed with 1 of 42 debilitating conditions could use medical weed. By receiving a Registry Identification Card through the Department of Public Health, the state was able to protect patients, providers and physicians. The state also removed state-level criminal penalties from medicinal use and cultivation.
Illinois Recreational Weed History
In 2016, the state decriminalized marijuana, meaning that those who possessed 10 grams or less received a fine instead of jail time. This eventually led to the passing of legal recreational weed, which went into effect on January 1, 2020. While Illinois was the 11th state to legalize, they were the first to adopt a regulatory system for cultivation, testing and sales through the state legislature rather than through a ballot initiative. The state saw $11 million within the first week of opening, even with a flower shortage. Now that 2020 has come to a close, the state was on pace to top $1 billion in sales in year one, with no signs of stopping.
Illinois Marijuana Laws Today
As of 2021, one must be 21 or older in the state of Illinois to purchase one ounce of flower or 5 grams of concentrated cannabis. If you're visiting from out-of-state, these numbers are cut in half. One can consume safely within their home or approved consumption sites, and it is important to remember that businesses and landlords have the right to prohibit cannabis on their property. Maximum possession limits include up to 30 grams of flower, 500mg of infused product or 5 grams of concentrate at once. Only medicinal patients are allowed to grow marijuana and are allowed up to a maximum of 5 plants. Also, be careful driving because in Illinois it is a crime to drive under the influence of marijuana where the the presence of THC in the blood exceeds 5ng/ml.
Tips for Consuming Marijuana Edibles
It is our job to be thoughtful consumers, so before you try a new substance make sure you do the proper research on the obvious dos and don'ts. The golden rule here at Where's Weed is to start slow and go low. Instead of trying the whole edible that is likely 25mg, try just a bite, which is roughly 5mg. You can always eat more, but never less!
Edibles are generally more potent and will hit the body slower, so remember to plan out your day accordingly. When in doubt, the budtender is there for a reason, so ask away! They can point you in the direction for the edibles experience that you want.
Our Favorite Edibles in Illinois

Mindy's Edibles: Milk Chocolate And Peanut Brittle Chocolates
This brand was created by James Beard award-winning chef, Mindy Segal, with nothing but the highest quality ingredients considered. These artisan edibles are sure to pack a unique punch and deliver 10mg of THC per piece. This edible is milky, smooth and crunchy all at the same time to deliver a perfect dose and level-headed afternoon ahead.
Incredibles Fruit Trio Mints
These mints contain a blissful mixture of lemon, grape and green apple with 100mg of THC per package. It is suggested to drop one or two tarts, which are 2mg of THC each. They are lip-puckering good and deliver a euphoric boost and uplifted mood for a nice cerebral buzz. By starting with a 2 mg microdose, this mint allows you to
1906 Genius Drops

This brand is all about quality, the power to the plant and most importantly, a fast-acting edible. For a little bit of both worlds, grab the Genius drops for a blend of 2.5mg THC, 2.5 mg of CBD and a little bit of caffeine in each drop. Watch yourself become clear-headed, ready to tackle everyday tasks and stay mentally on your toes with these infused edibles.
Bhang Cookies And Cream White Chocolate Edibles
This company is all about making life tasty and wants that 100mg chocolate bar to actually taste like chocolate, not cannabis. Paving the way in testing and labeling, the gourmet chocolate is sure to deliver a delicious experience. With four pieces that are each 25mg of THC, this is a great option for those with a higher tolerance and a heady afternoon in the clouds.
Freedom Fudgies
A huge player in the Chicago marijuana industry, Revolution Global hopes to foster a society where cannabis is more accepted. This line of Freedom Fudge is great for all sativa lovers and with 100mg per fudge bar, expect a potent experience that will deliver heightened creativity, coordination and awareness. It's a long wave to ride, but those who can handle it will have an enjoyable time. We recommend cutting the fudge into 10 pieces and seeing where one piece takes you first.
Beboe Inspired Pastilles

Beboe, known as the "Hermes of Marijuana" is looking to elevate the cannabis experience. These pastilles, with 5mg THC/1mg CBD per piece, are all about taking the edge off after a long day at the office, bringing serenity to the mind. The blueberry lavender droplets emphasize chill time, so take one by yourself or with a partner for a relaxing evening or for a pleasing sleep.
Matter Watermelon Spots Sour Gummies
These refreshing watermelon gummies are bursting with fruit flavor and are ready to pack a punch that is vegan friendly and made with emulsified THC for a quicker onset time. The watermelon spots have 5mg of THC per piece, perfect for an ecstatic day ahead. Matter products are produced by PharmaCann, a leader in the cannabis space hoping to innovate the industry as it pushes forward into the mainstream and are considered to be making some of the best THC edibles on the market today.
Are you from Illinois and have a favorite edible that's not on this list? Share or tell us your take on the Illinois cannabis market below!