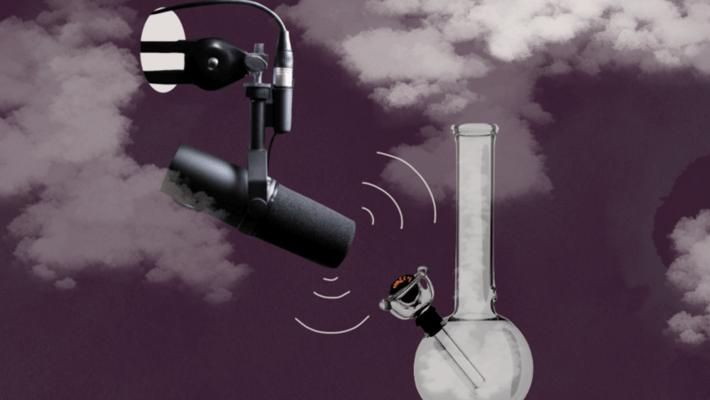 Best Strains to Listen to Podcasts With
Podcast Definition: A program (as of music or talk) made available in digital format for automatic download over the Internet.
Many people who enjoy podcasts listen to them while commuting to work in the car, on the train/bus, sometimes even while exercising! Since this article is about weed and podcasts, we'll assume that you are relaxed and in a comfortable spot at home while enjoying the audio entertainment.
Where to Find Podcasts
The easiest way to listen to podcasts is on a website. Simply search for a podcast that covers a topic of interest and you'll be presented with loads of options. Many news or entertainment sites have accompanying podcasts that can be enjoyed with a simple click. A podcast app is also a good option. Apple users have easy access to a wealth of options via the App Store and Android users also have plenty to choose from.
Sativa or Indica?

Before we look at the strains of weed that go well with particular podcast genres, let's briefly touch on the difference between indica and sativa. While it is now generally understood that most of what we enjoy these days are hybrids (the sativa vs. indica debate is well-documented), particular characteristics can be applied to each type of cannabis. Sativas are known for a cerebral mind high with stimulated energy, creativity and productivity. Sativa strains will usually induce giddiness and can be fun in social situations. On the other hand, indicas give the user a body high that is good for watching movies, inducing sleep or simply relaxing.
The Best Weed Strains for Podcasts

This hybrid normally tests around 20% THC, contains average amounts of CBD and is nicely balanced to provide an even mental high matched with enough energy to keep you focused on the narrative of the podcast. Limonene, linalool and caryophyllene are the dominant terpenes. Try Bubble Gum with Educational podcasts like On Something, Great Moments in Weed History or Revisionist History. Snack to eat after smoking while listening: Nacho Cheese Doritos

This sativa-dominant beauty has been popular for years and is an energy source that pairs perfectly with True Crime podcasts (try with classics like Serial or Criminal) thanks to the focus and motivation it gives users. THC content can range between 13% and 22% and the dominant terpene is myrcene, which gives Green Crack its strong citrus and lemongrass flavors. Snack to eat after smoking while listening: Thai or Indian Curry

Another legendary sativa-based strain, Sour Diesel couples the pungent smell of gas with a distinctive lemon flavor. THC levels can climb above 25% with very little CBD. Happiness, giddiness and the general euphoria that Sour Diesel provides makes it the ideal complement to Comedy podcasts like How Did This Get Made?, Bodega Boys and Conan O'Brien Needs a Friend. Caryophyllene, limonene and myrcene are the main terpenes. Snack to eat after smoking while listening: BBQ Potato Chips

Grape Ape's indica leanings and THC content levels that hover around 20% (no CBD) make it ideal for relaxing without worry and enjoying an Interview podcast such as Armchair Expert with Dax Shepard or Fresh Air with Terry Gross. Let your body sink into the sofa as your mind focuses on the fascinating subjects answering provocative questions. Snack to eat after smoking while listening: Blueberries

Keep your head clear for Celebrity podcasts like Here's the Thing, Amy Schumer Presents: 3 Girls, 1 Keith and Unqualified with this sativa that hits with an immediate but brief head rush before easing into a mellow body high. As you might expect from the name, citrus terpenes like limonene and myrcene dominate, but caryophyllene and linalool also influence Sour Tangie's profile. THC levels are known to reach 30% with less than 1% CBD. Snack to eat after smoking while listening: Fruit Popsicles

This is a delicious indica that was created by crossing Purple Urkle and Big Bud. Most tests of this California classic reveal hardly any CBD and around 20% THC. Extreme relaxation and the elimination of any joint stress are the common physical aspects of Grandaddy Purple's intoxication. Alpha-Pinene is the dominant terpene, but myrcene, linalool, and humulene are also present. Check out a Sports podcast like The Bill Simmons Podcast or Jalen & Jacoby while you relax in your favorite comfy chair. Snack to eat after smoking while listening: Parmesan Cheese-Flavored Popcorn.
Do you have a favorite podcast that goes well with a particular strain of weed? Tell us about the podcast and the strain and why they work well together in the comments section below!