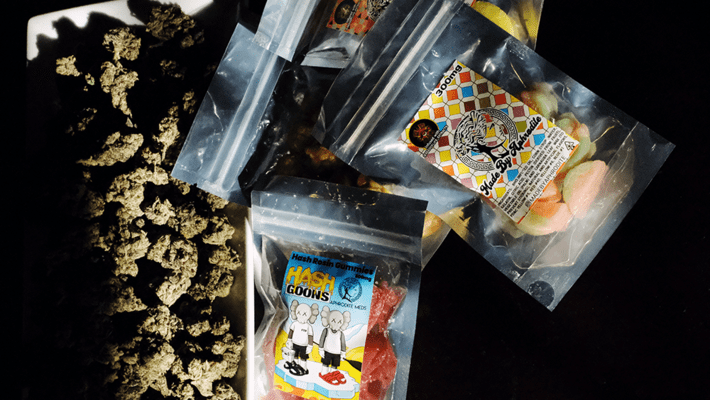 Top 7 Gluten-Free Edibles to Try in 2021
We love edibles for many reasons, and we want to make sure that everyone has options when it comes to enjoying them - that includes people who are living gluten-free. Fortunately, if you are gluten-intolerant, there are gluten-free options with most everything these days, and cannabis is no exception. Let's take a look at the best gluten-free edibles across the country and which ones you should try.
What It Means to be Gluten Free

Gluten is a common protein found in grains such as wheat, rye and barley. Basically, foods like chips, bread, ketchup, baked goods, pasta and candy are very likely to contain gluten. Certain medical conditions cause adverse reactions to gluten:
Celiac disease
Gluten sensitivity
Gluten ataxia
Wheat allergies
There are several reasons for a gluten-free diet, including claims that going without improves overall health, weight loss and energy levels. The science behind gluten-free diets for people who do not have an adverse medical condition is not concrete and there is debate as to whether people should or should not eat gluten. Regardless, we have a list of our favorite gluten-free edibles - and trust us, they're pretty great.
The Best Gluten-Free Edibles
Are gummy bears gluten free? Are most gummies and edibles gluten free? Unfortunately, most gummies are not gluten free, although many brands do carry them. Here's our top list of brands you should check out if you're looking for delicious, gluten-free edibles.

Juicy, vegan, gluten-free and available in a wide variety of flavors and THC profiles, Wana gummies are the ideal edible. Wana is all about sustainability and catering to a cannabis-friendly healthy lifestyle. These gummies range in flavors from strawberry to assorted sour, and there are even a few fast-acting options. Wana gummies are available medically (and recreationally, where possible) in these states: Arizona, California, Colorado, Florida, Illinois, Maryland, Michigan, Missouri, Ohio, Oklahoma and Oregon.

If you live in Canada, Euphoria Extractions is the go-to edibles brand. Delicious, portion-controlled edibles have been their focus since opening in 2015 and they have continued to grow their line of delectable, gluten-free, vegan treats. Their shatters bars are out of this world with several flavors and various THC-levels available across Canada.

With your choice of Granny Smith Apple and Strawberry Fruit, these fruit leather edibles are seasonal, all-natural, farm-to-table treats that also happen to be cannabis-infused. Binske is all about providing all-natural, high-end products, that are available in California, Colorado, Florida and Nevada.

Verdelux has one mission: create high-end edibles. All of their chocolates and edibles are handmade in small batches, only using cannabis from pesticide-free farms. Their Bon-Bombs are rich, creamy, gluten-free and so delicious! Verdelux is available throughout the state of Washington!

American Baked Co has been serving up innovative cannabis-infused products for years, and their Fruit Chews are some of their most popular products. Not only are the Fruit Chews gluten free, but also made with all-local Washington ingredients and small-batch tested. These delicious treats are available in recreational dispensaries throughout the state of Washington.

This California brand is all about craft-cannabis and specializes in cannabis-infused cold brew and infused coffee beans and goji berries. This edible experience comes from a partnership Endorphin Foods and renowned Ritual Coffee - and, not only are they delicious but also gluten-free. You can find Somatik products in dispensaries all across California.

If you're looking for variety in your gluten-free edibles options, Dixie is a brand you should check out. They've been around since 2010 and built their brand on the idea of sustainability, consistent quality and cannabis advocacy. Their gluten-free gummies come in flavors ranging from Spicy Mango to Sour Smash and Berry Blaze and Dixie also has a line of mints, bursts, dew drops and chocolates to check out! You can find most Dixie gummies in dispensaries throughout California, Colorado, Michigan and Oklahoma.
How to Make Edibles Gluten Free at Home
If you'd rather forgo hunting down gluten-free edibles, you can always just make your own! There are a lot of amazing gluten-free edibles recipes out there, such as our marijuana gummy recipe. You can also make your own THC-infused edibles by infusing cannabis oil or cannabutter into any recipe at home! You can either buy cannabis oils and butters at certain dispensaries or you can even make those at home, too. For cannabis coconut oil, all you need is some fresh cannabis flower, some coconut oil and some water! For cannabutter, you just need a lot of butter and cannabis flower. Making your own edibles might sound daunting, but if you follow our recipes, it's easier than you think! No matter what you choose, whether they're homemade or store-bought, we hope you find the gummies just right for you and enjoy!
Do you have a favorite gluten-free edibles brand or recipe? Share it with us below!