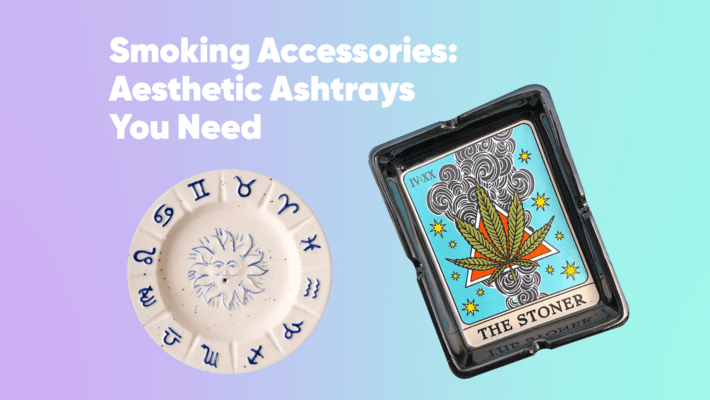 Smoking Accessories: Aesthetic Ashtrays You Need
Half the fun of smoking pot is owning all the cool accessories that come with the hobby. From an R2D2 bong to a volcano vape, the creativity that cannabis unleashes results in fantastic accessories. From storing weed to smoking weed, you can always find a design that fits your needs. A stoner ashtray can be a celebration of color and form, a beautiful way to gather up the ashes once it is time to pack a fresh bowl. Here are some of the cool ashtrays for weed that are available on the market today.
Why Go Big
Given that some stoners do not even use an ashtray, why should they consider investing in an artistic piece? For starters, ashtrays are more than a convenience, meaning you do not need to get up off the couch to ash your bowls. They are part of the communal aspect of smoking weed: everyone knows it's best to get baked with friends, passing a joint or a bong. Why not pass an ashtray too?
Additionally, cannabis is all about personality. You want the bowl or bong that matches your style and your aesthetic. Finally, a good quality weed ashtray is easier to clean and maintain than a cheap one. Just like a high-quality silicone bong can be put directly into the dishwasher, a quality ashtray can also be cleaned thoroughly without worrying about it breaking.

"Smoke more," says the Yew Yew website, "and be happy." A glance at their lineup of designer ashtrays may be enough to make most stoners happy since their beautiful coloration and intricate design are unique in the industry. Not only do they have the standard colors that you'd expect, like mint green, but beautiful and creative designs like cow print and amber. Their ashtrays are easy to clean, and at $65, they are a bit more pricey, but you get what you pay for, and Yew Yew gives you a lot.
CannaStyle sells just about everything you need if you want to smoke weed, including bongs, bowls, grinders, and rolling papers. Their lineup of cute ashtrays are not just unique but part of a larger collection: purchase a strawberry-decorated ashtray, and you have the option to get the matching strawberry bong, bowl, lighter, and grinder.
In addition to collections, they have diverse stand-alone models that are sure to catch the eye. Witness the Jack-O-Lantern or the Tarot Card ashtray, perfect for the seasonal and eccentric. Not only are these cool ashtrays, but they are also functional ashtrays. The Unbreakable model can be thrown from the roof without harm or placed in the dishwasher when dirty and features a cleaning spike to eliminate the caked-on ash and resin from your bowl.

If you love all things pink, Burning Love's collection of fancy ashtrays will blow you away. Reminiscent of the 90s Paradiso Legos, this collection of high-intensity colors are sure to appeal to those who are not afraid to be glamorous. Don't be fooled into thinking these are just girly-girl ashtrays: sure, their collection includes a Spice Girls tray, but it also features serene smiley faces and clouds, great for the stoner who has had a rough day and needs to get in the mood to relax.
The same mall store that sells hot summer shorts and cool wall art also provides its customers with a surprising amount of cannabis accessories. "Calm" might be the mantra of the joint ashtrays that this company has on offer. Urban Outfitters features yin-yang designs, checkerboard designs, zodiac symbols, and even "man on the moon" ashtray glass that doubles as an incense holder. While nothing here really pushes the boundaries of art, it offers comforting, vibrant ashtrays that are affordable on anyone's budget.
The name of this cannabis accessory company may make you think it is a luxury brand based out of Florence, purchased in downtown Manhattan. Opulence is indeed the name of the game for this British-based company, and if you want to make a statement among your friends, this is where you should start. Their designs range from an adorable Hello Kitty tray to a tray layered with ceramic ice cream that looks real enough to eat.
As with any luxury brand, Sato Torte Deco is pricey: their "bibimbap" Korean rice bowl ashtray costs nearly $100. You get what you pay for, however, as the quality is high and the durability is strong. Customer reviews rave about these ashtrays, making them a great option when you want to up your game and set off a complete collection.
Do you own any fashionable smoking accessories? How have you found that they influence your smoking hobby? Let us know in the comments below!