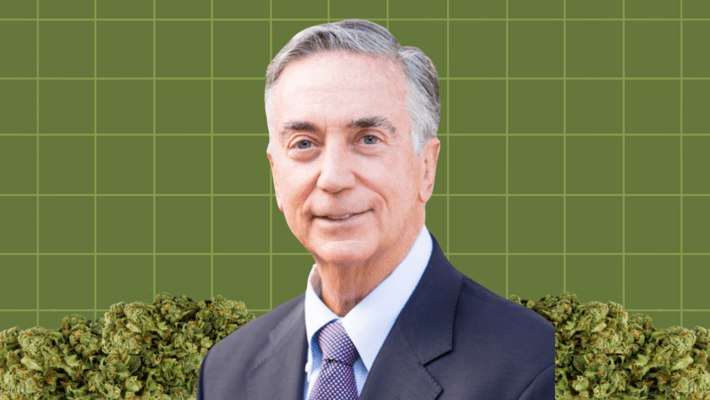 Donald Abrams: Legendary Queer Clinician Studying Cannabis & AIDS
Despite being one of the most influential people in bringing cannabis into the treatment of patients with AIDS, very few people have heard of Donald Abrams. A brilliant doctor who was at the forefront of AIDS/HIV research and treatment during the epidemic of the 80s and 90s, he fought the federal government for the right to study the effects of medical cannabis on patients combating AIDS. In honor of Pride Month and to bring his name into the light it deserves, we're taking a look at this great man's work in cannabis and LGBTQ+ advocacy.
How Donald Abrams Came to Research Cannabis

Donald Abrams was born on June 1, 1950, in New York City. From an early age, Abrams was interested in pursuing medicine and he received his first degree from Brown University in molecular biology in 1972. He then went to medical school at Stanford University School of Medicine, during which time he completed clinical rotations in London. Upon returning to the United States, Abrams completed his medical degree in 1977 and moved to San Francisco for his residency in internal medicine at the Kaiser Foundation Hospital. Several critical things happened to Abrams during his time at Kaiser. He reaffirmed his passion for medicine, found his life-long professional calling for oncology (the study and treatment of tumors), and began seeing a trend in young gay men affected by chronically enlarged lymph nodes. The latter was an early sign of AIDS, which was commonly called "gay cancer" at the time and little was known about it.
Several years later, Dr. Abrams left his fellowship in hematology/oncology at the University of California San Francisco Cancer Research Institute to work with Paul Volberding, MD, MACP, at a San Francisco General Hospital Clinic. There, the two treated gay men who were battling Kaposi sarcomas and Pneumocystis carinii pneumonia. Having come out as gay several years before, Abrams saw this as a personal calling and was soon given a grant by USCF to study lymphadenopathy in gay men, an aspect of the increasingly studied AIDS. Abrams had long favored holistic approaches to cancer care, including nutrition, physical exercise, mind-body management, traditional Chinese medicines and cannabis (to name a few). And so, after many unsuccessful treatments, the loss of his then-partner in 1989, Mark Henry, and the continued severity of the AIDS epidemic, Abrams turned to cannabis as a potential treatment for the many unfortunate side effects of AIDS and drugs being used to combat it.
His Fight for Cannabis Research & AIDS Treatment

Dr. Abrams first petitioned the federal government for the right to use marijuana for his research in 1992. At that time, medical marijuana was still illegal in every state and, like today, it was classified as a Schedule I drug with no medicinal benefits and highly addictive. It had been over ten years since the government had approved medical marijuana research, but Abrams was insistent. After five years, countless hours of work and advocacy and several iterations of his proposal later, Abrams finally received approval from the federal government. Abrams was working on these initiatives during the time that Dennis Peron was creating his San Francisco Cannabis Buyers Club and Mary Jane Rathbun was giving out cannabis brownies to AIDS patients. Abrams was truly part of a much larger LGBTQ+ cannabis activism and medicinal support network in the San Francisco area. Fortunately, between filing for access to medical marijuana for research and receiving his request, AIDS medicine hit its first breakthrough.
In the years 1995 and 1996, Dr. Abrams and other researchers introduced protease inhibitors to AIDS patients with significant success. Death rates declined and both AIDS-related dementia and wasting syndrome become far less common. Then, in 1997, Abrams received his federally-approved medical marijuana. One year later, Dr. Abrams' cannabis research paid off, as he and his team confirmed that marijuana and the protease inhibitors had no negative interactive effects. Along with easing pain and reducing other side effects of AIDS treatments, they found that patients with AIDS who smoked marijuana experienced an increase in appetite and gained nearly 8 pounds over 21 days (weight loss was a major medical concern for individuals being treated for AIDS). Despite this success, the government has yet to acknowledge cannabis as having any medical applications (although there are now 36 states that claim otherwise through their policy).
Where is Dr. Abrams Today?

Abrams' success with his cannabis and AIDS research was far from the end of his career. He has continued to use plants as a complimentary cornerstone to his traditional oncology therapies when treating patients for cancer. In 2004, he completed a fellowship in the Program in Integrative Medicine at the University of Arizona and is still working to save lives through both traditional and non-traditional methods.
He is a specialist in integrative medicine and cancer treatment at the University of California San Francisco Osher Center for Integrative Medicine. He also practices general oncology at the Zuckerberg San Francisco General Hospital and Trauma Center, a professor of Clinical Medicine at the UCSF School of Medicine, and still studies the medicinal applications of cannabis, to this day. Currently 71 years old, he has been married to Clint Werner (another influential cannabis-rights advocate) for 26 years and has no interest in retiring from his work.
Have you been affected by Dr. Abrams' work or do you know others in the field that have had a lasting impact that should be recognized? Let us know in the comments below.