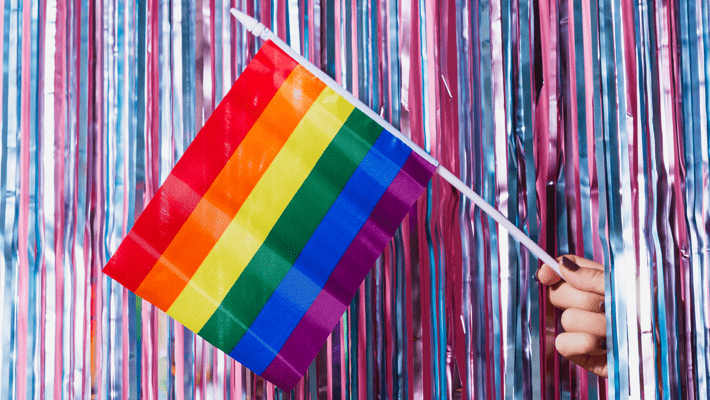 How to Celebrate Pride with Cannabis
When you think of LGBTQ Pride, rainbows, Lady Gaga and huge parades probably come to mind. This celebration ushers in warmer days full of sunshine and happiness, especially with summer looking like it will be "normal" once again. While many people know about Pride Month, they aren't aware that there is a strong link between this community and the cannabis movement. So in the spirit of it all, we want to bring Pride and the vibe of a cannabis party together in harmony. Keep reading to find out how to celebrate cannabis with Pride!
How Do Pride and Cannabis Mix?

The cannabis legalization movement and LGBTQ community collide primarily through two fearless pioneers, and that first figure is Dennis Peron. As a Vietnam veteran serving in the Air Force, Peron came back to America with a few pounds of cannabis, and the rest is history. He sold cannabis and was busted a dozen times and even created his own legendary salon in the Castro district in San Francisco, all while coming out to the community as a gay man. He eventually went on to aid in the writing of Prop 215, which was the ballot initiative in California that legalized the herb for medical use.
The other key leader that links cannabis and the queer community is Mary Jane Rathbun, better known as Brownie Mary. Practically born an activist, she moved to San Francisco in the height of the AIDS crisis in the 60s and 70s. As a good friend to Peron, she baked weed brownies for those affected by the AIDS crisis to not only ease the pain but increase appetite. At her peak, she was baking up to 500 or 600 brownies a day and eventually was able to testify to the San Francisco Board of Supervisors about the medicinal benefits of marijuana, leading to the medical possession of marijuana being the lowest priority in prosecution.
Cannabis Use in the Queer Community
Through these pioneers listed above, cannabis and the LGBTQ community have never been more intertwined. There is an interesting statistic that those in the queer community reported using marijuana 30% of the time in 2015, rather than just 12% of their heterosexual counterparts. This could be for a variety of reasons, one, in particular, being that mental health issues run more rampant in this community, and marijuana is a medicine that can help.
How to Have the Best Weed Party

In the wake of the cancellation of Pride 2020 and 2021 being not as strong as previous years, summer 2022 is primed to be one for the books. There will be a heavy emphasis on parties being next level, and your marijuana parties should be no different. Keep reading for tips to host cannabis parties in the best way possible.
Weed Party Decorations
So, you want to have a cannabis party and a Pride party all in one? To set this up for success, we recommend going with one theme. Pride decorations are simply going to be more fun, and you can never go too over the top. Grab rainbow streamers and throw them everywhere, while also grabbing rainbow cups, tablecloths, plates and napkins. We even recommend a wall that will be Instagram-able, filled with rainbows, unicorns or anything that will pop. If you want to go all out, get a neon rainbow sign and make sure the glitter is on deck, to look extra dewy and glowy all day long.
As far as lighting goes, it will just depend on the vibe you are going for. If it's daytime, pre-game before the Pride Parade, make sure the lighting is top notch and bright, so all of the photos will look their best. If this is a night thing, set the scene with a darker room with neon lights to give a chill rave-like feel.
Weed Party Ideas: Music
This step is paramount, as weed parties are all about heightened senses, which will heavily be influenced through the music you decide to play. Regardless of vibe, here is the perfect time to showcase some of your favorite queer artists or advocates for the community. Whether this is Frank Ocean, Kehlani, David Bowie or Freddie Mercury, you are in for a ride. Let these beautiful voices be heard!
Weed-Themed Party Provisions
When it comes to the actual weed party supplies, it is important to remember that everyone has a different smoking preference. Make sure you have every sort of device on deck, such as your favorite bowl, bong, vape pen and plenty of lighters, a grinder (or two!) and rolling papers. If you are going to go the extra mile and pick bud for your guests, don't be afraid to consult a budtender for their recommendations on strains.
When it comes to other types of cannabis to consume, grab your favorite CBD or THC drink to stay hip with the trends, whether that be the Cann or Recess tonics. To really stay in theme, some companies even release a limited-edition Pride gummy that you can pick up for an uplifted mood. If these are all sold out, we suggest opting for a low-dose edible, so you can keep the party going without everyone ending up on the couch. Once everyone is sufficiently high, you'll be able to bring out those weed-themed board games that are sure to bring about the giggling fits.
One Last Thing
To be the true host of the party, it is always a nice touch to have some party favors for your guests to depart with. This is an easy way to stick with your Pride theme, so grab an array of rainbow lighters or rolling papers. You may even find some rainbow sunglasses, bracelets, fans or condoms to give out.
Do you celebrate Pride with cannabis? Do you think these two concepts go well together? Tell us how much you love and support the queer community below.