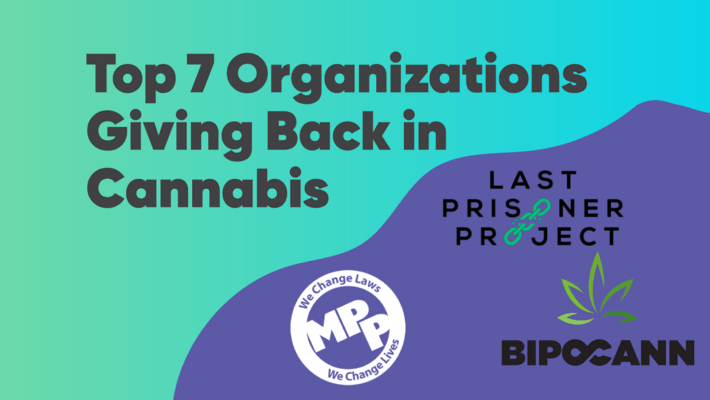 Top 7 Organizations Giving Back in Cannabis
There's a lot of change. Everywhere. In the cannabis industry, many individuals and organizations are working hard to give back to the community, especially those who have suffered most from the unjust policies long enforced through America's War on Drugs. We think it's crucial to highlight these organizations and the good work and advocacy they provide. While the list is much longer than what we can put in a blog post, let's at least look at the top 7 organizations fighting the good fight and giving back to the cannabis community.

The Marijuana Policy Project (MPP) was founded in 1995, the year before California became the first state to legalize medical marijuana. At that time, marijuana was illegal everywhere in the United States. Period. Since then, they have largely led the political charge for systemic cannabis change at the federal and state levels. They have lobbyists in D.C. and at grassroots state levels that all look to advance the organization's mission to end the prohibition of cannabis. To help MPP in their ongoing mission, you can send letters to your state's senators and representatives, become a member of MPP, start an MPP chapter, or donate.

Former U.S. Navy SEAL Nick Etten founded the Veterans Cannabis Project (VCP) to improve veterans' quality of life through access to medical cannabis. The foundation has four main pillars it addresses: advocacy for veterans' access to cannabis, education for the public and policymakers about the inaccurate stigma associated with cannabis, support for the use and advocacy of medical cannabis, and healing through community and policy change. To help out this organization, you can join their program to promote ongoing campaigns or donate. If you're part of a willing business, your organization can partner with VCP to give credible financial support.

The Oregon-based Minority Cannabis Business Association (MCBA) is working to increase diversity in all sectors of cannabis, from owners and employees to consumers. Founded in 2015, this nonprofit business league built an extensive network of cannabis owners and professionals to combat the war on drugs and build a stronger, more inclusive cannabis industry. They advocate for the creation and enforcement of equitable policies, drive access for accelerated legalization, and serve with programs that educate and empower minorities within cannabis. To help, you can become an individual or corporate member to participate in their campaigns, lobby, and educate.

The National Cannabis Industry Association is the oldest and largest trade association representing legal canna-businesses. Operating nationally, they've grown a network of hundreds of businesses and thousands of individuals. They primarily work to uphold medical cannabis laws on a state level and advance federal policy reform that will hopefully lead to full legalization. Advocacy, education, community, inclusion, responsibility, and legitimacy are their organization's pillar concepts. You can help them advocate by becoming a member, educating yourself and others through their content, or donating.
This Denver-based organization is a for-profit company created to connect, educate, inspire, and empower women in the cannabis industry through community and events. They are branding a new future for cannabis, most recently partnering with Korto Momolu for a Women Grow fashion line. Participation and getting involved is their entire model - you can look for monthly local networking events, join their annual leadership summit, or start your own local community to help this organization thrive. You can also become a member or share their content.

New to the scene, BIPOCANN was founded in late 2020 by Ernest Toney, a cannabis insider, and connector from Marijuana Business Daily. This organization's focus areas include advocacy and equity, recruitment and representation, and networking. Its primary goal is to increase representation and build equity within the cannabis industry for BIPOC (black, indigenous, and people of color), who have been significantly more affected by the war on drugs. They connect communities and businesses with their growing professional network to educate and drive policy change that supports building equity, inclusion, and legalization. You can help this organization by becoming a member, joining their mailing list, and spreading the word about their mission.

The Last Prisoner Project is a nonprofit dedicated to criminal justice reform for cannabis. Their mission is to provide legal intervention, education, and legislative advocacy to set right the lasting wrongs of the war on drugs. There are over 40,000 individuals currently in jail for cannabis use and possession - the Last Prisoner Project's primary goal is to set those inmates free and ensure the cycle ends. They are currently calling on the Biden administration to grant amnesty to those incarcerated due to marijuana possession and have created a comprehensive plan that includes a petition you can sign. You can also write a letter to congress through their organization, sign specific prisoner release petitions, share constituent stories to spread awareness of continued injustice, and join their pen pal program to let current inmates know people are working for their rights and freedom. You can also donate to their cause or shop their brand to help make a difference.
As we said, we can't fit every organization into this single post. Please let us know which organizations you think deserve to be on this list and how they're changing the cannabis industry for the better. Comment below!