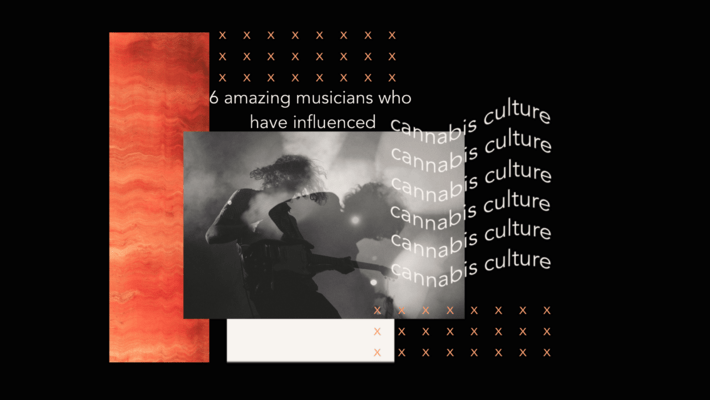 6 Amazing Musicians Who Have Influenced Cannabis Culture
Making your way through packed crowds at music festivals, you're bound to have the delicious aroma of weed smoke in the air waft up to your nostrils at one point or another. For many, a concert or late-night music-centric gathering might have been your first experience with cannabis. For others, it was a supplemental discovery that just happened to make the experience of listening to music way more enjoyable. Either way, there's no denying the link between some top-notch cannabis flower and some catchy tunes. Not every stoner has the same taste in music, but we can agree that lighting up some cannabis while bopping your head to good tunes makes for a killer combination.
Whether you prefer chilling at home with your bong and favorite album or passing around a blunt with a group of friends at a concert this summer, there's something about weed and music that makes it an even better combo than peanut butter and jelly. And with the weather warming up and pandemic restrictions for large events loosening, this summer would be a perfect opportunity to take in a concert featuring your favorite artists and spark up with some good friends.
The vast majority of U.S. states and territories approve of some type of legal weed. With 19 states legalizing cannabis recreationally, and another 37 states creating medical programs, it's never been easier to get your hands on some cannabis. The mainstream has accepted the widespread use and popularity of cannabis mainly because of the vast amount of influential pop culture figures, like musicians, that have been vocal about their support for legalization.
Many renowned musicians have even credited marijuana with being an enormous part of their craft, praising the plant for its creativity-inducing abilities and advocating for its legalization.
So with that in mind, let's take a closer look at some of the most famous and influential musicians who smoke weed while breaking down their contributions to the overall cannabis culture via their art. Don't expect to see your favorite indie artist here; this list is chock-full of heavy hitters who have been heavily hitting their cannabis pipes and joints for years. So without too much further ado, let's take a look at some of the weed-smoking musicians who have been at the forefront of cannabis culture and the legalization movement.

Bob Marley

We can't talk about marijuana music without mentioning the pioneer of reggae and one of the most notable singers who smoke weed - Mr. Bob Marley. Perhaps the most well-known pop culture icon attached to the overall cannabis culture, you've likely seen his face plastered all over memes online, tee shirts, pipes, and other merchandise from your local head shop. However, a lesser-known fact about Marley's passion for cannabis was that it was deeper for him than just getting a little high and cutting loose. Marley did not use it recreationally but saw it as a holy ritual.
He belonged to the Rastafari religion, in which the practice of smoking marijuana was a holy sacrament and reserved only for medicinal and religious purposes. Marley avidly believed that cannabis granted him access through a spiritual door, allowing him to grow into the poet and artist he was. He famously said, "when you smoke the herb, it reveals you to yourself."
While it's probably true that Marley is the most well-known Rastafarian, the idea that cannabis can connect the human mind with something spiritual is far from a new concept. Humans have been using cannabis to reach out to a higher spiritual plane for thousands of years, but Marley was the musician who brought the idea to the masses. For that and his wonderful music, he's rightly considered a legal cannabis culture icon by most.
Louis Armstrong
For black jazz musicians, marijuana is a big part of their lifestyle. The man considered to be the father of jazz music, Louis Armstrong, first started partaking in cannabis in the 1920s and continued blazing throughout his entire life. He would smoke before recording sessions and live performances, even before appearing on live TV!
Along with Armstrong's importance to cannabis music culture, he also helped turn Allen Ginsberg and the Beat Generation on to the wonders of the versatile cannabis plant, which in turn spread to the hippie and anti-war movement of the 1960s. He even had the guts and smarts to famously gave then-President Richard Nixon a musical case packed to the brim with cannabis he brought home from some trips to Jamaica when the President came to meet him, successfully passing the cannabis flower through customs without getting caught!
Louis also advocated for legalization to President Eisenhower, saying, "It really puzzles me to see marijuana connected with narcotics: dope and all that crap. It's a thousand times better than whiskey - it's an assistant - a friend."
This world-famous jazz musician was an early legal cannabis pioneer who introduced a generation of musicians to the mind-opening potential of the cannabis plant he enjoyed so much!

Willie Nelson

A living, breathing testament to the power of cannabis, Willie Nelson is the United States' most legendary stoner in addition to being a country artist, actor, poet, and author. Simply put, Willie Nelson is a national treasure and legal cannabis icon that should and will be protected at all costs.
Nelson has long been a passionate advocate for the legalization of marijuana and has always been highly outspoken about the medical benefits. He's also a big believer in the potential economic advantages of taxing it, with the revenue funneling into benefits for the community such as education.
When he gave up whiskey and cigarettes around 1978, cannabis became his drug of choice. And boy did he embrace it. Nelson famously smoked some pot on the roof of the White House with Jimmy Carter's son, successfully convinced fellow stoner musician and icon Snoop Dogg, to fly to Amsterdam and hit every coffee shop in town, and even has his own line of cannabis called "Willie's Reserve."
Although Willie has plenty of great quotes, we love it when he said, "The biggest killer on the planet is stress, and I still think the best medicine is and always has been cannabis." These days, Nelson has been smoking less and spending more time vaping since it's better for his lungs. After all, it's only natural to be a little bit more health-conscious when you reach Willie's age.
Whether it's smoking j's on the roof of the White House, out-smoking Snopp Dogg in Amsterdam, or just vaping before recording his most recent album, when it comes to musical cannabis icons, this kid from Abbott, Texas is sure hard to ignore!
Snoop Dogg
Speaking of Snoop Dogg, let's spend a little time covering the cannabis icon himself! You've probably seen the iconic Snoop Dogg proudly puffing on a blunt on stage at his shows or in all of his music videos, as he is particularly vocal and public about his love for pot even before it was legal in any capacity.
Best known for lighting up and his chilled-out, West-coast style songs and rap style, Snoop Dogg's entire persona pretty much revolves around marijuana. He is the co-founder of a venture fund that raised $45 million for various cannabis investments and even has his own branded line of weed called Leafs by Snoop.' He's also famously linked up with various celebrities like Seth Rogen and, surprisingly enough, Martha Stewart.
One of our favorite Snoop quotes on cannabis is, "So what if I'm smokin' weed onstage and doing what I gotta do? It's not me shooting nobody, stabbing nobody, killing nobody. It's a peaceful gesture, and they have to respect that and appreciate that." Simply put, Snoop is not only a great musician but a legal cannabis icon who has been out here living his best life for longer than some of us have been alive. The true definition of an O.G.!
Melissa Etheridge
One of the first advocates on this list for straight-up medical cannabis as opposed to recreational, American singer, songwriter, and activist Melissa Etheridge is an outspoken pro-cannabis advocate. After she got diagnosed with breast cancer in her 40s and severe cancer treatments endangered the use of her precious music-making fingers, Melissa Etheridge made the conscious decision to give medical cannabis a try.
She got arrested by federal agents for marijuana possession after her tour bus was stopped and searched in North Dakota following her Canadian tour. However, that experience didn't scare her nor steer her away from cannabis; it was quite the opposite reaction.
Instead, this arrest propelled Etheridge to continue advocating for fellow ganja users and educating the masses about the plant's therapeutic and medicinal potential, even starting a cannabis company of her own in the process called Etheridge Botanicals. The brand primarily sells high-grade cannabis flower and pre-rolls in the form of sativa, indica, and hybrid strains in fun little tubes in dispensaries throughout California, along with a line of CBD products for the other 38 states where recreational cannabis likely isn't legal.
She said, "Instead of taking 5 or 6 of the prescriptions, I decided to go a natural route and smoke marijuana." Considering she's still here as an advocate and making music, we'd say she might have been on to something with that quote.

Wiz Khalifa

Last but not least, Wiz Khalifa may also be another prominent person your mind drifts to when music and weed are mentioned. Perhaps the youngest and most mainstream famous artist on our list, it's hard to separate Wiz and some weed in pretty much any way.
Even if you've never given any of his music a listen, you still probably know one specific characteristic about him: this dude loves smoking pot. He doesn't exactly make a secret of it. After all, the whole Wiz Khalifa brand revolves around weed. Much like his mentor and previous entry on this list, Snoop Dogg himself, pretty much everything he produces.
The cannabis rapper developed his strain called Khalifa Kush, and one of his mixtapes that grew famous was called "Kush and OJ." Wiz is outspoken about how cannabis helped him, saying, "Weed helped me get through high school. I ain't gonna say that for everyone, but it helped me."
The Bottom Line
The cannabis plant and its many effects are for everyone. In that group of everyone, there's bound to be some talented musicians in the mix. No matter if you're using cannabis to chill out after a long, hard day at work or you're looking for some inspiration to write, produce, play, or sing your next groundbreaking, chart-topping hit, cannabis has a little bit of something to offer to everyone in no small parts. These pro-legal cannabis activists have been singing, playing, and speaking out about it for decades. After all, if a joint is good enough for Willie Nelson, I think it's fair to say it's good enough for you too!

Do you know of any other musicians that smoke weed and have influenced cannabis culture? Share with us in the comments below!