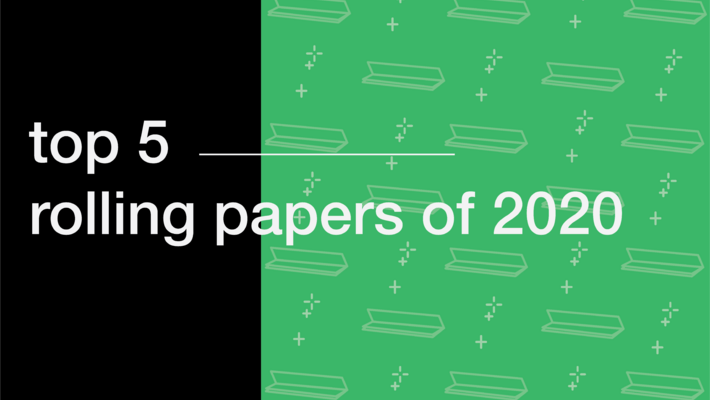 The Top 5 Rolling Papers of 2020
The process of rolling up a joint, spliff or blunt is one of the most universally recognized acts across the world of cannabis. Short of the ubiquitous pipe, rolling papers are the most utilized smoking method when it comes to enjoying cannabis, and the quality of the rolling paper is critical to the enjoyment of the joint. While it's impossible to argue that other forms of cannabis consumption, like edibles and concentrates, aren't on the rise, smoking still remains the most popular form of cannabis consumption by a mile. After all, there are few things more iconic and attached to cannabis culture than sparking up a joint with some buddies and passing it around. To get that perfectly rolled joint, however, you'll need some quality rolling papers to work with. And these days, you've got lots of great options to choose from!
In the past, rolling papers have been made from wood pulp, but things have changed as the cannabis industry has been legalized and widely popularized among the vast majority of Americans. These days, natural rolling papers are made from healthier and more sustainable materials like hemp, rice and flax, giving consumers a massive variety of choices when it comes to rolling up their cannabis strain of choice. As a general rule, wood paper tends to burn the quickest, rice paper the slowest, and hemp at a fairly moderate rate. The novelty market has also taken off, with luxury rolling papers made of gold catching the eye of those who want to roll a spliff that sparkles. So with all of these options widely available in the market today, it might be hard to choose which products are worth your hard-earned money in the first place. After all, the legal cannabis market is worth billions, so there's bound to be a lot of companies flooding the market with options that might not exactly be up to snuff. That's where we at Where's Weed come in! We're here to break down what are the best papers to roll with at the moment, break down exactly why those papers are the way to go, and break down why they're the perfect papers to elevate your next smoke session to the next level! So with that in mind, let's get right into it! Check out the list below for Where's Weed's Best Rolling Papers for 2020.
5. Zig-Zag Unbleached King Slim

Is there a better way to start out our list than by highlighting an OG, iconic brand in the cannabis space? The uber-iconic Zig-Zag label kicks off our list with its classic Unbleached King Slim. Legend has it that back in 1879 a bullet broke the pipe of a French soldier, which prevented them from being able to smoke. To fix that issue, he improvised by tearing a piece of paper from his sack of gunpowder to use to roll his tobacco. A few years later, Maurice and Jacques Braunstein took the rolling paper idea to the next level in their Paris shop by inventing a package that allowed single sheets to be dispensed one at a time. The "Z" shape that the papers make when pulled from the package prompted them to call their new product "Zig-Zag" and the rest is history. These rolling papers are about as clean and pure as it gets. Crafted from natural flax fibers and the absence of any bleach or chemicals, there top-notch papers ensure nothing you didn't want or knows about gets between you and your favorite strain.
4. Smoking Master 1 1/4

The Miquel Family has been making paper in Spain since the 18th Century, producing rolling papers since the late 1800s and offering its elite Smoking Brand rolling papers to happy customers since 1924. Needless to say, these papers have likely been in the rotations with smokers before you were even born. That does explain the name, after all! Smoking Masters are now produced in Catalonia and are FSC certified, which means that your joint will burn with pulp from responsibly managed forests that provide environmental, social and economic benefits. That means that not only will you be able to spark up a well-rolled j, but you'll be able to do so knowing you're not supporting a product that's environmentally damaging as well! Sealed with 100 percent natural vegetable gum, these papers provide a surprisingly slow and smooth burn that improves the smoking experience as a whole! All and all, these papers are great, as easy to use and roll with as they are friendly to mother earth!
3. Natural Mystic Organic Hemp King-Sized Pre-Rolled Cones

Natural Mystic might not be the most well-known brand out there, but this tiny company based in Texas makes some of the best papers for joints and some of the best hemp rolling papers available. Their pre-rolled cones are all rolled by hand and feature 100 percent unbleached fibers to create a brown organic hemp paper that provides an impressively controlled burn rate and a pure taste. The single gumline keeps the cones from unravelling when they are being filled and makes it super simple to get your spliff ready if you're not a skilled roller. On top of all of that, every single one of Natural Mystic's products are GMO-free and Vegan-friendly, so you know you'll be smoking some of the healthiest rolling papers on the planet. Simply put, this small rolling paper brand is a sleeper in the category of best rolling papers on the market today!
2. RAW Classic 1 1/4

RAW papers have set the standard of quality for well over a century now, and are quite simply some of the best rolling papers for weed that you can find. Founded in the Alcoy region of Spain, where the rolling paper booklet was first invented, RAW has since expanded its empire across the globe. Despite that incredible growth, however, they haven't dropped their standards at all when it comes to producing top-notch rolling papers. They continue to produce top-quality and earth-friendly merchandise to this day, which is likely why they're one of the most well-known cannabis brands in the whole world. And while all of their products deserve recognition, we're going to choose the Classic 1.25" version to spotlight here. The natural sheets that create these stalwarts are made from unrefined plants and use organic tree sap to seal joints securely with ease. RAW Classics can be found in all sorts of shops across the country and can be quickly and easily ordered online, and are an excellent paper to have on hand when the need to roll one up arises. They're one of the top names in the game for a reason, standing out as one of the best rolling papers companies out there today!

1. Elements 1 1/4 Ultra-Thin Rice Rolling Papers

Last but certainly not least, we wanted to highlight this brand on our list of best rolling papers. With some of the slowest burning rolling papers on the market, these fine rice papers utilize a sugar gum that yields an attractive and slightly sweet burn that won't interfere with the tastiness of the terpenes in your weed. The ultra-pure rice used in the papers results in a smooth burn with little to no ash and the crisscross watermark prevents runs and irregularities. The tiny magnetic closure device in the packaging is genius; it keeps the papers from getting torn, wrinkled or smashed. Made utilizing wind power in Northern Spain, Elements produces some of the best weed rolling paper in the world.
Are your favorite papers on this list? Share why in the comments below!