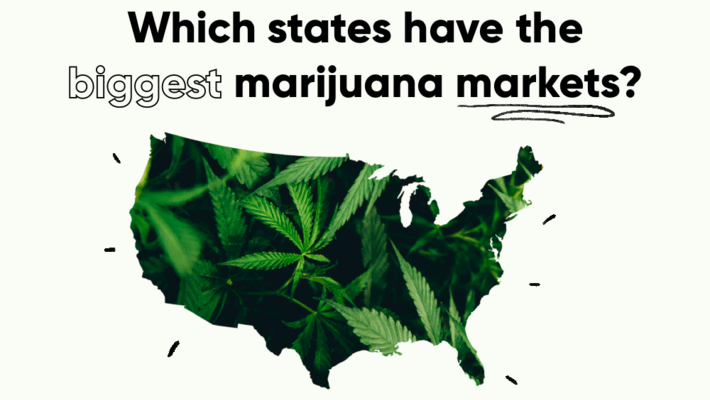 Which States Have the Biggest Marijuana Markets?
Highest Cannabis Revenue in States With Recreational Weed
California

2020 Legal Marijuana Tax Revenue (Q1-Q3): $778.2 million
All-Time Legal Marijuana Tax Revenue: $1.8 billion
In 1996, California was the first state to legalize medical marijuana and later became the third state to legalize recreational marijuana nearly 20 years later. While California only began recreational sales in 2018, it has one of the highest cannabis revenues of all legal states. California is a marijuana powerhouse, and it doesn't look like it's planning on slowing down anytime soon. California's marijuana sales are projected to top almost $4 billion in 2020, accounting for both recreational and medical weed. As the largest legal marijuana market in the United States, all eyes are on California. Recently, new laws signed into effect revised banking and marketing regulations surrounding cannabis, including the removal of state penalties against banks that choose to work with cannabis businesses. While more legislation is on the table for 2021 that will overhaul the entire California marijuana regulatory system, we may be seeing some big changes to California cannabis here over the next few years.
Washington
2020 Legal Marijuana Tax Revenue (January to October): $459.1 million
All-Time Legal Marijuana Tax Revenue: $2.27 billion
Washington legalized medical marijuana in 1998, then in 2012, along with Colorado, was one of the first two states to legalize recreational marijuana. In 2019, Washington's marijuana revenue surpassed the liquor industry by $172 million and sales continue to rise. Washington has put nearly half of its marijuana revenue into its Basic Health Plan Trust Account, which is used to provide healthcare and services to the state's working classes. The rest of the state's marijuana revenue goes to education, research and a large state general fund. Marijuana sales are expected to continue increasing in Washington, especially as the state looks to pass laws allowing home cultivation in the upcoming months.
Colorado

2020 Legal Marijuana Tax Revenue (January to October): $297.2 million
All-Time Legal Marijuana Tax Revenue: $1.36 billion
Colorado legalized medical marijuana in 2001 and then legalized recreational weed in 2012. No matter how many states legalize weed, Colorado will always be a cannabis cultural hub and it shows in the numbers. Colorado had a record-breaking 2019 with $1.75 billion in cannabis sales (up 13% since 2018), with a total of almost $7.8 billion in sales since 2014. Despite COVID-19 (or perhaps because of), Colorado saw even bigger numbers in 2020, with the state surpassing the 2019 total marijuana sales in October 2020. A large portion of Colorado marijuana revenue goes into the public school districts and the rest goes into a Marijuana Tax Cash Fund, a Local Share and a State General Fund. We're excited to see how Colorado marijuana sales continue to trend, especially as more cities are expected to take advantage of the state's regulated marijuana delivery policy that was passed in 2019. Delivery services in cities such as Denver and Colorado Springs could bring a lot of additional revenue to the table.
Oregon
2020 Legal Marijuana Tax Revenue (January to September): $116.3 million
All-Time Legal Marijuana Tax Revenue: $455.3 million
Oregon legalized medical marijuana in 1998, at the same time as Washington. Then, in 2014, along with Alaska, it became one of the first four states to legalize recreational marijuana. While it doesn't have quite as large of a cannabis market as other states with legal weed, it is continually increasing in total sales and tax revenue. In 2019, marijuana sales jumped 22% to nearly $800 million. The majority of the tax revenue generated by these increasing sales goes to state school funds, mental health, alcoholism and drug services, as well as funds for the individual cities and counties that allow sales. Smaller amounts of cannabis-generated tax revenue go to the state police and health authority. While cannabis sales continue to increase in Oregon, so too do more progressive, health-oriented policies that look to change the American drug infrastructure. In November 2020, Oregon passed a law to decriminalize all drugs within the state and created a rehabilitation system that promotes education and healthcare. As these laws begin to take effect, we may see Oregon become the first new standard for law enforcement and legal/criminal implications for drug use.
Illinois

2020 Legal Marijuana Tax Revenue (as of October 2020): $105.9 million
All-Time Legal Marijuana Tax Revenue: $105.9 million
Even though Illinois only began recreational cannabis sales in the beginning of 2020, the state is already a powerhouse when it comes to tax revenues. Within the first year of recreational sales, Illinois surpassed more than $1 billion in total cannabis sales. Of course, tax revenues are not quite as high as total sales but are still booming in Illinois, nonetheless. According to a Press Release from the Illinois Department of Revenue, in August 2020 only 8 months after recreational sales began, Illinois already collected over $100 million in tax revenue. Under Illinois's Cannabis Regulation Fund, nearly 50% of the funds will be reinvested through the Restore, Reinvest, Renew (R3) Programs that have been disproportionately impacted by the criminal justice system, or to address substance abuse and prevention, as well as mental health concerns. County and local governments also get the remaining tax revenues. Illinois has had an astounding first year of sales and will only continue to grow as more dispensaries open across the state.
Nevada
2020 Legal Marijuana Tax Revenue (January to October): $74 million
All-Time Legal Marijuana Tax Revenue: $298.8 million
Nevada has had legalized medical marijuana since 2001 and recreational weed since 2016. While 2019 was a big year for Nevada cannabis, 2020 has proven to be an even more monumental year with an overall sales increase of 14%. September 2020 saw a 43% increase in cannabis sales over September 2019, and it looks like Nevada is continuing an upward trend in marijuana revenue. The state has made good use of the tax revenue, with millions going toward state-wide education. A large portion of the cannabis-generated tax revenue goes into the state's emergency fund, but money is also put into a general fund for appropriate allotment and distribution. While no immediate developments looking to change the Nevada landscape in 2021, we're excited to watch as more dispensaries are opened and cannabis culture continues to develop and grow.
Let us know which states you think have solid cannabis infrastructures and which ones you think will continue to boom as legalization spreads!