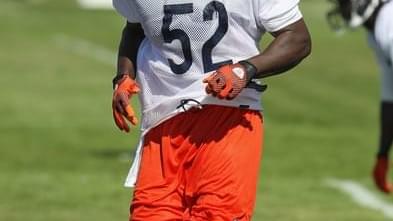 Chicago Bear J.T. Thomas Arrested on Marijuana Charges
Another Chicago Bear is in trouble after West Virginia police found J.T. Thomas driving down the wrong side of the road with marijuana in his car. After his arraignment, Thomas was released under his own recognizance. Thomas spent most of the 2011 season on the injury reserve.
Chicago Bears linebacker J.T. Thomas is facing a misdemeanor drug possession charge
after police in West Virginia said they caught him driving the wrong way down a one-way street and found marijuana in his car.
Morgantown Police Chief Ed Preston said the 23-year-old Thomas was charged Monday morning.
The officer who pulled him over detected the odor of marijuana, Preston said, and when Thomas retrieved information the officer had requested from the glove box, small plastic bags with marijuana fell out.
"We are aware of the arrest of J.T. Thomas in Morgantown, W.V.," The Bears said in a statement. "We are currently gathering information to learn more about the circumstances surrounding the arrest."
Thomas appeared in magistrate court for an initial arraignment and was released on his own recognizance.
It's unclear whether he has an attorney, but Preston said he did not have one in court.
Thomas was a rookie for the Bears in 2011 and spent the season on injured reserve.
The Bears said they were aware of the arrest and were trying to learn more about what happened.
The Fort Lauderdale, Fla., native was a three-year starter at West Virginia.
He was in town with some former Mountaineer teammates over the weekend to visit WVU Children's Hospital and to host a fundraiser for the Epilepsy Foundation.
His J.T. Thomas Foundation promotes leadership, education, youth sports and awareness of childhood disability. Morgantown was the next-to-last stop on his "Ready Ready Road Trip," which had started in Fort Lauderdale.
The trip included a stop in Chicago, where he surprised a 14-year old epilepsy patient with Super Bowl tickets. The teen and his mother attended the game with Thomas.
As a freshman at WVU, Thomas was arrested for transferring and receiving stolen property. Police said the stolen item was a laptop computer. Those charges were dropped once Thomas completed a diversionary program.
Information from The Associated Press was used in this report.