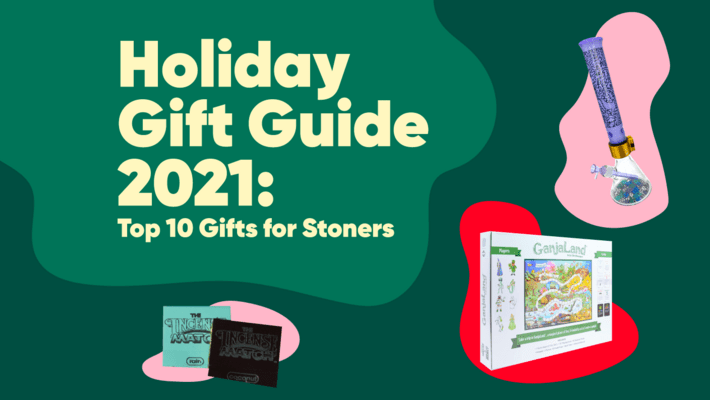 Holiday Gift Guide 2021: Top 10 Gifts for Stoners
Where's Weed may receive affiliate commissions from purchases made from this Gift Guide.
It's already the holiday season again, which means we probably have no idea what to get our friends and family this year. Even though we are now inundated with advertisements in every single facet of our lives, it's still rather difficult to find the perfect gift. Do you have any friends or family that partake in cannabis? Maybe this is the year to shake things up and give them a gift they never saw coming.
The Variety of Cannabis
When you think about gifting something cannabis related, it goes much further than just buying someone fresh flower or a 6 pack of pre-rolled joints. Cannabis related gifts can be trendy, fashion-forward stoner tees or hemp-made jewelry. Gifts can be interactive and sure to spice up any smoking session, whether it is a fun board game or conversational card game. Cannabis as a means of holistic health has never been more popular, so looking for CBD bath bombs or skincare may be an easy option to gift. Have a tech lover in your life? Cannabis tech is making leaps and bounds every single day, with top-of-the-line grinders, air filters and decarboxylators for sale.
Top 10 Gifts for Stoners

$29.99
Take the smoking session to new heights, instead of sinking deeper and deeper into the couch-lock state. This board game is all about a magical trip through none other than Ganjaland and will present challenges, trivia and a lot of fun to those who participate. Think of it like Candyland, but for weed lovers. Find your way through the land of Ganja starting off at Dank's Diner through Mushroom Meadow until you reach the Cannabis Castle! Plus, don't forget to throw on the Spotify playlist that was created just for this game to set the mood.

$60.00
Here's a look that tells the world you're a stoner, but in a more subtle and fashionable way than wearing pot leaves all over you. From our friends at High Sun Shop, this hoodie features the saying "the sun is high and so am I" slogan with a minimalistic sun in the middle. Perfect for running errands around town, or just hanging out in your house this sweatshirt is made from 55% organic cotton and 45% recycled polyester. We suggest sizing up to stay in line with the oversized trend that is happening right now. Plus, it will be all the cozier for the family or friend receiving it!

$38.99
We all love the smell of cannabis, but sometimes you need to be more low key. These incense matches are perfect for getting rid of that post-smoke smell without getting too overwhelmed by fragrance. Know someone who likes a little spice in their life? This box of 50 assorted match books comes in various fragrances, with 2-4 books of each one - because who doesn't love variety? Manufactured in the USA, this box comes out to 78 cents per match book. Fragrances include the likes of cinnamon, rain, coconut and French vanilla, just to name a few. (They're great to keep in the bathroom too, just in case!)

$69.00
This top-of-the-line stash box is for anyone in your life who wants (or needs to be) discreet about their cannabis use. This large bag has thoughtful traits like adjustable dividers and lockable zippered bags for the stealthiest of stoners. With a built-in combination lock, strain-tracking mobile phone app and odor absorbent dividers, this will do the trick if someone needs to keep their weed habit under wraps or away from children and pets. Great for keeping your bud and glassware safe from anyone who might be snooping around your house or apartment.

$125.00
When it comes to cannabis, few celebrities are better known advocates than Seth Rogen. And his new cannabis brand, Houseplant, shows just that. Gone are the days of Rick and Morty bongs and rolling trays with huge weed leaves, Houseplant has elevated the entire industry of cannabis accessories. Whether it's the handmade ashtrays or a sleek carrying case, this pebble match strike is no different. These two beautiful black stones incorporate beauty and functionality to be not only a match strike, but also a match holder and even an ashtray. Made of heavy cast iron, this inconspicuous accessory will level up any room it's placed in.

$35.00
Do you have that one friend that is always bringing their favorite pre-rolls everywhere? Or maybe they like to roll their own and take it on the go? Gift them something that will keep the joints safe and sound, like this Doob Tube. This chic storage container from Edie Parker Flower is perfect for those always on the go to concerts, hikes, or even just a friend's house. Don't worry if they are more of that at-home type, these tubes will also keep cannabis nice and fresh so you don't worry about losing its potency. Available in several different colorways, you can find the perfect doob tube for that chic stoner in your life.

$209.92
For the favorite stoner in your life, consider going big with the gift of a beautiful custom bong. Not only is it a gorgeous piece to smoke out of, but these bongs are also washable and portable, all with clamps that make them easy breakdown and take on an adventure. Prism Waterpipes is one of our favorite brands because of how customizable they are! With various different sizes, bases, percolators, bowls, and more, you can choose every single piece for that special stoner in your life. Included in this specific set is a mouthpiece, clamp, beaker base, bowl and downstem and are all customizable.

$10.00
Sometimes the simple, small gift is the best option. These cannabis holiday-themed cards from Kush Kards aren't just your average Hallmark variety. Created by Lauren Miele, these cannabis cards are the perfect option for anyone you know who loves cannabis. You'll have the option to choose a slot to insert a pre-roll or have a one-hitter included in the card. What's even better? There are two match strikers on the bottom of each card so the giftee can light up right then and there. If you like Kush Kards, make sure you also check out Miele's Naughty Kards for that lover in your life you want to get a little naughty with.

$25.00
Here's a simple innovation to ashing the bowl at the end of the smoking session. Stop searching for toothpicks and paper clips around the house to clean out that ashy bowl, and pick up PokeaBowl! Perfect for friends or family who still love the fine art of smoking a bowl or hitting the bong, this domed ashtray with a thin and sturdy poker is sure to keep the mess to a minimum while cleaning out the bowl perfectly every single time. With PokeaBowl, they'll never have to deal with another clogged bowl again (and that's definitely a gift that gives back!)

$320.00
Have an elegant, high-class stoner in your life? Consider buying one of these premium prints from MONOGRAM, Jay-Z's cannabis line, that features the brand's latest campaign, "The Good Life, Redefined". This updated photo series reimagines mid-century American photographer Slim Aarons's vision and examines modern luxury and how it interacts with cannabis culture.
Any standouts on our gift guide for 2021? Have you ever given or received an awesome cannabis-related gift? Tell us in the comments below!