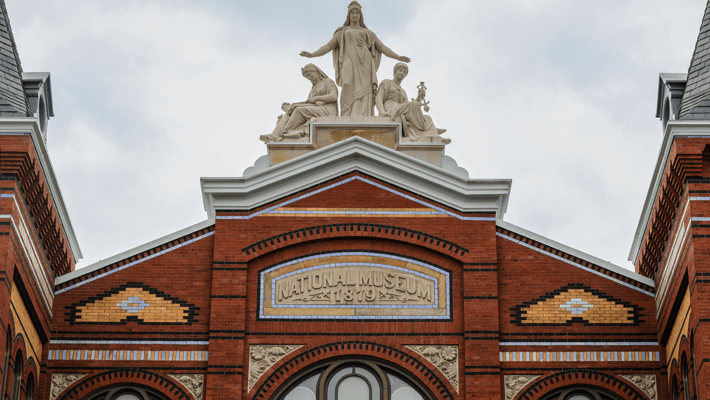 Best Science & History Museums to Visit in DC After Smoking Weed
Few cities in the world have a museum culture that compares with our nation's capital. Not only does Washington, D.C. portray much of our national history and scientific achievements, but many of the best museums in DC are totally free of charge to enter - none of the museums on this list will cost you a dime!
Better still, Washington D.C. cannabis law is more lenient than Maryland, meaning that visitors can enjoy a nice blaze before their visit. Whether you would rather smoke a mind-expanding sativa or a low-THC strain that keeps your memory sharp, there's lots of dispensaries in the city where you can find medical and recreational marijuana alike. Note, however, that laws about cannabis in DC aren't quite the same as a more lenient state like Colorado: while it is legal to give recreational cannabis as a gift, it is not legal to buy it, meaning that you may find it hard to directly exchange money for marijuana. Recreational dispensaries in DC don't exist per se: in some cases, you may need to purchase an expensive product just to get "gifted" cannabis, and in other cases, you may get turned away for lack of a medical card. Wondering how to find weed in DC? Check out our DC dispensaries list.
The Smithsonian National Museum of Natural History
The first of several Smithsonian museum choices to appear on this list, the National Museum of Natural History on the Mall features all of the environmental treasures of the U.S. and wider world. Famous primarily for their fantastic specimens of the natural world, from the taxidermized African bull elephant in the atrium to the right whale skeleton hanging overhead. Next, step out into the butterfly pavilion where hundreds of species of these beautiful flying insects are competing for flowers.
The Natural History Museum boasts one of the world's richest collections of fossils, including dinosaur fossils. The U.S. is home to some of the most productive fossil beds in all of geologic research. You'll find a range of dinosaurs from the towering Tyrannosaurus Rex to its minute predatory ancestor Coelophysis. Don't get so high that you are tempted to try to ride them.
The National Air and Space Museum

Each year eight million visitors come to the National Air and Space Museum to gawk at everything from the Spirit of St. Louis airplane used to cross the Atlantic to the space shuttle Discovery. Stepping through the front door makes it easy to see why this is one of the most fun museums in DC: if you have ADHD you might find yourself overwhelmed by all the cool aircraft and spacecraft hanging from the museum. Just about every famous American vehicle ever meant to rise off the ground can be found in this museum, including some aircrafts that broke records of speed, height and time in orbit. Some (but not all) of these crafts accommodate visitors, so you can pretend that you're landing on the moon before aliens get there.
On top of the fantastic collection of aircraft and spacecraft, the Air and Space Museum features some of the coolest planetary exhibits you can find. Simulations of all the planets in our solar system give you a sensation of what it might be like to live on Neptune, if only for a moment before you froze to death. Its IMAX planetarium isn't to be missed either: lie back, relax and take a journey through the stars in the night sky.
Museum of the American Indian
Walk into most of the museums to visit in DC and you may already know what to expect: the American History museum, for example, will have a lot of flapper clothes from the 20s and muskets from the Civil War. However, if you walk into the Museum of the American Indian, you may quickly be forced to admit you don't know much about Native Americans. The museum is a fantastic place to learn about people who are so often overlooked in our society, featuring everything from artifacts to oral legends to food choices that are much different than a typical burger and fries.
Built without any right angles, the museum provides information on all the indigenous peoples of the Americas, not just the ones who live (or lived) in our 50 states. From the Inuit of the north to the Anoikenk of Patagonia, this is one of the most beautiful and novel museums you might ever visit.
The Holocaust Museum
At first thought, you might think it disrespectful to smoke a joint and visit a museum about the Holocaust. However, there are more links between the two than you might think. For one, some Holocaust survivors use medical cannabis in their old age; for another, the ancient Jewish people might have cultivated the herb themselves. A good strain can also put you in a serious state of mind for reflection on the genocide of the Second World War, and make you thankful that we live in a country that fought against it. The Holocaust Museum itself features fantastic, albeit haunting, exhibits that educate visitors about the process from restrictive laws to concentration camps during the 1930s and 1940s. You are given an identity card at the start of a person who went through the Holocaust; not until the end do you find out if they survived or perished.
United States Botanic Garden
Closeout your high by strolling through the nation's largest and most beautiful gardens. The Botanic Garden includes some 4000 species of plants across 30,000 square feet of space. Including an orchid court, a desert garden, a water garden and a central jungle area. The vibrant colors and lush miniature ecosystems are sure to induce a sense of calm and tranquility after a long day on your feet.
What are your favorite museums or landmarks to visit in Washington D.C.? Do you have any favorite dispensaries or restaurants you like to visit in the capital city? Let us know in the comments below if you have any recommendations for visitors to see.