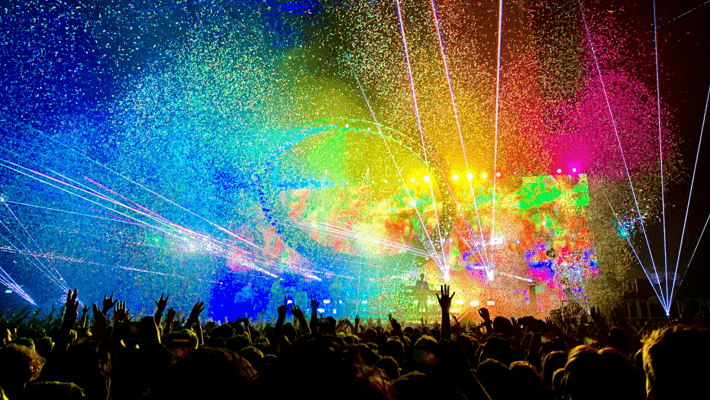 Top Psychedelic Rock Bands to Smoke Weed to
When consuming enough cannabis, people can often have feelings that resemble a psychedelic experience. This may present itself in visual distortions, an altered perception of time or the intense euphoria and giggles that can accompany any sort of high. Another side effect of a great head buzz from cannabis is the altered sense that triggers music to sound simply fantastic. Acid rock bands are back on the scene, delivering unique and distorted guitar sounds, making it great music to listen to when high.
Modern Psychedelic Rock Bands to Get High With
Tame Impala

You can't talk about psychedelic rock without mentioning who really brought it to the mainstream, and that is Tame Impala. Many don't know that this is a one-man show created by Kevin Parker, who mixes, records and writes everything himself - and then just grabs some friends to play live with. Known for his ethereal vocals and never creating the same sound twice, throwing him on the speaker for your next session may transport you elsewhere. Don't know where to start with his discography? Start with Let it Happen, The Bold Arrow of Time, and Apocalypse Dreams as some songs to get high to. Grab the indica Grape Ape for this, you're going to want to feel the musical currents running through your body as you drift into a numbing haze.
Khruangbin
This Texas Trio that brings together classic soul, funk and music from around the world is one of the most recognized and best psychedelic rock bands today. It's modern psychedelia with a twist, as they pull from their heritage and bring influences such as 60s and 70s Thai and undiscovered funk from the Middle East to the main stage. Start with Khruangbin's hit White Gloves or dive deeper with Friday Morning to hear their expansive sounds. Roll up a hybrid like Gelato to give you the perfect balance of relaxation and euphoria.
MGMT

Do you remember that point where those few MGMT songs ruled your life? Their electro-psychedelic sounds have dominated the decade, as this once practical jokester band turned into a cornerstone of an entire genre. Kids and Electric Feel are without a doubt some of the best psychedelic rock songs, so queue those up or dive into When You Die or Me and Michael for some updated tunes. Here we like the hybrid The White to deliver a fat THC content with an intense focus, great for a creative funk.
King Gizzard & The Lizard Wizard
If you've been looking for something with less pop and heavy on the mind-bending psychedelia tunes, King Gizzard & The Lizard Wizard is the band for you. King Gizz keeps you on your toes, as you explore their albums that range from jazz, acoustic, sci-fi to trippy garage rock. This eclectic group will experiment and emit an anything-goes-feel through their exploration of sounds. To dive in, start with Works This Time or Honey. We recommend a sativa like Amnesia Haze so you can keep up and stay energized with the ever-evolving sound.
Crumb
This collaboration between friends formed in 2016 and has already left its mark on this genre. Crumb delivers the ultimate low-key vibe, and lead singer Ramani's dizzying vocals will drift you off into a blissful state. They have a hypnotizing quality about them, and their synths are perfect for a lazy day under the trees. The top songs to listen to while high for Crumb include Ghostride, Plants and Bones. Switch things up and grab a low-THC strain such as ACDC that will wash away all the pain and anxiety for the day.
The Flaming Lips

The Flaming Lips are one of the older psychedelic bands on the scene, having been around since the mid-90s, yet have continued to make a name for themselves today. They are known for their off-kilter sound, mixing their melodies seamlessly through their noise-rock and psych rock sounds. The live show pyrotechnics will always keep you on your toes, and they hold numerous accolades that include NME magazine's Album of the Year and 3 Grammys. Listen to Fight Test and The Yeah Yeah Yeah Song while lighting up with a famous OG descendant, Jealousy, to perfectly capture the body-focused high that are associated with an indica.
The Palms
Relatively new to the scene, The Palms is a band that likes to effortlessly combine their love of all genres into one seamless sound. You'll hear hints of west coast psychedelia, reggae, folk and more. Their DIY approach and distinct vocals are only making them gain more and more momentum thus far, and they're an independent band just hoping to leave an authentic mark on the scene. Throw on the likes of All4you, Human Condition and Nostalgia City to get a sense of their sounds. We like a tasty indica like Blueberry here, perfect for a long sense of euphoria and relaxation.
Post Animal
Last but certainly not least is Post Animal, based out of Chicago. Weirdly enough, Post Animal even once had a member of the Stranger Things cast in their band. Their sound is heavy on the acid rock and all that it entails- the distorted drum lines and guitars, with hazy vocals laid over and just a bit of pop to make it all come together. To get a feel for Post Animal, songs to listen to when high include Ralphie or Gelatin Mode, perfect to explore how their sound varies. Try the sativa Trainwreck to open your mind to the sense-altering sounds and invoke a creative, upbeat day ahead.
Do you have a favorite psychedelic rock band? What do you think of our list above? Let us know in the comments below.