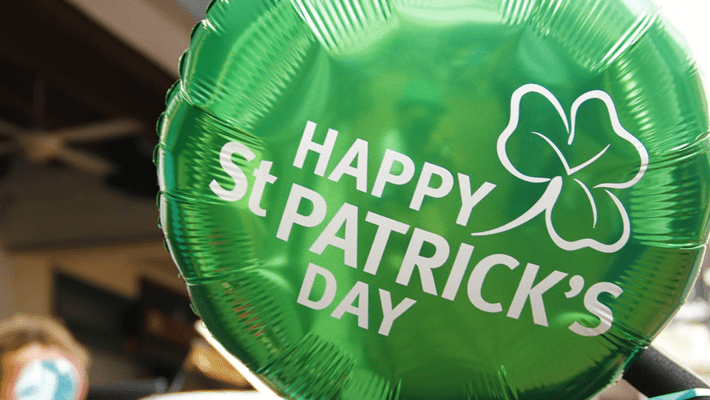 How to Celebrate St. Patty's Day with Weed
Let's throw it back to one year ago, in March 2020 when St. Patrick's Day was likely the last major party that the world would see. The impending doom was looming, and just a few weeks later the world shut down. However, we have higher hopes for St. Patty's Day 2021, as life has made some progress as vaccinations continue to roll out. This holiday may be known as a big one for the drinkers, but let's focus on celebrating with our favorite herb, marijuana.
St. Patrick's Day History

Saint Patrick is a very monumental character for those who are from Ireland or are Irish. Patrick, who lived around the 5th century was born a Roman Britain and was eventually captured and brought to Ireland as a slave at 16. As Ireland's national apostle and patron saint, Patrick is credited with bringing Christianity to Ireland. He famously explained the Holy Trinity (Father, Son and Holy Spirit) to the Irish using the leaves of the native Irish clover, the shamrock.
What many people do not know is that this has been considered a religious day for 1000+ years. From the 1920s to the 1950s, it was a very somber day, where bars were closed and everyone attended mass in the morning followed by a military parade in the afternoon. How did it turn into such a party day? Well, we can thank the United States (mostly) for this.
Why Do We Celebrate St. Patrick's Day?

Ireland has a very rich culture and tradition of diaspora, meaning that for centuries people have been leaving. Whether it was the potato famine or Irish Catholics seeking refuge from persecution. For decades, cities like Boston, Chicago and New York have had huge parades due to their rich Irish ancestry. This is the main reason why the holiday has spread throughout the U.S. It has been seen as a celebration of a hybrid identity, with an estimated 70 million outside of Ireland with Irish ancestry.
With the sheer number of those who have Irish blood, mixed with the likes of Guinness, the idea of the Irish Pub and green everything - this holiday was launched as a good time in the U.S. as the parades exploded throughout the country. One way to think about it nicely is that this holiday is the closest thing the States has to a National Immigration Day.
When is Saint Patrick's Day?
If this holiday sounds like a blast or if you've recently discovered that you do have some Irish blood in you, mark your calendars for March 17th. This is the day of Saint Patrick's death, and his remembrance has turned into a celebration.
A Stoner St. Patty's Day Celebration

We know it's a drinking holiday, but here are a few ideas to incorporate your favorite substance, marijuana, into the party.
All Green Everything
St. Patty's Day decorations aren't complete unless there is green in every single crevice of your party area. What is something that St. Patty's Day and marijuana have in common? The love for green, so whether it is a shamrock or your favorite marijuana leaf, make sure they are everywhere. Get interactive with your friends after a smoking session and see who can make the best shamrock to decorate the walls with.
A Weed-Infused Meal
Some of the best parts about holidays are having those cuisines that you never or rarely eat. Have fun with it this time around, safely of course, and try your hand at a weed-infused Irish meal. The Irish love their corned beef and cabbage, shepherd's pie and soda bread. Throwing in your favorite sativa strain to the mix will spice up any party. More St. Patty's Day food to try your hand at includes a classic Irish stew, apple cake or anything with potatoes in it.
The Pot of Gold
There is an ancient Irish mythological story that states that every Leprechaun has a pot of gold hidden deep within the rolling hills of the Irish countryside. According to legend, the Leprechaun must give his treasure away to anyone that finds it. Why not hide a pot of gold at your St. Patrick's Day party? Fill the pot with all things edibles, rolling papers and smoking accessories for one lucky winner. As a bonus, you'll get to feel like a leprechaun for a day, and who doesn't want that?
THC-Infused Beer

When thinking about this St. Pat's, people often think of Irish Pubs or the world-renowned brand of stout beer, Guinness. If you're looking to stick to just weed things, consider bringing a 6-pack of THC-infused beer to keep the party going. Most of these have a very low ABV, even 0% in some cases, which could be a fun alternative to drinking games. Or, if you are looking to mix beer and marijuana, remember that certain types of beer pair well with specific strains.
Pre-Roll Party
There is no better gift to the party than coming along with a nice assortment of pre-rolled joints. Smoke the rainbow with your friends and try strains all along the spectrum of taste or color to keep things lively. If you're looking to keep things interactive, have everyone bring all the ingredients for a delicious joint, and have a rolling party.
What is your favorite way to spend St. Patty's Day with marijuana? Have you tried any of these ideas listed above? Let us know in the comments below.