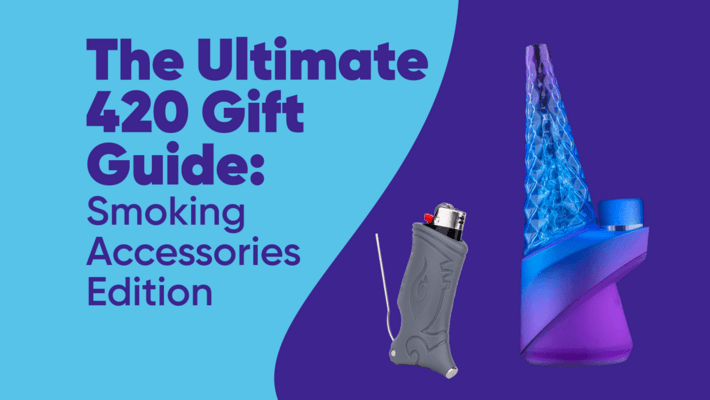 The Ultimate 4/20 Gift Guide Smoking Accessories Edition
4/20 is approaching quickly, and there's no better time to buy yourself or a friend stoner gifts for the occasion. Need some inspiration for the best gifts for stoners this year? We've got you covered.
The Significance of 420
4/20 has taken popular culture by storm over the last decade, and the 420 meaning has been boiled down to one thing: time to get high. But there's a lot to 420, from being a rallying cry for cannabis enthusiasts to being a great story that goes back to the beginnings of cannabis culture in modern America. The origins of 420 date to 1971, at San Rafael High School in California. Five teens used to meet up after school at 4:20 PM to get high and look for a fabled abandoned crop nearby. These five teenagers called themselves the "Waldos" because they met and hung out by a wall every day to start their search. While they never found the stash, they used 420 as their codename for smoking weed - the kids had several close connections to the Grateful Dead and spent a lot of time backstage with the band.
The simple codename stuck and started to spread amongst Grateful Dead fans, quickly snowballing into the iconic phrase it is today. And while it has a great backstory, the truth of the matter is this: 420 - April 21 - is a great time to celebrate cannabis with friends by getting together and smoking a lot of weed. This leads us to why you might find yourself looking for gifts around this time of year. 420 is like cannabis Christmas and Thanksgiving wrapped into one - it's a time to celebrate, and giving yourself or someone you know a stoner accessory to try out on 4/20 is a great way to get started.
The Top Gifts for Stoners of 2022

The OG Otto is a must-have automatic cone rolling machine. It's built with a patented AI milling system that analyzes each batch of material to adjust its milling blades' direction, speed, and pressure. As opposed to other grinders that compress and shred your cannabis material, the fine-tuned OG Otto truly mills your product one layer at a time to fully retain leaf, oil, and kief with every use. At $149.99, this device is an incredible gift for any cannabis enthusiast on 4/20.

Once you see this beautiful "smart rig," you'll want to have it. It's beautiful, colorful, super high-tech, and is the new standard in portable electronic vaporizers for experiencing concentrates. At $449.99, the Peak Pro offers Bluetooth connectivity so you can control your device from your phone, wireless charging so that it's always ready for use, and real-time temperature control for a consistent experience. Check out Puffco's online store to grab this before 4/20.

Sometimes smoking isn't always the best option for consuming cannabis, however edibles are a great alternative. Try your hand in making homemade edibles with the Ardent FX, an all-in-one DIY companion for cannabis enthusiasts. It is a portable cannabis kitchen that fully decarbs your plant material (97-100%) and has settings that allow you to either infuse, cook or bake your activated cannabis into delicious edibles. Its odorless process can decarb up to four ounces of plant material at a time and even comes with a carry case for on-the-go home cooks. Clean, easy to use, and only $290, the Ardent FX is a must-have on 4/20 for any homemade edibles connoisseur. Just visit Ardent's online shop to have it shipped straight to your door.

This is the must-have, all-inclusive tool for smokers. Toker Poker is a dabber/poker, tamp, wick, and lighter in a single ingenious tool. It fits in your pocket, comes in a wide variety of colors for personalization, and is only $9.95. If you're looking to add something to your 4/20 experience this year and don't want to break the bank (or even so much as scratch it), we highly suggest giving the Toker Poker a shot. You can buy online or visit one of their partner retail shops throughout the United States and Australia.

This might just be one of the best-looking water pipes on the market. The GRAV Empress Water Pipe comes in at $192.49 and is a great addition to any glass collection. Standing at 13 inches tall with a 6-inch wide base, this sleek, high-design pipe is made with an 8-cut percolator that ensures a great hit every time. You can purchase this pipe online and have it shipped anywhere in the United States - we promise this will be a highlight of your 4/20.

This t-shirt might not be an accessory that helps you smoke, but it's definitely an accessory to cannabis culture. There are a few iconic cannabis clothing lines, and High Sun is way up there on that list. From hoodies and tees to hats and bags, they've got a lot of options. This standard white t-shirt with script that simply states "High State of Mind" is a classic look with an obvious nod to cannabis for just $22.50. High-quality materials, Latinx-owned, and sustainably sourced, this t-shirt and this clothing brand is a great way to accessorize 4/20 in style. You can check out their online store and have your newest clothing accessory shipped right to your door.

Prism Water Pipes offers customizable pipes that can fit anyone's vibe. For 420, we decided to highlight the Halo Sky High Beaker because of the beautiful cannabis art and its functionality. We love Prism's pieces because they're fully customizable and available in eight different glass colors, so you'll be able to design this bong fully to your liking. Their modular bong design is easy to clean, repair, store, or even travel with! You can always switch out or add on more pieces later, which allows you to make this piece as large or small as you'd like. We love Prism's price point even more, with the piece above is only $190 for some high-quality glass.
Is there something missing from our list? Let us know what accessories are your favorite go-to cannabis gift options in the comments below!