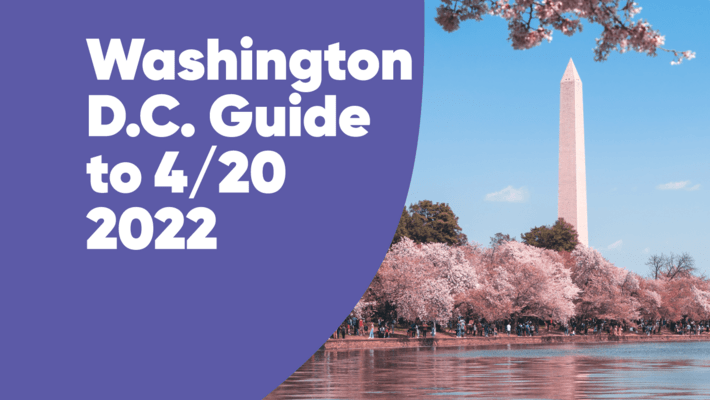 Washington D.C. Guide to 4/20 2022
The nation's capital is a wonderful place to visit and spend time. Whether it's a day trip or an extended vacation, spending time in Washington D.C. is always a great time! After all, there's a good reason why D.C. sees more than 25 million American visitors per year, with another two million coming from overseas. And after all, there's a whole lot to see and do!
Aside from the countless monuments, museums, and gorgeous outdoor attractions that the city has to offer, they also have a thriving cannabis-based tourism industry that's generating millions for D.C. cannabis brands. One of the most popular cannabis holidays in the world is 4/20!
That's why we here at Where's Weed wanted to create a comprehensive guide for 4/20 celebrations in the nation's capital! Think of this as your go-to guide for some of the best 4/20 events in 2022, breaking down where to go in the city, what products to enjoy, and what dispensaries to get those particular products from. So with that in mind, let's get right into it and break down some of the best and brightest 4/20 Washington D.C. events to enjoy this year!
A Brief History of Legal Weed in D.C.

While it might be a surprise to many, the nation's capital is one of the most prominent East Coast legal weed hotspots when it comes to tourism. After all, D.C. is well-known for a laundry list of things like tourism, food, and restaurant culture, and its overall cultural importance to the American project as a whole! But not for the massive list of legal cannabis products you can get and enjoy without fear of legal consequences in the District of Columbia. Our bet is that's because of the quirky rules when it comes to getting your hands on those legal weed products in D.C.!
So with that in mind, let's keep things as simple as possible. Thanks to the passage of Initiative 71 all the way back in February 2015, folks over the age of 21 can possess two ounces or less of marijuana at a time, transfer one ounce or less of marijuana to another person who is at least 21 years old, so long as there is no payment made or any other type of exchange of goods or services, cultivate within their residence up to six marijuana plants, no more than three of which are mature, and possess marijuana-related drug paraphernalia - such as bongs, cigarette rolling papers, and cigar wrappers - that is associated with one ounce or less of marijuana.
Simply put, recreational weed is legal as long as you're over the age of 21 and don't technically buy it, instead opting for the much-discussed "gift loophole." However, at the end of the day, as long as you get the cannabis you're looking for, does it really matter exactly how you get it? Exactly. We didn't think so!
Best 4/20 D.C. Events to Attend This Year
Now that we're gotten the history and basics of the D.C. legal weed industry down let's go in-depth on some of the best and most exciting events to enjoy this 4/20 in the nation's capital.
For starters, let's touch on perhaps the most popular and well-attended legal cannabis event on the East Coast, the National Cannabis Festival. Thankfully we've got all of that information for you here in one place, saving you from being forced to punch something like "420 festival D.C. 2022" or "4/20 festival Washington D.C." in your search engine of choice looking for details! So with that in mind, here's a general breakdown of what the National Cannabis Festival is, how to attend, and what will be there for attendees to enjoy.
Details on the 2022 National Cannabis Festival

If you're a music fan looking to hang out with other stoners in a pro-cannabis environment, then the 2022 National Cannabis Festival is a perfect choice! Featuring musical acts like Wiz Khalifa, Ghostface Killah, Lettuce, Dupont Brass, and Slick Rick, just to name a few, a festival is a perfect option for like-minded stoners to enjoy their day with some fellow cannabis lovers and enjoy the tunes!
With ticket packages available for as little as $65 each and ultra-inclusive extra packages available for those looking to splash the cash on an all-inclusive festival experience, there are options for everyone no matter what they're looking to do!
However, one important detail to consider is that the festival itself is not actually on 4/20 this time around. After all, it would be tough to attend a top-notch event like this one midweek, right? Instead, gates for festival attendees will open at high noon on Saturday, April 23.
Other 4/20 Events to Consider

If you're looking to celebrate the day of 4/20 in the nation's capital without needing to call out of work the next day due to travel, break the bank to pay for tickets and such, or even leave your living room in the first place, we have some options for you as well!
We suggest either 4/20 trivia or the Virtual 4/20 event featuring music, comedy, art, and more from pro-cannabis content creator Ganja Girl. Both are free of cost, held on the day of 4/20 itself, and you can enjoy them in front of a computer screen without the risk of COVID or bad weather! Whether you're in D.C. or not, we highly recommend these two events for the fun-loving stoners!
Brands and Products to Enjoy This 4/20
Now that we've given you some top-notch events to enjoy this 4/20, we wanted to provide a list of some of the best products to enjoy while doing so! After all, there's no way to celebrate 4/20 properly without some top-quality cannabis products. So without too much further ado, let's break it down one by one!
THC Products from Medical Dispensaries
With 4/20 easily holding the title for the most widely celebrated worldwide cannabis holiday, it might be hard to get your hands on some recreational products unless you plan ahead. Those who don't stock up on exactly what they want early might be left (not so) high and dry when 4/20 actually does roll around. However, that won't be an issue for those with medical cards!
The only way you can purchase from a medical dispensary is to have a medical card of your own, either from D.C. itself or from another state with a program thanks to medical cannabis reciprocity. With a medical card, you'll face fewer lines and potential shortages than if you were trying to buy from a recreational dispensary the day of! Thankfully those medical products still have more than enough THC to pack a serious punch.
Edibles from District Cannabis

Sometimes smoking isn't the move. If you're looking for a smokeless 4/20 this year, then you'll need to pick up some top-notch edibles to enjoy instead. That's where D.C.'s own District Cannabis comes in!
Offering top-notch, cannabis-infused products like lozenges, tinctures, chewables, infused honey, capsules, and tasty THC-laden chocolates, you can get pretty much anything you could want in terms of smokeless cannabis options for this year's low-key 4/20 celebrations!
Jane West Pre-Rolls
There's sure to be a lot going on during 4/20 this year. If you're planning to attend one of the many fun and cost-effective options we provided when it comes to 4/20 events, you'll likely need some cannabis options that are quick, no-fuss, and high-quality. That's why these pre-rolls from Jane West are a fantastic choice!
Available in the heart of D.C. from the always great National Holistic Healing Center, these five packs of mini or full-sized pre-rolls are perfect for grabbing, going, and enjoying 4/20 without spending valuable time rolling, grinding, and licking your joints. Available in a variety of popular strains like Jungle Lava, Chemdawg, and Superglue, there's bound to be a perfect pre-rolled option for your various 4/20 activities!
Strane by Organic Wellness

If you're looking for a top-notch product to enjoy this 4/20, you can't do better than Strane by Organic Wellness. For a day like 4/20 that's steeped in history, some hash might be just the thing to jog our memories of what cannabis use in the ancient Middle East might be like!
While hash might seem imposing to some, using it is like any other cannabis product that you roll into a joint and smoke. You can get some in the nation's capital via either Columbia Care or Capital City Care since those are the two dispensaries that most reliably carry the product.
CBD Product to Enjoy This 4/20
If you're looking for a 4/20 that's a little bit less THC-laden and psychoactive this time around, we here at Where's Weed have your back! After all, we know there's more to weed than just being high. Sometimes it's nice to just vibe out, free from stresses, nagging aches and pains, and anxiety, without getting blasted. That's where these next few products come in!

If you're on the hunt for some top-notch CBD products for your variety of 4/20 events, you can't go wrong with District Botanicals. Offering perhaps the most extensive menu of top-shelf, hemp-derived CBD products around. Whether you're looking for oils, tinctures, edibles, pre-rolls full of CBD-heavy cannabis flower, or pretty much anything else, District Botanicals is likely to have it!
We highly recommend this shop if you're looking to get your hands on some of the best CBD-rich products in the nation's capital!

Another D.C.-based shop on our list situated comfortably in the DMV, NoVA Hemp, has a wide range of CBD-heavy options for everyone to enjoy. Every one of their products is locally sourced, locally owned, and 100 percent legal due to its hemp-derived nature.
These CBD extracts are top-class, and this brand consistently offers quality hemp at reasonable prices, so they're a great option to get your CBD fix without breaking the bank this 4/20!

Dedicated to educating and providing customers with high-quality, affordable CBD options, Georgetown Hemp is a must-visit for CBD lovers this 4/20 and beyond! Whether you're looking to chill out and settle down after a long 4/20 workday, puff on a quick and convenient rechargeable vape full of CBD-heavy cannabis concentrate, or reduce anxiety a bit thanks to their CBD-infused edibles, topicals, tinctures, you can't go wrong with Georgetown Hemp to get pretty much anything you'll need for 4/20 celebrations this year!
The Bottom Line
When it comes to 4/20 events, 2022 has a whole lot to offer! Whether you're looking to get faded with some THC-heavy products or just take the edge off and chill with some well-sourced CBD, there are many options at your disposal this 4/20 in the nation's capital! No matter how you slice it, there's a whole bunch of fun activities to enjoy this 4/20 if you're spending it in Washington, D.C.!
What are your 4/20 plans this year? Let us know in the comments below!