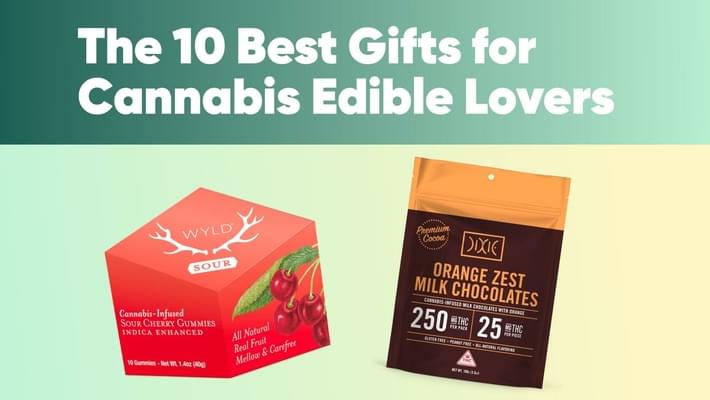 The 10 Best Gifts for Cannabis Edible Lovers
The holidays are almost here, and it's time to buy gifts for everyone on your list including the hiker, the fashionista, and, of course, the stoner. There is no better present for your favorite stoner than the gift of ganja.
As edibles have a meteoric rise in popularity in light of increased legalization, these predosed, delicious treats are a great way to give the gift of getting high without any of the hassle. Not all edibles are created equal, so here are a few of our favorites for your edible-loving loved ones.
What are Edibles?
Edibles are any food or drink infused with cannabinoids like THC, CBD, and more. Cannabis is lipid soluble, so it's usually infused into a fat like butter, oil, or alcohol to be made into a tincture. These infusions can then be used to create anything from a small treat to a full meal.
Taking edibles is a more potent form of cannabis than smoking bud because the THC is metabolized by our digestive systems and livers instead of going straight from the lungs to the bloodstream, making it last much longer in the body.
Why are They So Popular?
Edibles have become much more popular in recent years because they have opened the world of cannabis to those who would rather eat or drink their THC than smoke it. This allows older people, people who suffer from asthma issues, runners, and those who don't like to light up to partake. It also lasts longer in the body, as mentioned previously, making edibles an excellent choice for any adventure that lies ahead of you.

Wyld was founded in 2016 to create delicious cannabis gummy edibles using real fruit and natural flavors. Wyld is available in Arizona, California, Colorado, Michigan, Nevada, Oklahoma, Oregon, Washington, and across Canada. With delicious flavors like elderberry, pear, and pomegranate and a variety of cannabinoid ratios featuring CBN, CBD, and CBG, Wyld is a perfect choice for the newbie edible lover who wants to explore as many different types of gummies as possible. Wyld gummies can be purchased from state-licensed dispensaries and cannabis delivery services for approximately $20 for 10 gummies at 10mg each for a total of 100mg THC.

Wana creates vegan, terpene-enhanced, melt-proof gummies in a variety of typologies, from fast-acting to live rosin-based. Currently, Wana products are available in Arizona, Colorado, New Mexico, Texas, Wisconsin, Illinois, Florida, Georgia, Michigan, Virginia, Pennsylvania, Maryland, and Delaware. Wana carries some delicious gummies, tarts, and tinctures. With a variety of CBD and THC-combination formulas, Wana edibles are a good choice for someone looking to limit their drinking and have a good time without going too wild. These products cost approximately $20 for 10 gummies at 10mg each for a total of 100mg THC.

Gron's cannabis-infused edibles are formulated in various fun candy flavors and textures. From Pips (chocolate covered in a colorful candy coating) to Pearls (sugar-coated gummies), Gron has delicious candy-like edibles that will give you more than one reason to smile. Gron goodies are available in Arizona, Missouri, Nevada, Oregon, and Oklahoma licensed dispensaries for $10 for a 50mg THC bag and $20 for 100mg THC. Gron edibles are perfect for the candy lover in your life, whether they are a chocoholic or a gummy lover.

Leif Goods' Junk Marshmallow Bon Bons are delicious, chocolate-covered vegan marshmallows. With a 3:2 CBD to THC and a total of 38.6mg THC and 61.5mg CBD for six treats in the box, one can expect a gentle high that gives way to a relaxing buzz with light sedation. Junk Marshmallow Bon Bons are available to purchase in Oregon in select licensed dispensaries for $25. These decadent edible treats would make a perfect gift for someone with a massive sweet tooth who appreciates the finer candies in life.

Coda Signature is a luxury cannabis edible brand offering treats from chocolate bars to gummies with bespoke fruit combinations. These treats are generally lower in THC with a higher CBD, CBN, or CBD ratio making them the perfect gift for anyone new to the world of edibles. They're available to purchase in licensed dispensaries in Colorado and California for approximately $25 for a pack of 20 gummies and $17 for a chocolate bar with 20 servings.

Dixie Brands offers a wide variety of edibles, including elixirs, chocolates, gummies, mints, tarts, and more. Their most popular products are their elixirs: a high-THC drink that comes in fun flavors from cherry limeade to an Arnold Palmer, a perfect gift for the experienced stoner looking for a fun new take on their favorite edible experiences. Elixirs have 100mg of THC per bottle and are available in licensed medical and recreational dispensaries in California, Colorado, Maryland, Nevada, and Oklahoma for $20. Dixie also offers a line of synergy products with varying levels of THC, CBD, and other cannabinoids for purposes such as sleep, energy, pain relief, and more.

Detroit Edibles creates handcrafted, premium edibles in the state of Michigan. With an extensive product line including chocolate bars, gummies, drink mixes, cereal bars, and more, these are the perfect gift for the stoner obsessed with quality in their delectable treats. Their first product ever was their delicious homemade fudge, and they have since expanded from there. Their products tend to be high dose, with typically about 200mg of THC per package for $10-$20.

Uncle Arnie's is the all-grown-up version of an Arnold Palmer, offering 100mg of THC per bottle of this half tea/half lemonade flavored beverage. This would be a great gift for the stoner who is always on their feet and doesn't have time to take a smoke break. Uncle Arnie's is available for $13 per bottle in California dispensaries. All of Uncle Arnie's products are nano-molecular, meaning the THC molecules are made smaller to allow the body to process up to 80-90% of the THC within 20-40 minutes.

In 2014, Kiva Confections launched Terra Bites, a bite-sized offering from the brand famous for its chocolate bars made of sustainably-sourced cacao infused with cold water hash for a better-tasting, richer cannabis experience. The bites come in plenty of yummy flavors like espresso bean, milk and cookies, and sea salt caramel They are available in California, Arizona, Nevada, Illinois, Hawaii, and Michigan.
They retail for $21.99 and make the perfect gift for the stoner who loves to share.

Binske's infused olive oil is cold-pressed to ensure maximum freshness and infused with real herbs and fruits to ensure peak quality and taste. Besides rosemary, they also offer garlic, lemon, and truffle flavors. They are dosed at 100mg of THC per bottle in California, Colorado, Florida, Michigan, and Washington for $17.50. This delicious artisan infusion is an excellent gift for the at-home chef who is always trying new recipes and down for an adventure.
What's your favorite edible gift on the market? Let us know in the comments below!