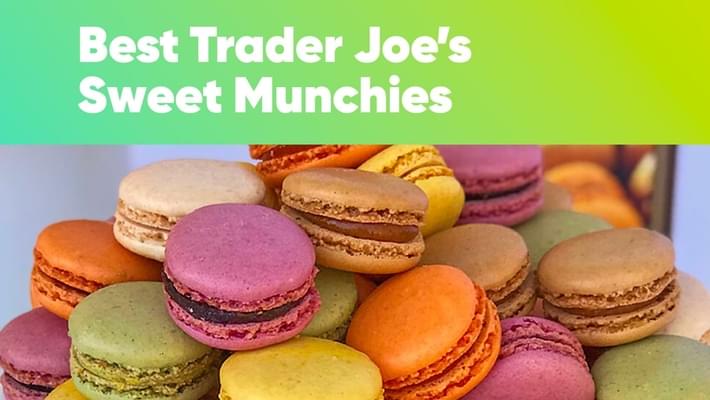 The Best Trader Joe's Sweet Munchies
For those that have a sweet tooth, getting baked and wandering into a grocery store represents a true adventure. Sometimes you may feel a little paranoid about what other people are thinking, but more often, you are amazed that there are so many ways to make something out of chocolate. Of all the grocery stores in the country, perhaps the one with the greatest depth and diversity of sweet treats is Trader Joe's. Here is a short list of the best Trader Joe's sweet snacks for those who want to indulge their munchies with quality desserts.
A Dozen Macarons

There are some products that have fairly funky names, leaving you unsure about what you are going to get. Not so when it comes to A Dozen Macarons, the silky-smooth French cookies available in packages of twelve at Trader Joe's. These macarons come in six flavors: apricot, coconut, fig, salted caramel, lemon, and pistachio. Their light almond-egg meringue is so delicate that it nearly melts in the mouth, making it an excellent choice for someone who does not want to go overboard with a big sweet treat. Whether you want to share them with your 11 best friends or keep them all for yourself, these macarons top the list of Trader Joe's best items.
Sublime Ice Cream Sandwiches

It was always a good day to pick an ice cream sandwich out of the freezer drawer after dinner. The best cooldown treat in a scorching hot summer, ice cream sandwiches from Trader Joe's push the envelope well past your standard vanilla ice cream wedged between two chocolate pieces. Two chocolate chip cookies form the sandwich on top and bottom, while the ice cream is studded with chocolate chips in the middle. These Trade Joe's munchies appeal to all interests and tastes, providing what the company calls a perfect "chewy-crunchy ratio" that changes as the ice cream melts. Sublime indeed.
Non-Dairy Chocolate Fudge Oat Bars

While actual ice cream is hard to beat, those with lactose intolerance or other health issues have never had more options and delicious alternatives to real dairy. Trader Joe's non-dairy chocolate fudge oat bars are a fantastic way to get your fix without worrying about the digestive aftermath. These bars will take you back to the fudge bars of childhood, though, at just 100 calories per bar, they are nowhere near as heavy as the ice cream truck bars you may remember jingling around the neighborhood.
Dark Chocolate Bamba Snacks

With just four ingredients - peanuts, corn grits, sunflower oil, and salt - Trader Joe's Bamba snacks are a light, airy concoction that will leave you wondering how you devoured an entire bag. These puffs are coated in delectable dark chocolate, perfect for those who prefer heavier chocolate but want something lighter to counterbalance its taste. An excellent pairing of salty and sweet, you might find that you need more than one bag of dark chocolate puffs during your typical munchie session.
Dark Chocolate Peanut Butter Cups

We've come far enough down this list to start talking about real desserts, the type of dessert you expect when you go to a big dinner party. Trader Joe's dark chocolate peanut butter cups check all the boxes for high-end treats. Want thick, rich dark chocolate in layers rather than some wimpy drizzle? Want a stuffing of peanut butter that will leave your tongue doing jumping jacks? These are the treat for you. Not only are they perfect for snacking on your own, but they also fit in as the best possible topping for other stoner munchies like cookies or brownies.
Scandinavian Swimmers

Somewhere at Trader Joe's corporate headquarters, the lawyers assigned to give products non-copyrighted names must have laughed themselves silly at the name Scandinavian Swimmers. No, they aren't Swedish Fish, but they bring all the flavor of those little fruit gummies and then some. Scandinavian Swimmers come in many different fruit flavors and sea creature shapes (including seahorses and sharks), perfect for those who enjoy a good round of playing with their food. They are an excellent treat on the go at just $3.50 for a 14oz bag, whether that means going on a cannabis hike or taking in a music festival. You may want to bring two bags because people will want you to share as soon as you open one.
Chocolate Chip Cookie Dunkers

A seasonal sweet treat at Trader Joe's that is currently out of stock; these snacks combine your favorite chocolate chip cookie flavor with vanilla icing for a nostalgic, delicious treat. Like many other Trader Joe's snacks, they rotate on a seasonal basis, meaning that you will have to keep your eyes peeled the next time you stroll down their aisles.
Do you prefer any types of desserts? How have you found that sweet treats are best enjoyed when high? Let us know in the comments below!