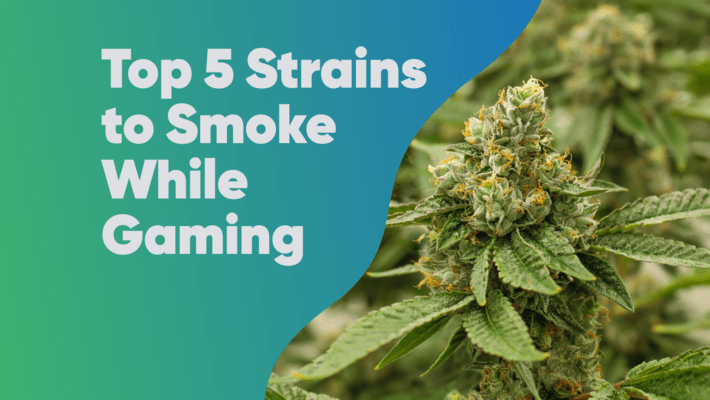 Top 5 Strains to Smoke While Gaming
Looking for good games to play while high? One of our favorite things to do at Where's Weed is relax, kick up our feet and spend hours with our favorite video games to play while high. A lot of great games have come out recently, but there are a few in particular that we consider being amongst the best for playing video games high. So, if you need a solid stoner video game or a new Sativa or Indica for video games while high, here's a curated list just for you.
Best Games to Play High in 2022

This Sativa-dominant hybrid from Northern California has quickly become a cannabis industry favorite. With an average THC concentration of 18% and 2% CBD, this strain boasts the full-body strength of typical Indica strains while also providing the enjoyable euphoric lift common with Sativa. The result - intense head high with full-body relaxation. It smells and tastes like sweet berry & candies and pairs well with the newest installment in the Halo franchise for many reasons.
Halo Infinite is a first-person shooter that puts you in control of Master Chief, the last resort in humanity's fight against the Forerunners on ancient alien rings. Both the single and multiplayer experiences require quick reflexes and accuracy. Blue Dream will help you sink into the couch and give you the head high buzz you need to stay alert and dominate the battlefield.

Another Sativa-dominant hybrid, Pineapple Express, is a wonderful byproduct of the 2008 Seth Rogan and James Franco film. First bred by G13 Labs, this strain offers a mild, happy high with an average THC concentration of around 15%. It won't get you crazy high, but it's the perfect option for a daytime smoke session while playing Far Cry 6.
Set in the Cuban-inspired fictional Yara, this action-adventure first-person shooter puts you in the role of a rebel fighting against Yara's dictator, Anton Castillo. The Far Cry series has a penchant for extreme violence mixed with laugh-out-loud humor and random craziness. Pineapple Express will help mellow you out enough to enjoy the funny moments but not get you too high to lose sight of the story's gravity.

The first Indica-dominant strain on our list, Pink Kush, is known for an intense-body high that also provides a slight euphoric head high. It's ideal for stress relief, has an average THC percentage of 22%, boasts an enjoyable candied vanilla and floral flavor (not to mention its almost minty aroma), and is perfect for sinking into the new Forza Horizon 5.
Ubisoft's newest installment of the Forza Horizon series is the biggest and best yet, and it's one of the best games to play high. It's an open-world racing game that allows you to get behind the wheel of hundreds of cars and explore like traditional RPGs (think Skyrim or The Witcher). Pink Kush will mellow you out and knock you into the couch for a full-body experience, which will help you fully enjoy the escapism of Forza Horizon 5 and let the vibrant art and fully-realized map take you on an unforgettable journey.

One of the most iconic strains, named after one of the most iconic guys in cannabis history, is a Sativa that boasts a focused and uplifting head high that's great for promoting creativity. The aroma and flavor are consistent with an earthy pine and moist vegetation, and the average THC consistency is 20%. It's the best option for anyone who wants to get high while playing Mario Party Superstars (which is hands down one of the best games to play while high with friends).
Getting high with your friends and playing video games can make for the best parties, and Mario Party Superstars is the latest and greatest addition to the Mario Party series. Featuring dozens of fun minigames and a boardgame-style map that you and your friends must play around like Life to win at, Mario Party Superstars offers some of the best multiplayer experiences on Nintendo in years. Super Jack Herer boosts creativity and can give you a bump in energy and clarity for beating out your opponents in these addicting minigames.

Gorilla Glue is a one-of-a-kind hybrid that offers a relaxing and pleasant high with an above-average THC count of 20%. It's received recognition at several Cannabis Cups and is thought to help alleviate the side effects of insomnia. Gorilla Glue has earthy, piney undertones with potent effects and flavor, and it's one of the best games to pair with The Finding of Isaac when high.
What can be a very dark game, The Binding of Isaac is a randomly-generated, 2D action RPG shooter that follows the small amorphous Isaac, who finds treasures that morph him into a superhuman figure on his quest through hellish family torment. Gorilla Glue's relaxing high will help you navigate the ever-changing dungeons and stay positive through a twisted journey while also giving you some anxiety relief as the demented story unfolds one bloody room at a time.
Did any of your favorites for playing video games high make it onto the list? Let us know what you think and what games and/or strains you think people should know about. Comment below!