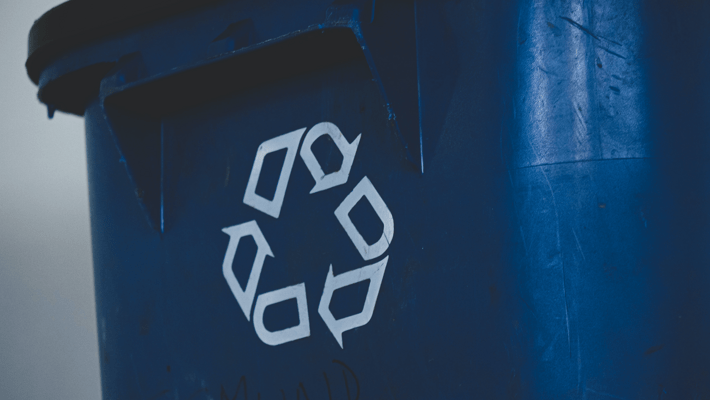 Can I Recycle My Cannabis Containers?
The explosion of the cannabis industry has resulted in many positive things. The stigma of the substance has continued to be broken down, jobs have been created and people are finding this alternative to traditional medicine to be extremely soothing and helpful. Even though there has been so much good to come out of this scene, the industry is still committing to one of the largest issues we face today: single-use plastics. If you've been looking for ways to be thoughtful consumers in the cannabis space, read below for our recycling tips.
The Single-Use Plastic Problem

Single-use plastic is something that is only used once before it is thrown away or occasionally recycled. These types of items include straws, most food packaging, plastic bags, coffee stirrers and plastic bottles. Most often, these items don't find their way into recycling and end up in landfills. When on your favorite walking trail or beach coastline, you'll find these things littered practically everywhere. About 32% of packaging plastics go into the oceans, which is the equivalent of one dump truck of plastic getting thrown into the ocean each minute.
Why Should We Care?
Single-use plastics are horrible for our oceans, lakes and rivers. You'll find it piling up on the land, which doesn't look inviting, and it is horrible for plants and animals because the microorganisms cannot process and break down plastics. We have been diminishing fossil fuels for over 100 years, as the post-WWII era has launched society into the modern age, and we haven't looked back since. The lifespan of these products is merely minutes, yet they persist within the environment for hundreds of years.
How Cannabis is Contributing to The Problem
As cannabis has risen to the mainstream popularity it holds today, the products and technology have had to keep up as well. The consumption methods, for better or worse, have shifted to an emphasis on disposable. This methodology lends itself to being clunky and wasteful. With the excess packaging required by law, the cannabis industry is much more wasteful than it leads on. Cannabis laws, as we know, are so tightly regulated, especially when it comes to packaging. California law alone calls for tamper-evident, child-resistant and resealable packaging, which all works against sustainability and the mantra of less-is-more. There needs to be an educational awareness as waste management tends to be an afterthought in this community.
How to Repurpose and Reuse Cannabis Packaging

If you're an avid smoker, you probably have a plethora of weed containers and weed jars around, just waiting to be used for something else. Those pop-up cannabis containers can turn into the storage of your dreams. Once you have cleaned them thoroughly, you can store paperclips, jewelry, screws or nails in them. Consider repurposing for toiletry storage as well, as they can be the home to hair-ties, bobby pins, toothpicks, q-tips and first aid items.
Contemplate growing your mini succulents in these pop-ups to add to your collection of houseplants. If you've been looking for ideas to reuse joint carrying bottles, throw your favorite pens and pencils inside them or even store your homemade joints and blunts, too! If you've got glass jars from flower purchases, turn them into drinkware, a portable ashtray or propagation for your newest plant child. Not looking to re-use these containers? Are you wondering, "can you recycle marijuana containers"? Keep reading for the answer below.
Dispensary Recycling Programs
The cannabis community tends to have a liberal, open mind when it comes to most issues. When at your local dispensary, chat with your budtender about their practices and if they offer incentives on recycling materials. Many of them do, and most places will let you re-use your bags. Just don't expect them to let you reuse the actual packaging that once had regulated marijuana inside.
If your favorite spot doesn't have one, don't be shy and firmly ask by reaching out to them on their website via a contact page. Try adding a review to their page and a nice call to action can and should kick them into high gear. Everyone, including the dispensary, should recycle cannabis packaging, as it's cool to care about the planet.
Non-Profits Helping with the Problem

As our governments are still struggling with doing anything (and believing in) climate change, we've had to turn to non-profits who are fighting to save the planet each day. One is Green for Green, which is based in Colorado. Their mission is to partner with dispensaries to divert waste from the cannabis industry in hopes that the collaboration can positively influence the perspective on weed culture.
Cannabis Can! was created in Ohio to mitigate waste and establish a sustainable recycling program as the state navigates the new legalization, giving people a place to recycle their medical marijuana containers.
How to Figure Out What Can Be Recycled
Some cities that have had legalization for quite some time, such as Denver, have a detailed, in-depth recycling guide on all things packaging for a quick, easy reference. Not all cities have such a great guide, but there are some other options, too. When in doubt, you'll be able to find local recycling rules online. On the containers, there should be a recycling number that will tell you whether or not you can recycle it. Make sure to wash thoroughly and soak off the labels, as this will likely need to be done for them to be accepted. When in doubt, call your local recycling center if you aren't sure.
Do you often repurpose or recycle your cannabis packaging? Tell us all your tips and tricks in the comments below.