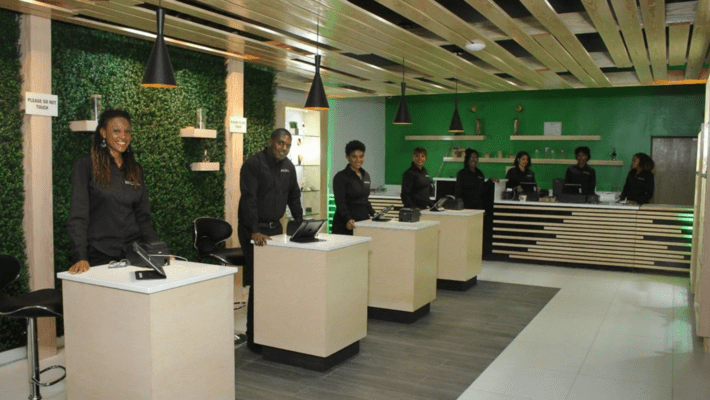 Everything You Need to Know About a Jamaican Herb House
It's no secret that Jamaican weed, or "ganja," is some of the most famous in the world. But if you want to buy it legally there, you'll have to head to one of the island's many herb houses.
An herb house is the Jamaican version of a weed dispensary. The name comes from the Rastafari religion, which considers cannabis a "sacred herb."
Both locals and tourists can legally buy ganja at herb houses. But these aren't like the pharmacy-style dispensaries you might be used to in the west. Instead, herb houses pride themselves on their laid-back, wellness-focused atmosphere. It's like a combination of a med clinic and a hipster boutique.
Jamaican budtenders are knowledgeable and friendly. There are smoke rooms where you can sample your ganja too. And if you get the munchies, some herb houses even offer food and drinks, like pizza and coffee! It's a slice of Amsterdam in the Caribbean.
Here's everything you need to know about Jamaican herb houses and how to purchase ganja on the island legally.
A Brief History of Herb Houses

Herb houses seem like the holy grail for cannabis tourists. But Jamaica's path to legal weed hasn't been all sunshine and flower.
Despite ganja's importance in the Rastafari religion and Jamaican culture, cannabis was illegal in Jamaica until 2015. Possessing any amount could garner a criminal record. Smoking a joint could land you in jail.
In 2015, the Jamaican parliament passed an amendment to the Dangerous Drug Act. The amendment decriminalized small amounts of recreational cannabis and legalized medical cannabis. It also paved the way for licensed distribution centers - AKA Jamaican dispensaries.
In 2018, the first dispensary in Jamaica, Kaya Herb House, opened its doors. Fast forward to today, and there are herb houses scattered across the island in places like:
Montego Bay
Negrill
Kingston
Ocho Rios
What documents do you need to buy from an herb house?
Herb houses are medical dispensaries, so you'll need "proof of medical necessity" to buy.
Luckily, Jamaica recognizes medical cannabis prescriptions from other countries, including the United States. This is great news if you already have a medical cannabis card from home! You'll also need a valid government ID, such as your passport or driver's license.
Can I get a Jamaican medical cannabis prescription as a tourist?
Yes. If you don't have a prescription from your home country, tourists 18 and older can get medical cannabis prescriptions from a Jamaican doctor. How hard is it to get a prescription? Not very.
Jamaica is open about conditions that qualify for medical cannabis. You can get a prescription for mild episodes of anxiety or nausea. Herb houses are medical dispensaries, but as a practical matter, you don't need "proof of necessity" to purchase. Any person who can prove that they are over the age of 18 can get a medical card and purchase it. There is no need to prove that you are ill. Remember, Jamaica wants to sell you legal ganja.
What can I buy at an herb house?
Naturally, you can buy local strains of the island's famous herb. Beyond flower, many herb houses offer goodies like:
Extracts
Tinctures
Edibles
Pre-rolls
Essentially, you can expect the same fare you'd get from an American dispensary. Many herb houses also sell accessories like pipes, grinders, and bongs, which make cool souvenirs.
Common Strains in Jamaica
The weather in Jamaica, as you probably know, is perfect for growing cannabis. The warm and humid climate allows for many different strains of cannabis to thrive. Some of the country's most popular strains include:
Purple Chemdawg

This indica-dominant hybrid is known for its sweet and pungent aroma. It produces a heavy body high that's perfect for relaxing after a long day. The buds are dense and covered in orange hairs.
Gorilla Glue #4

This hybrid is one of the most popular strains in the world. Gorilla Glue #4 is loved for its potent THC content and unique flavor. The buds are sticky and covered in trichomes. The high is relaxing and euphoric, making it perfect for social situations.
Island Girl

This hybrid is a local favorite. It's loved for its sweet and tropical flavor with dense buds and orange hairs. The high is relaxing and euphoric, making it perfect for social situations.
Can I order from an herb house online?
Yes. As of 2020, the Cannabis Licensing Authority (CLA) allows those with a valid prescription to purchase medical ganja online for pickup at an herb house. You can grab your herb and go!
How much ganja can I buy at an herb house?
Under current Jamaica weed laws, you can buy and possess up to 2oz. of ganja for personal use. To put that in perspective, the average joint contains around 0.32g of weed (0.01oz.), so 2oz. is a lot for one person.
Note: Even though you can legally buy weed, if you're caught carrying 2oz. or less in public, the police can fine you J $500 (about $3.30 USD). On the flip side, carrying more than 2 ounces is a criminal offense that can get you arrested.
Where can I smoke my ganja?
In Jamaica, it's illegal to smoke ganja in a public space. Fortunately, herb houses feature dedicated smoking rooms where you can kick back and enjoy your herb with like-minded enthusiasts. Again, think Amsterdam in the Caribbean.
You can also smoke at a private residence, which is excellent if you've got friends on the island. Or, if you're staying at a 420-friendly hotel, there will usually be a dedicated smoking area where you can unwind.
Want to visit one of Jamaica's unique herb houses?

Jacana is a featured herb house by Ganja Vacations. In addition to Jacana's 100-acre, organic, sun-grown farm, its activities include a pharmaceutical-grade lab and manufacturing facility, cannabis research, and four retail dispensaries in:
Kingston
New Kingston
Ocho Rios
Portmore
Jacana has already brought several new medical cannabis products to market. The company aims to make its dispensary exceptional - not just because of the quality of its products but by elegant design and an in-store customer experience that's educational and fun.