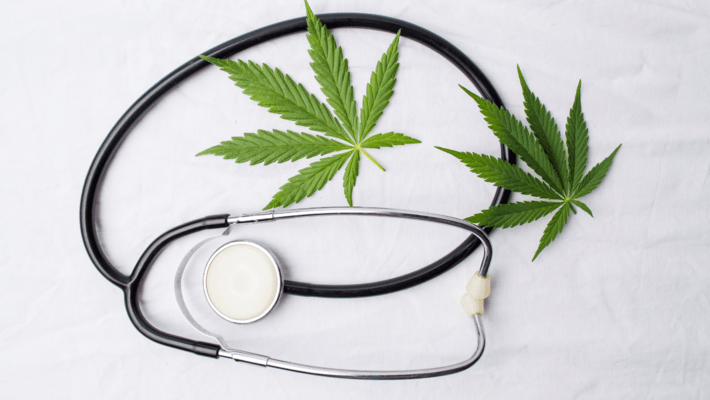 Top 5 Benefits of Having a Medical Marijuana Card
California made history in 1996 when it became the first state to legalize cannabis for medicinal purposes. As of today, 36 states have legalized cannabis for medicinal use and 17 have legalized it for adult use. In fact, roughly 72% of the American population lives in a state where medicinal marijuana is legalized, and 43% of Americans live in a state with full adult-use legalization.

As cannabis legalization continues to spread across the United States, more and more people have access to cannabis and are experiencing it for the first time. With such high statistics that only continue to increase, it's important for all Americans to understand whether a medical marijuana card is right for them, what qualifying conditions will be considered and the benefits of having one. Thankfully, it's easier than ever to apply for an MMJ card so let's get started.
Is a Medical Marijuana Card Right for Me?
Many people have the perception that an MMJ card is only meant for those with life-threatening illnesses, such as cancer or HIV. Although more research on cannabis needs to be done, there have been plenty of findings that show that it can have benefits for a variety of medical issues. Whether it's anxiety, depression or eating disorders, cannabis can provide relief for a range of people. Because of this, most states have increased access to medical marijuana cards to include an array of qualifying conditions. And for those without previously approved qualifying conditions, it is often possible to petition the state to get into the MMJ program.
What are Qualifying Medical Conditions?
Qualifying conditions are established by most states with medical marijuana programs in order to ascertain who is eligible for an MMJ card. Once someone is confirmed by a doctor to have one of these conditions, they may apply for a medical marijuana card. We've listed the most common ones below, although they do vary by state.

ALS (Lou Gehrig's Disease)
Anxiety Disorders
Autism
Cachexia (or wasting syndrome)
Cancer (including chemotherapy side-effects)
Chronic pain (some states even include headaches and migraines
Depression
Glaucoma
Hepatitis C
HIV/AIDS
Inflammatory Bowel Diseases
Neurodegenerative Diseases (such as Alzheimer's Disease, MS, Huntington's Disease or Parkinson's Disease)
Persistent muscle spasms and cramps
Post Traumatic Stress Disorder (PTSD)
Seizures (such as those from Epilepsy)
Severe nausea
Spinal cord injuries or diseases

Benefits of MMJ Cards
While medical marijuana cards often cost some money upfront, there are a variety of factors that make it worth it. Keep reading to find out more!
Saving On Taxes
Most states that have legalized medicinal marijuana have decided to limit the taxes that patients pay when purchasing cannabis. In Colorado, recreational cannabis has a 15% retail sales tax in addition to a 15% state excise tax on dispensaries, which is often passed to consumers. However, anyone in Colorado with a valid medical marijuana card is only subject to a 2.9% state sales tax, making medicinal cannabis much cheaper. To learn more about cannabis taxes in your state, head to Where's Weed for comprehensive state guides.
Higher Purchase Limits

Not only do most patients with medical marijuana cards pay less in taxes, they often are able to purchase and possess higher quantities of cannabis than recreational cannabis customers. For example, patients in California are able to purchase and possess up to 8 ounces at a time (and can petition for more), while adult-use consumers may only purchase up to one ounce. This makes it more convenient for medical marijuana patients who may not be able to visit a dispensary nearby as often.
Ability to Home Grow
In some states with both medicinal and recreational cannabis programs, only medical marijuana cardholders are able to grow their own cannabis at home or can grow more than those without MMJ cards. For example, residents of Illinois that have a medical card are able to grow up to five plants, while those in the adult-use program cannot grow any at all. Cultivating your own cannabis allows you to control all aspects of the process and helps consumers save money.
Lower Age Requirements
While every single state with recreational cannabis only allows consumers over 21 to buy marijuana, those in most medical marijuana programs are often able to purchase at the age of 18 or younger, with the approval by the state. Patients can also assign caregivers to purchase their cannabis for them.
Access to Medical-Only Dispensaries

Although many states have dispensaries that sell to both recreational and medicinal patients, there are often dispensaries that are exclusively licensed to sell medical cannabis. Anyone with an MMJ card can enjoy access to these dispensaries with a more focused customer experience, considering the budtenders will be trained to work specifically with patients. Many MMJ stores also have unique products that cater to medicinal needs as well.
How to Get a Medical Marijuana Card with Leafwell
Luckily, it's easier than ever to apply for an MMJ card with the help of our good friends at Leafwell, the trusted platform to get a medical marijuana card online. Through their dedicated staff and medical marijuana doctors on hand, the previously complicated process can be done in just minutes, no appointment necessary. Simply fill out the form, speak to a doctor virtually and apply for a medical marijuana card. Once approved, you'll receive your card and be able to start shopping for medicinal marijuana soon after! Bonus: Where's Weed readers get $20 off their consultation with the code "WW20" (to be entered on the final payment page).